Full of rich, dark chocolate and fresh raspberries, these scones are everything we imagined and more.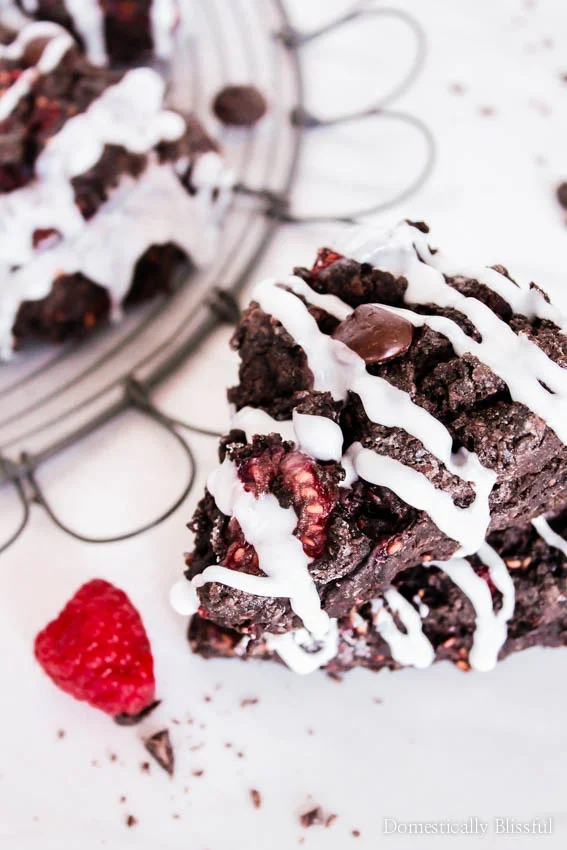 These decadent Dark Chocolate Raspberry Scones are as delicious as they sound! Full of rich chocolatey flavor and fresh fruit you will love these scones for breakfast, brunch, and especially dessert!
I can't begin to tell you how amazingly decadent and delicious these scones taste!
The photos don't begin to do this scone recipe justice.
If I could send you a dozen of these I would because everyone needs to try these chocolate scones. Especially if you start every morning with a cup of coffee.
I did a couple rounds of recipe development on these scones and I'm super happy with how they turned out!
Seriously, this dessert, I mean brunch scone, is out of this world!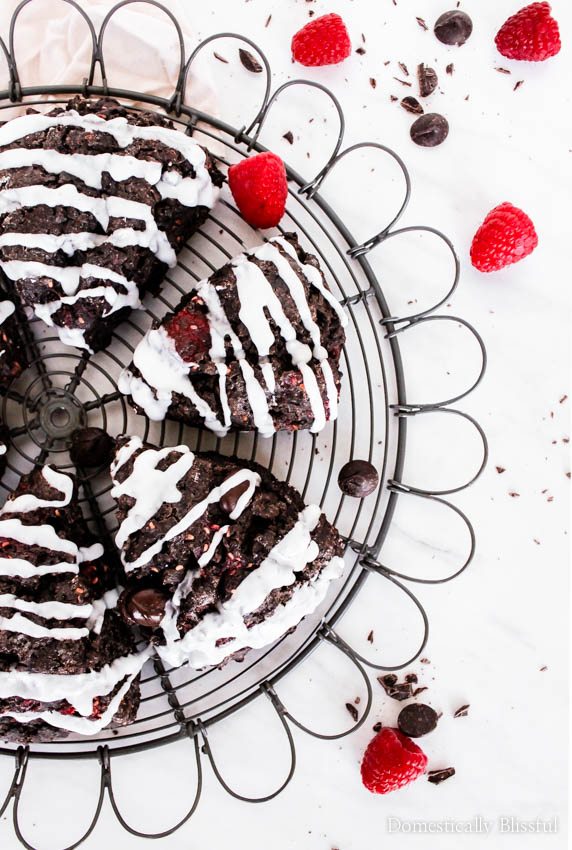 Even though it looks and tastes like a dessert I'm going to continue treating it like a breakfast treat. Because, why not?
And since this recipe makes 24 mini scones (or 12 regular scones) there is plenty to share with your friends and family. But don't worry, I won't judge you if you keep these hidden from everyone else so you don't have to share.
I completely understand the sentiment!
But since my husband and sister both knew I was making these I had to share. I hope that makes them realize just how much I love them!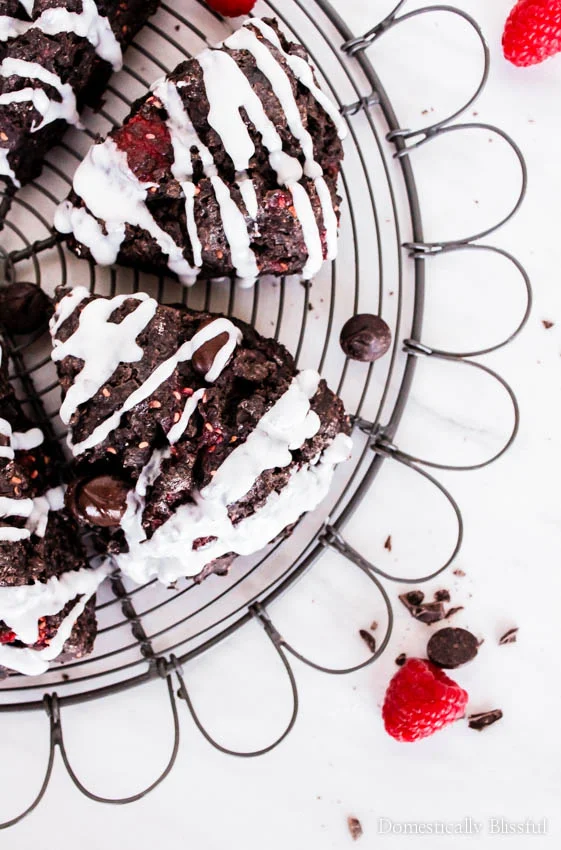 See Also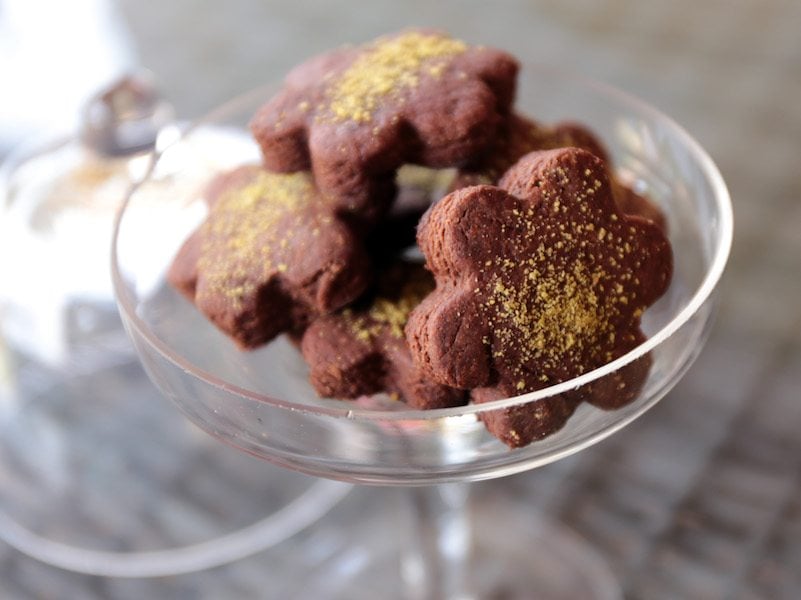 I'm sure I'll be making them again this summer when raspberries can be picked right off the bush.
And luckily they are super easy to make and bake! Which is probably why I have shared so many recipes for scones.
I'm pretty much addicted to them!
Although my Dark Chocolate Cherry Scones, followed closely by my S'mores Scones, are the most popular scones recipe on my blog, I have a feeling this is going to be a new favorite in my home and in yours!
Click here for my tried and true scone icing.
Print

Dark Chocolate Scones with Raspberries
---
Author:

Giustina Blissful
Dark Chocolate Raspberry Scones Ingredients
2 3/4 Cups

Flour + Extra for Stickiness * (1)

1/2 Cup

Unsweetened Cocoa Powder * (1)

2 Teaspoons

Baking Powder

1

Pinch Salt

1/4 Cup

Sugar

6 Ounces

Fresh Raspberries (rinsed & dried)

1/2 Cup

Dark Chocolate Chips

1

Stick of Cold Butter (

1/2 cup

)

½ Cup

Half & Half

½ Cup

French Vanilla Creamer + 1-2 Tablespoons Extra * (2)
Icing Drizzle Ingredients
Click the link above for the recipe.
---
Instructions
First, preheat your oven to 400° degrees Fahrenheit *(3), then in a bowl sift all of the dry ingredients. 2 & 3/4 cups flour, 1/2 cup cocoa, 2 tsp baking powder, 1 pinch of salt, & ¼ cup sugar.
Use your hands to crumble one stick of butter into the dry ingredients. *(4)
Next, gently fold in the 1 cup of raspberries & 1/2 cup of dark chocolate chips.
Make a well in the center of the dry ingredients & pour in your 1/2 cup of half & half & ½ cup of French vanilla creamer & gently combine the ingredients. *(5)
Freezing/Baking Note. *(6)
Split the scone dough in half, place both halves on a floured surface, & using your hands (with a little extra flour) shape the dough into round disks about 2 inches thick. 2 dough disks make 12 scones. 4 dough disks make 24 mini scones. *(7)
Cut the dough into scones with a pizza cutter or large knife. Place the scones on a baking sheet lined with parchment paper & brush the top of each scone with a little bit of French vanilla creamer.
Place the scones in your preheated oven & bake your scones for 20 minutes.
Top with a drizzle of icing created by mixing a couple of tablespoons of French vanilla creamer & powdered sugar to your desired thickness. *(7)
Keep your Dark Chocolate Raspberry Scones stored in a loosely sealed container for up to one week. *(8)
Notes
*1. Make sure not to scoop right from the container, this will compact the ingredient flour/cocoa powder & be too much. Scoop with a spoon into your measuring container for more accurate measuring.
*2. You can skip the creamer & use whole milk or more half & half with 2 teaspoons pure vanilla extract instead, but I personally prefer the baked consistency/texture of the creamer which seems to make the scone less dry.
*3. If you plan on freezing the dough before baking hold off on preheating your oven.
*4. You want the butter crumbles to be somewhat small, about the size of large peas, & dispersed throughout the dry ingredients.
*5. Make sure that you don't over mix, simply make sure that all of the ingredients are evenly combined to make a dough. When you are mixing the liquid & dry ingredients the dough will feel like it needs more liquid, but once you start forming it into disks & cutting them you will realize you need more flour to keep your hands from sticking to the dough. For freezing, don't worry if there are still dry ingredients not combined, this will get worked into the dough when you form the scones before baking.
*6. You can go ahead & shape/bake your scones if you are in a hurry, but I like to place my scone dough in the freezer for 30-45 minutes (covered in cling wrap) so that the butter gets nice & cold. That way when the scones bake there will be yummy pockets of butter in your scones!
*7. For a thicker icing add more powdered sugar. For thinner add more French vanilla creamer.
*8. When left in a sealed container the scones become too moist. Best if reheated in the oven.
Giustina Blissful
Hello! My name is Giustina and I'm a 20 something who is married to my best friend and love of my life. I think everything tastes better when made with love and a splash of lemon. Although love, life, and marriage is never easy I believe that it is always an adventure worth traveling!