With ice cream-like toppings of blueberries, dark chocolate, and walnuts these pancakes are the bomb. Don't worry, they are healthful, too. Loaded with antioxidants, omega-3's, and the right amount of carbs to start your day.
By Carolyng Gomes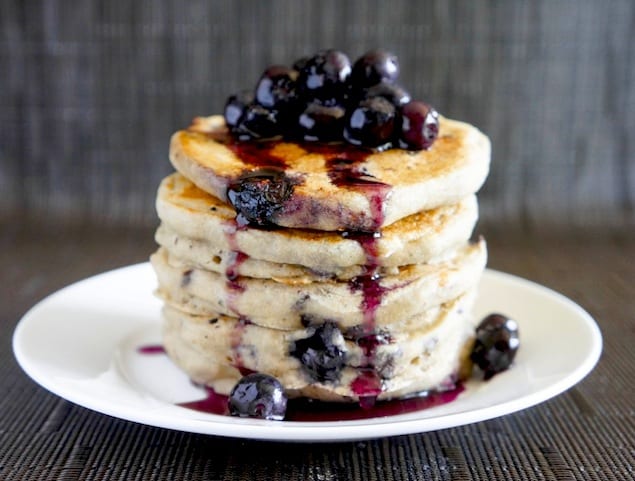 These pancakes are much more than what they seem. Oh yeah, they are delicious. Of course they are with dark chocolate, blueberries and walnuts! I mean, seriously those are all ice-cream toppings. But these ingredients were chosen for more than their good look and great taste. Dark chocolate is full of antioxidants, and because it is calorie dense a little goes a long way. I used 1 oz of 70 % cacao dark chocolate for the whole batch which equates to 160 calories for 8 pancakes! Look for dark chocolate that is 70% or more cacao, does not contain milk and has less than 8 grams of sugar per ounce.
Blueberries are another ingredient prized for their antioxidants. Blueberries can improve night vision, promote urinary tract health and have been documented to suppress the growth of several types of cancer cells. What does this mean? Blueberries are boss, and can help the body do so much more than maintain a healthy weight – it can help your body maintain and improve its overall health! 1/2 cup blueberries may not seem like much, but it is the perfect boost of flavor and nutrition for these pancakes. Remember, frozen blueberries work just as well as fresh!
Walnuts were tossed into these babies for their omega-3?s and crunch. Especially for those that aren't really getting omegas elsewhere, I'm talking to you vegetarians and vegans (like me), it is always a good idea to toss a few omega filled nuts into your meals. This pancake also has flax seeds, to ensure omegas are present and accounted for! Whole wheat flour instead of all-purpose is used to up the fiber content, so you eat your fill and it fills you up! No over eating with these pancakes, even though they are so delicious. The combination of ingredients ensures you'll fill up on a serving and be satisfied until lunch!
Enjoy these pancakes with some 100% maple syrup or blue agave. Toss in some extra blueberries for added antioxidant benefit. These pancakes can also be made with gluten-free flour and remember they freeze well. Make a batch, eat half and freeze the other half. In the morning pop 2 pancakes in your toaster and enjoy these delicious and nutritious pancakes to go!
See Also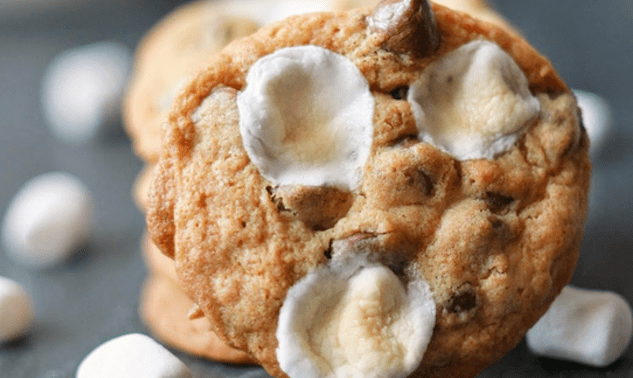 Print
Dark Chocolate Blueberry Pancakes
With ice cream toppings of blueberries, dark chocolate, and walnuts these pancakes are the bomb. Healthy too, loaded with antioxidants, omega-3's, and the right amount of carbs.
Author:

Carolyng Gomes

Yield:

4

1

x
Category:

Breakfast
1 cup

whole wheat flour

½ cup

blueberries, frozen

1 oz

dark chocolate, chopped

1 tbsp

ground flax seeds

1 tbsp

coconut oil, melted

1.5 tsp

baking powder

1/2 tbsp

sugar

1 cup

coconut milk

1/2 cup

walnuts, chopped
pinch of salt
Instructions
Preheat a non-stick pan on medium heat.
Add whole wheat flour and baking powder to bowl. Whisk to combine.
Add blueberries, chocolate and walnuts to dry ingredients. Toss to coat.
Add remaining ingredients to bowl and mix thoroughly.
Pour batter and spread to create 3-4 inch diameter pancakes.
After two minutes, once bubbles have formed and popped on the surface and the sides are puffed and solid, flip pancakes.
Cook for another 2 minutes or until golden.
Repeat until all batter has been used.
Enjoy with a drizzle of 100% maple syrup or blue agave.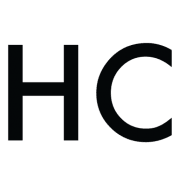 Carolyng Gomes
Carolyng loves to eat, loves to cook and loves to eat more. To her a recipe is more a list of suggestions, saving time doesn't mean sacrificing on flavor and when in doubt, a splash or two (well, a nice pour) of wine never hurts. Welcome to her Cocina Latina, where South American and Latin fusion dishes are always on the menu.