Perfectly rich and seductive chocolate cake, not to mention simple and quick. You don't even need an electric mixer for this batter and it can be combined in a single bowl.
By Tamara Novakovic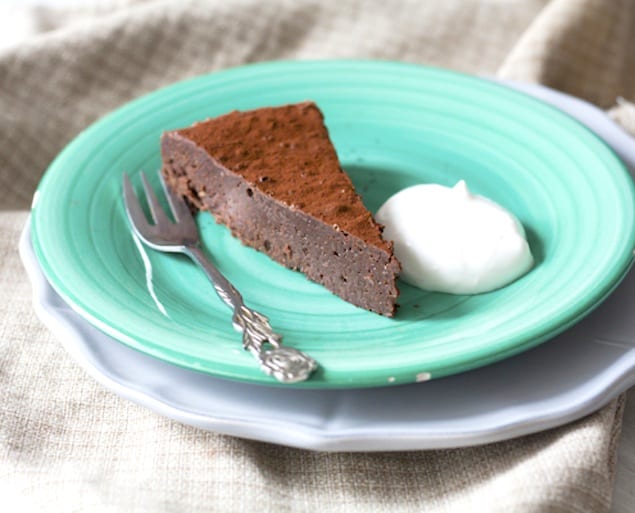 This is the perfect chocolate dessert you can serve regardless of the occasion. It is rich, smooth, decadent and moist. The cake contains quite the amount of chocolate and eggs, but has little flour. One part of flour is substituted by almonds, which perfectly complement the chocolate. Please be advised to use dark chocolate, as the entire cake basically relies on its flavor (and contains a lot of it). I recommend you serve it with a dollop of softly whipped cream and dust with cocoa powder. You can also complement it with fruit or dust with confectioners sugar. The cake needs to set in the refrigerator, but my guilty pleasure is eating it while warm, when chocolate in the center is still a bit runny.

Chocolate almond cake
Ingredients
4.4 oz (125 g) butter
13.2 oz (375 g) dark chocolate
1 cup (175 g) brown sugar
¼ cup (35 g) all-purpose flour, sifted
1 cup (120 g) finely ground almonds
2 tbsp milk
5 eggs
cocoa powder
softly whipped cream
Instructions
Preheat oven to 325F (170C).
Place the butter and chocolate in a bowl and either microwave in short bursts until melted or melt in a heatproof bowl over a saucepan of simmering water.
Add the sugar, flour, milk and ground almonds and mix to combine.
Add the eggs and mix well.
Pour mixture into a greased 8.7 inch (22cm) round springform tin lined with non-stick baking paper.
Cover the tin with aluminium foil and bake for 40 minutes.
Uncover and cool in the tin.
Dust with cocoa and serve with cream.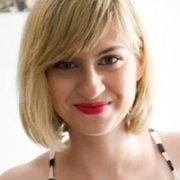 Tamara Novakoviç
Tamara Novakovic is a passionate self-taught cook, food blogger, freelance food writer and photographer behind bite-my-cake.blogspot.com. Her life journey has led her through Faculty of Humanities in Zagreb, Croatia to discovering passion for making cakes. She is currently a weekly food columnist for Croatian newspaper V magazine and food magazine Repete.