Kalle Bergman with a classic flavor combination served just the way the Danes like it. Apple Pork on dark rye bread.
By Kalle Bergman – Photo By Mads Damgaard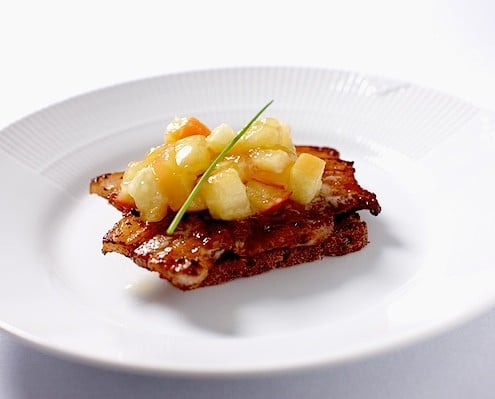 You know how there are flavors that just work well together? Butter and tarragon, red wine and chocolate, strawberries and cream. Perfect matches!
One of my personal favorites when it comes to perfect matches is apples and pork. A chutney of apples together with a pork chop. An apple mash together with barbeceue ribs. Mouth watering!
Here is another great example of a way to combine apples and pork – the Danish classic "Apple Pork". Enjoy it as an appetizer, a nice lunch or as part of a Smørrebrød feast!
HOW TO
Serves 4
8 Thick slices of streaky pork
2 Apples, cored and diced
1/2 Tablespoon of sugar
1/2 Tablespoon of brown sugar
1/2 Tablespoon of organic butter
1 Tablespoon of water
4 Slices of dark rye bread
Chives for garnishing
1. Preheat the oven to 400°F (200°C). Place the slices of pork on an oven rack. Position a pan underneath with a little water in it to gather up any dripping fat. Roast the pork in the oven for about 20 minutes or until crispy golden. Remove and let drip off on a paper towel.
2. In a saucepan, melt some butter and then add half the sugar. Let the sugar melt, and then add the apples and the water. Simmer gently for 2 minutes, then add the rest of the sugar. Let simmer under a lid for 10 minutes. Remove and let cool.
3. Serve the pork on rye bread and top with the apples. Garnish with chives.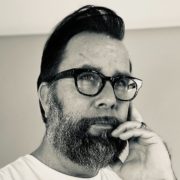 Kalle Bergman
Kalle Bergman is a food writer and media entrepreneur who is the founder of Honest Cooking and PAIR Magazine. As a food writer, his writing has been regularly featured in publications like Gourmet, Los Angeles Times, Huffington Post and Serious Eats. He is obsessed with simple food, more often than not from his native Scandinavia.