Fried strawberries coated in a crispy cinnamon sugar crust are a perfect light dessert. Keep this finger food dairy-free and enjoyable for all your guests.
By Marta BocaDos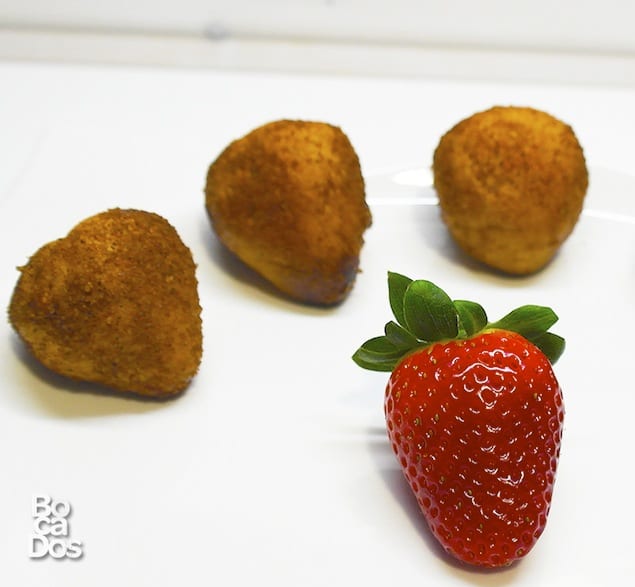 This batter is versatile and may be used on whatever fruit is in season in your area. Experiment with your favorite gluten-free flour blend to make this nondairy dessert accessible to even more individuals.

Dairy-free Strawberry fritters
Easy and light fruit fritters.
Ingredients
For the batter
100g (3.5 ounces) flour
¼ teaspoon salt
2 egg yolks
1 egg
2 egg whites, stiffly beaten
100ml (3.5 ounces) unsweetened soy milk
20g (.7 ounces) brown sugar
Filling:
30 strawberries
30 wooden sticks
500ml (17 ounces) sunflower oil
For the coating:
100g (3.5 ounces) brown sugar
1 teaspoon ground cinnamon
Instructions
Sift the flour in a bowl. Add the egg yolks, the whole egg, and the salt together. Whisk until you get a thick batter. Whisk in the milk gradually until smooth.
Beat the egg whites with the sugar until stiff. Add them to the batter and mix slowly until the batter is fluid and smooth.
Wash the strawberries and remove the hulls. Stick each strawberry in a wooden stick.
Heat the oil in a deep frying pan.
Dip the fruit into the batter and carefully place in oil. Fry for 1 minute, until crisp and golden on all sides.
Remove fritters and drain on paper towels.
Coat with the cinnamon sugar (the sugar and cinnamon mixed).