An interview with Atsushi Tanaka from A.T. Restaurant, Paris on his dynamic, progressive gastronomy and how he sets himself apart from all others on the Parisian restaurant scene.
By Roberta Phillips.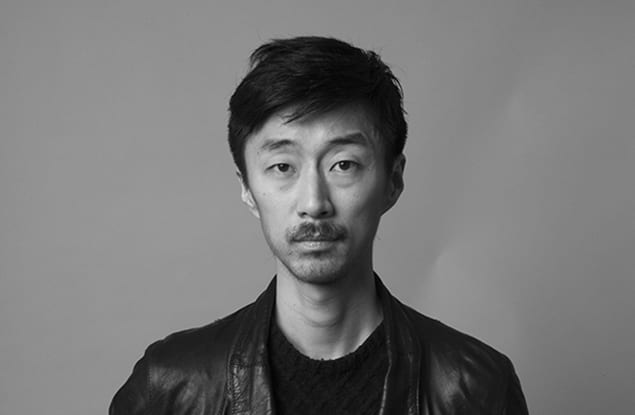 Let's make one thing clear: Atsushi Tanaka's cuisine isn't Japanese. Neither is it Spanish, Scandinavian nor Parisian, in spite of the fact that he has spent the better half of his life training in the latter and has been highly influenced by a number of European culinary techniques, including Spanish molecular gastronomy. When asked to describe his cooking Atsushi simply states "it's impossible to categorize it".
Back in April 2014, when Atsushi opened his restaurant A.T., journalists naturally described what they saw: "another Japanese chef cooking French cuisine". But this barely touches the surface, and furthermore, it isn't exactly true. Yes, Atsushi was born in Japan but he doesn't believe that this makes him a Japanese chef. What he prides himself on is his knowledge and practice of the many techniques he's learned over the course of his career. Starting out in Paris when he was just 17 he trained and worked alongside the legendary Pierre Gagnaire, whom he warmly refers to as a kind of "Papa". He has also worked at Quique Dacosta (Spain), Pastorale (Belgium), and more recently he took himself back to school, interning for Scandinavian restaurants such as Geranium (Copenhagen), Bjorn Frantzen and Oaxen (Sweden) and Oud Sluis (The Netherlands).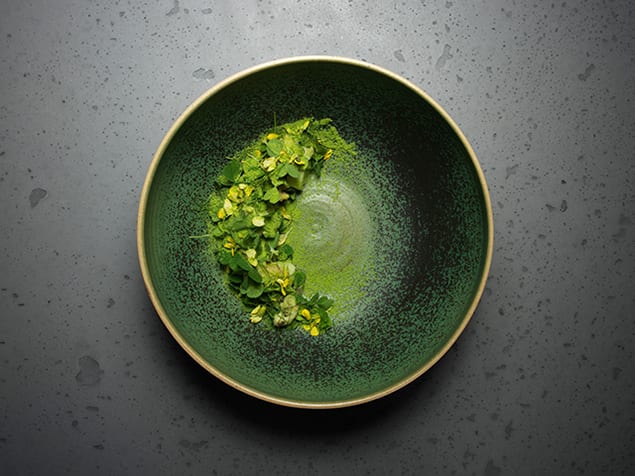 Whelk, Lovage and Jerusalem Artichoke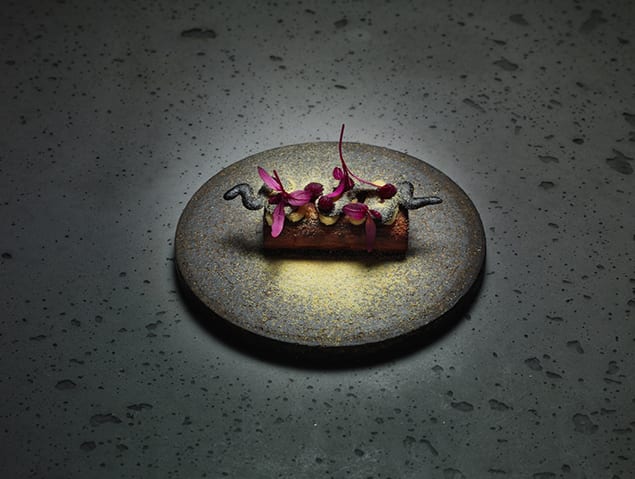 Leeks and Brown Butter
Both admiring and favoring the delicate way in which many Scandinavian chefs craft their dishes, predominantly focusing on fresh vegetables and seafood, he knew that this region would equip him with the knowledge that he needed to open his own restaurant. Seeing it as a pioneer in the modern food world, he poetically states that Scandinavia's attraction comes from "the goodness of beauty and the sense of simplicity", depicted in their dishes.
This, like his other travels, is the kind of rich experience that has constructed his culinary identity; they are all a part of him and give him the edge over both Japanese and French chefs serving up classical French cuisine in Paris right now.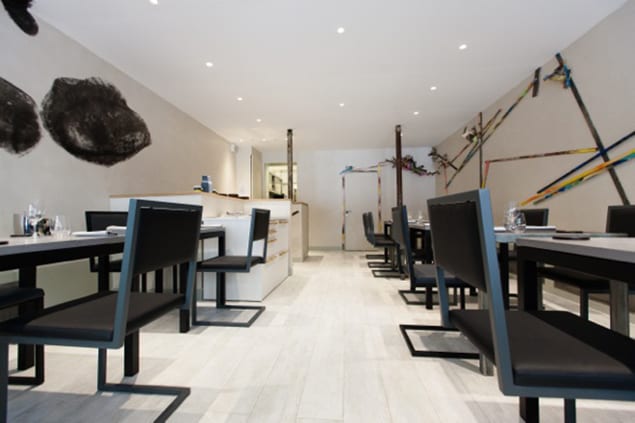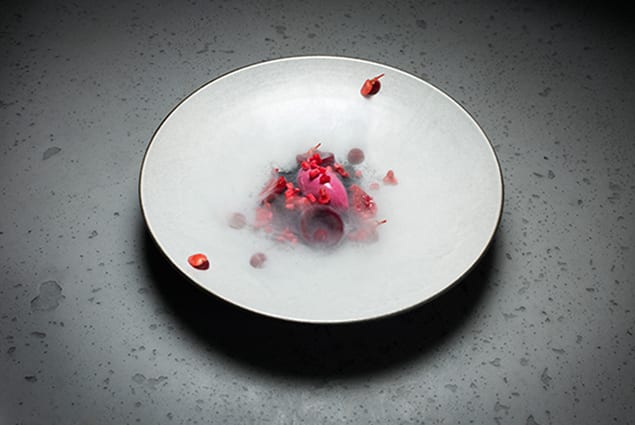 Raspberry, Beetroot and Pepper. 
Situated in Paris's Latin Quarter, A.T. is only a little more than nine months old, yet it continues to exceed expectations and progress in every way possible, often going against the grain. When opening his restaurant, Atsushi knew that he wanted to create something dissimilar to the classic French bistros that are in abundance in Paris. Instead, he would specialize in gastronomy. Perhaps not surprisingly, then, it has already been noted as 'One of the 12 Coolest Places to Eat in 2015' by Forbes Magazine. Now looking to the United States, and more specifically to New York, for inspiration and knowledge, this dynamic, ambitious chef is eager to gain as much experience as he can to further develop his skill and hopefully gain the restaurant a Michelin star in the process.
For Atsushi, what it all comes down to is "originality and the balance of flavors", highlighting the fifth flavor 'umami', which is found in soy sauce and miso paste. Growing up in Japan with so many rich ingredients and such high quality, fresh seafood, Atsushi was quickly instilled with the knowledge that it was the mastery of such flavors that is so crucial, maintaining the stand that sometimes less is more. An example of this being his refusal to use soy sauce at A.T. as "it completely overpowers a dish and distracts the diner's palate." His cooking is very light and he sees the dishes on his tasting menu as telling a story, each as important as the next in terms of the journey it takes you on, and in a sense his dishes are only a translation of his own culinary journey.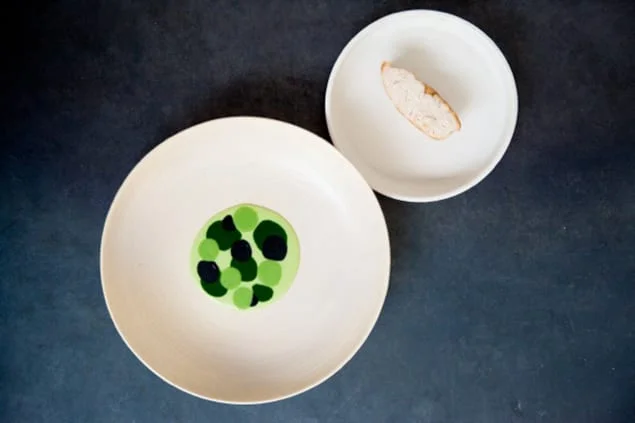 Camouflage – Langoustine, Courgette and Tomato
An advocate for subtle flavors, Atsushi can also be inspired by something as simple as a shade of green, often limiting his dishes to two or three products of the same color, creating a number of different textures from just the one ingredient, he even has a dish named 'Camouflage'.
Taught by Pierre Gagnaire to be unconventional with his cooking, Atushi developed a style that was based on curiosity, balance, and perseverance, later given the name "Picasso of the kitchen" by Pierre himself. Atsushi's creations are a mixture of poetry, art, color and taste. It's ground charcoal, flowers and foie gras and, at times, it can be a little crazy.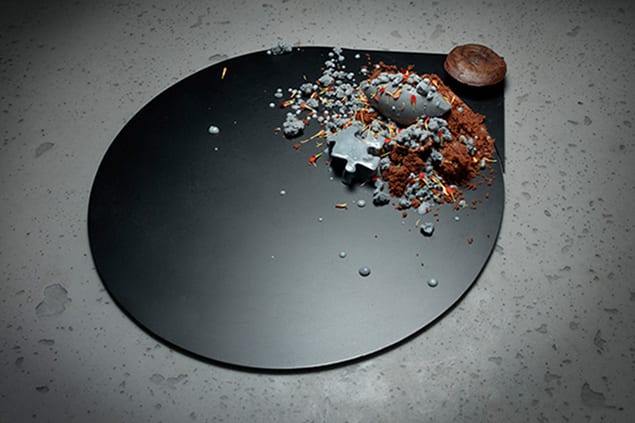 Chocolate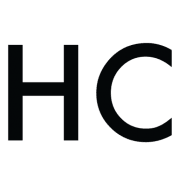 Roberta Phillips
Roberta Phillips is a UK-writer with a major in English and American literature. Her literary portfolio includes working with popular art and culture publications, both as a writer and editor, as well as taking on the world of fine wines and gastronomy.