Try not to enjoy those too often, but trust us, these tasty fritters are sure worth every drop of oil dripping from them.
By Jehanne Ali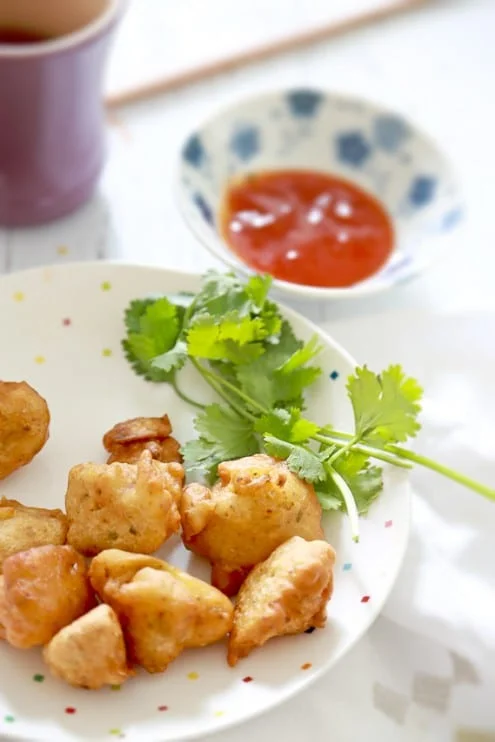 When I was small, my aunt used to make lots of 'cucurs' (fritters) for evening tea. I never fancied them all that much, maybe because it was always available! Be it onion fritters, anchovies, or the medley of any vegetables she could find, this is also her 'rescue' breakfast as they are easy to make yet goes very well for anytime snack.
Memories can be overpowering, and I find myself recreating every single morsel that I used to have as a kid. Last weekend, stress-free with a long leisurely rainy afternoon ahead, those cucur found their place in my kitchen. They were great hit, with a hint of anchovy flavours and the sweet smell of onions.
Dried anchovies are widely available all throughout Asia, but surprisingly during our long stint in England I could hardly find them except in Chinese supermarkets or Specialty stores. I think it is an acquired taste, as some like it yet some don't. Chock full of proteins, do not underestimate this humble fish as it could easily provide high amount of Vitamin E, D, protein and polyunsaturated fat. I would go as far as saying that they are so heart-healthy, yet we hardly incorporate them in our diets as much as we should.
I have been enjoying too much deep fried snacks these days, thanks to AirFryer that the Hubs bought a while back. An impulsive purchase which has clocked its worth with our homemade French fries, beef patties, potato wedges, and even chicken tikka masala, all sans oil! Yes, not a drop of oil yet they taste divine. Unfortunately for these fritters, there is no better way but to deep fry them as given the slightly liquidy batter, they are certainly not suitable for Air Frying. Fret not, use canola oil and try not to enjoy those too often, but trust me, those tasty fritters are sure worth every drop of oil dripping from them.

Cucur Ikan Bilis - Anchovy Fritters
These decadent anchovy fritters are a great party snack.
Ingredients
1 cup plain flour
½ cup cooked rice
1 egg
1 red onion- diced finely
½ cup dried anchovies (ikan bilis)
few sprigs spring onions-chopped
1 small red chilli- sliced finely
½ tsp salt
½ tsp black pepper
Water as needed
Canola oil for frying
Instructions
Grind the anchovies until almost fine powder. You can omit this step and have whole anchovies instead.
Mix all the ingredients together until well combined, add water and form thick pancake batter like consistency.
Heat the oil. Spoon some batter into the hot oil and fry until golden.
Jehanne Ali
Jehanne is an enthusiastic baker, food blogger, mother and wife all in one. She swaps her scalpel from her day job as a doctor to kitchen utensils in the evening and creates magical treatment of healthy treats for her family, which she shares in her blog, The Cooking Doctor. She is a firm advocate of healthy eating and always believes that honest and healthy food will steer you clear from the doctors.