Ronny Emborg, the Nordic star chef from Copenhagen and author of The Wizards Cookbook, creates a cucumber plant dish with a smooth white wine sauce.
By Ronny Emborg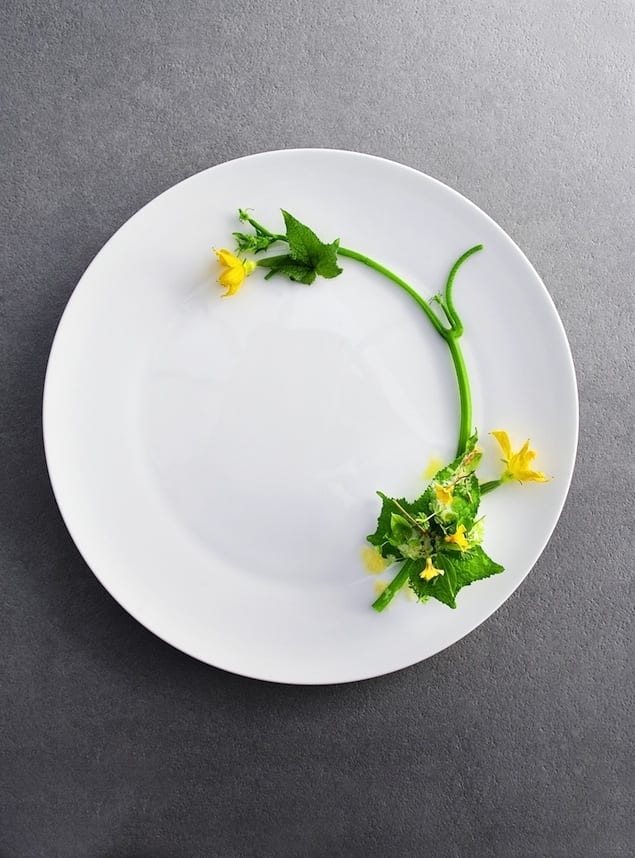 Cucumber Plant with Mullet, Parsley Purée and White Wine Sauce
Ingredients
Cucumber plant
Mullet
150 g mullet with no skin
5 g clarified butter
Salt
Foaming white wine sauce
300 g dry white wine
24 g chopped white onion
50 g intense mussel stock
50 g cream
100 g unsalted butter
0,5 g lecithin
0,5 g sucro
0.2 g xantana
Salt
Parsley purée
400 g flat-leaved parsley leaves
200 g spinach
1 g xantana
Salt
Assembly
Herbs per person
3 lemon verbena
2 chervil
2 flowering stems from red oxalis
2 sorrel shoots
Instructions
Cucumber plant
Cut the top 20 cm off the cucumber plant and save for later.
Pluck the little cucumbers with flowers from the stem.
Pluck the small and big leaves from the stem.
Mullet
Season the mullet with salt, cut into 30 gram pieces and vacuum with some clarified butter.
Cook the mullet in a water bath at 58°C for 5-6 minutes depending on how thick it is.
Foaming white wine sauce
Reduce white wine and white onion to 200 gram and then blend.
Blend the cream, butter, clam mussel stock and reduced white wine.
Heat the white wine sauce to 60°C.
Blend lecithin, sucro and xantana into the white wine sauce.
Sieve the white wine sauce through a net and season with salt.
Parsley purée
Boil parsley and spinach until tender. Then place in ice water.
Squeeze out all the liquid from the parsley and spinach.
Freeze parsley and spinach in a Pacojet beaker.
Run the frozen parsley purée 4 times on a Pacojet.
Blend the parsley purée smooth with some water and xantana.
Season with salt and sieve the parsley purée through a net.
Assembly
Boil the stem of the cucumber plant for 30 seconds and season with salt.
Boil the small cucumbers for 10 seconds without the flower touching the water and season with salt.
Place the stem of the cucumber plant on a plate and then spray parsley purée next to the top of the plant and the bottom.
Place the two little cucumbers in their own parsley purée.
Place the mullet on the parsley purée at the bottom of the plant.
Cover the mullet and parsley purée with a big cucumber leave in the bottom and a small leave at the top.
Decorate the big cucumber leave with chervil, sorrel, lemon verbena and the stem of a flowering red oxalis.
Foam the sauce with a hand blender and then split it with clarified butter.
Apply the foam when serving at the table.