This recipe could not be easier. If you have corn, butter, chili powder and cotija cheese you can't go wrong.
By Carolyng Gomes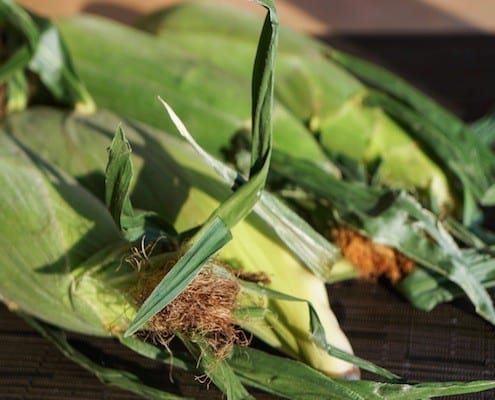 This recipe could not be easier. If you have corn, butter, chili powder and cotija cheese you can't go wrong. For those of you that have no used cotija cheese, it is a Mexican cheese named after Cotija, Michoacán. There are two types. Cotija de Montaña is dry, firm and salty with a very light taste. Cotija Tajo is similar to feta in that it is moist and crumbly with a richer taste and a salty finish. Cotija Tajo is usually pressed into a hard block. When sliced it holds its shape but can easily be crumbled with your fingers. When I use Cotija Tajo I find that the food processor does a fine job of breaking up a chuck of the block into small pea sized crumbles perfect for this dish.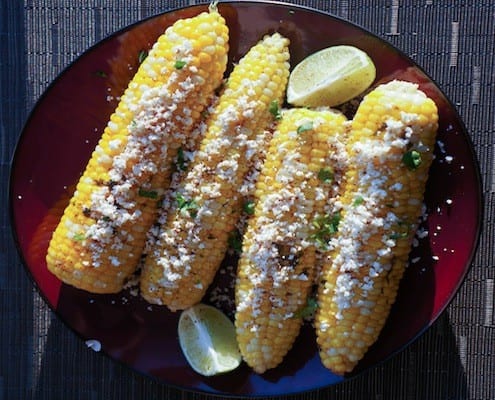 Cotija can be found at most supermarkets, especially during the summer months which is the peak time of production for this type of cheese. The cheese does not melt like other cheese, it just warms and gets a little softer. It is grainy, continuously breaking up into smaller crumbles as you eat it but never becoming creamy adding another layer of texture to your meals.
Back to the corn. Like I said, this is very easy. My go to method involves the aforementioned ingredients, a few sheets of aluminum foil and fresh cilantro for garnish. Do yourself a favor and make this recipe, feature it at your next cook out. You can have them prepared in their foil wraps to be grilled leaving only some cotija chili topping and cilantro to be added right before serving. It is a simple dish that packs tons of flavor and one that will make you and your dish the talk of the party.
Print
Crumbly Chili Cotija Topped Roasted Corn
Roasted corn is already delicious, but topped with crumbly chili cotija cheese and a sprinkle of fresh cilantro this recipe packs on supernova flavor that will surely make it the star at your table.
Author:

Carolyng Gomes

Prep Time:

5 mins

Cook Time:

10 mins

Total Time:

15 minutes

Yield:

4

1

x
2 tablespoons

of Butter

2 tablespoons

of fresh Cilantro

1 tablespoon

of Chili

1/2 cup

of Cotija Cheese, crumbled
Salt and Pepper to Taste

4

ears of corn
Instructions
Clean and prep corn by removing husks, silks and rinsing under cool water.
Starting with the first ear, place the ear on a sheet of aluminum foil that is at least 6 inches wide.
Using 1/2 tablespoon of butter rub the ear until evenly coated. Sprinkle with salt and pepper and roll up making sure to twist the ends of the aluminum foil. Repeat with remaining ears.
Place on the outer edges of your grill for 5-8 minutes and at the center for 2 minutes to char the corn a bit.
While the corn is cooking add about 4 ounces of cotija to the food processor with the chili. Pulse until it resembles large pea sized crumbles. This should be about half cup. Process a bit more if needed.
Remove corn from heat and remove aluminum foil.
Place the four ears of corn on a plate and sprinkle with cotija cheese pay close attention to sprinkling the length of each ear evenly. Some will fall off, that is ok.
Top with fresh, coarsely topped cilantro for added flavor and nice presentation.
Notes
This recipe is for a grill. If you are making this in your oven, preheat to 350F and bake until tender, about 15-20 minutes.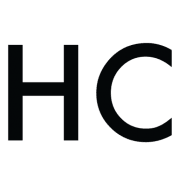 Carolyng Gomes
Carolyng loves to eat, loves to cook and loves to eat more. To her a recipe is more a list of suggestions, saving time doesn't mean sacrificing on flavor and when in doubt, a splash or two (well, a nice pour) of wine never hurts. Welcome to her Cocina Latina, where South American and Latin fusion dishes are always on the menu.