Crostini di Fegatini are a must on any Tuscan table for Christmas – delicious, rustic chicken liver pate spread on rounds of toasted bread, usually made by one of the nonne.
By Emiko Davies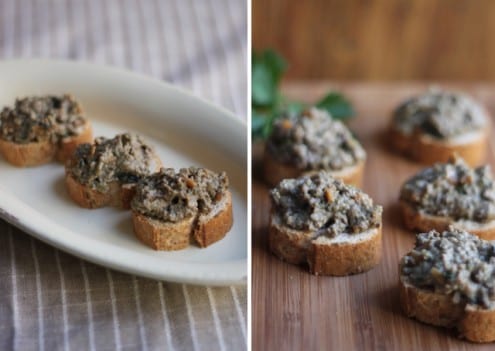 This favourite Tuscan antipasto is rustic, tasty, cheap and sensible (why throw away a perfectly good part of the chicken?) and it features on the menu of literally every trattoria in Tuscany, not to mention on the tables for every birthday, Christmas or other important family gathering in a Tuscan home.

Crostini di Fegatini - Tuscan Christmas Chicken Liver Pate
Crostini di Fegatini are lovel chicken liver pate crostinis - a must on any Tuscan table.
Author:
Emiko Davies, based on Artusi's recipe
Ingredients
300 grams of chicken livers (make sure the bitter gall is removed from the liver) and hearts (optional)
A slice of pancetta, chopped
1 eschalot
½ stalk of celery
½ carrot
A handful of chopped parsley
1 tablespoon of butter
1 cup of chicken or vegetable stock
3 pieces of dried porcini mushrooms, soaked in warm water and finely chopped
1 tablespoon of breadcrumbs
Juice of one lemon
Olive oil
Salt and pepper to taste
A thin loaf of bread, such as a baguette for crostini
Instructions
Finely chop the eschalot, celery, carrot and parsley and sauté these gently in pan with the pancetta in the butter and a glug of olive oil. Season with a pinch of salt.
When soft and golden, add the whole chicken hearts and livers.
Halfway through cooking (about 3 minutes), remove the mixture from the pan and place on a chopping board together with the softened porcini mushrooms and finely chop everything. Some prefer a smoother pate, in this case you can puree the mixture with a hand blender directly in the pan, but the traditional way is finely chopped and rustic.
Return the chopped pate mixture to the pan and add the broth and finish cooking. This mixture should be quite tender and juicy so do not allow it to reduce too much so that it becomes dry.
In the meantime slice the baguette in 1cm thick slices. Some even like to dip one side of the bread in some leftover broth (but this is optional) before spooning a generous amount of warm pate onto each bread slice.
Serve immediately.
Emiko Davies
Emiko Davies is a food writer, photographer and illustrator who Amanda Hesser calls the "Renaissance Woman for the Internet Era". She lived in Florence, Italy, for seven years where she nurtured her love of regional Italian cuisine and now calls Australia's food capital, Melbourne, her home.