Crock-Pot White Chicken Chili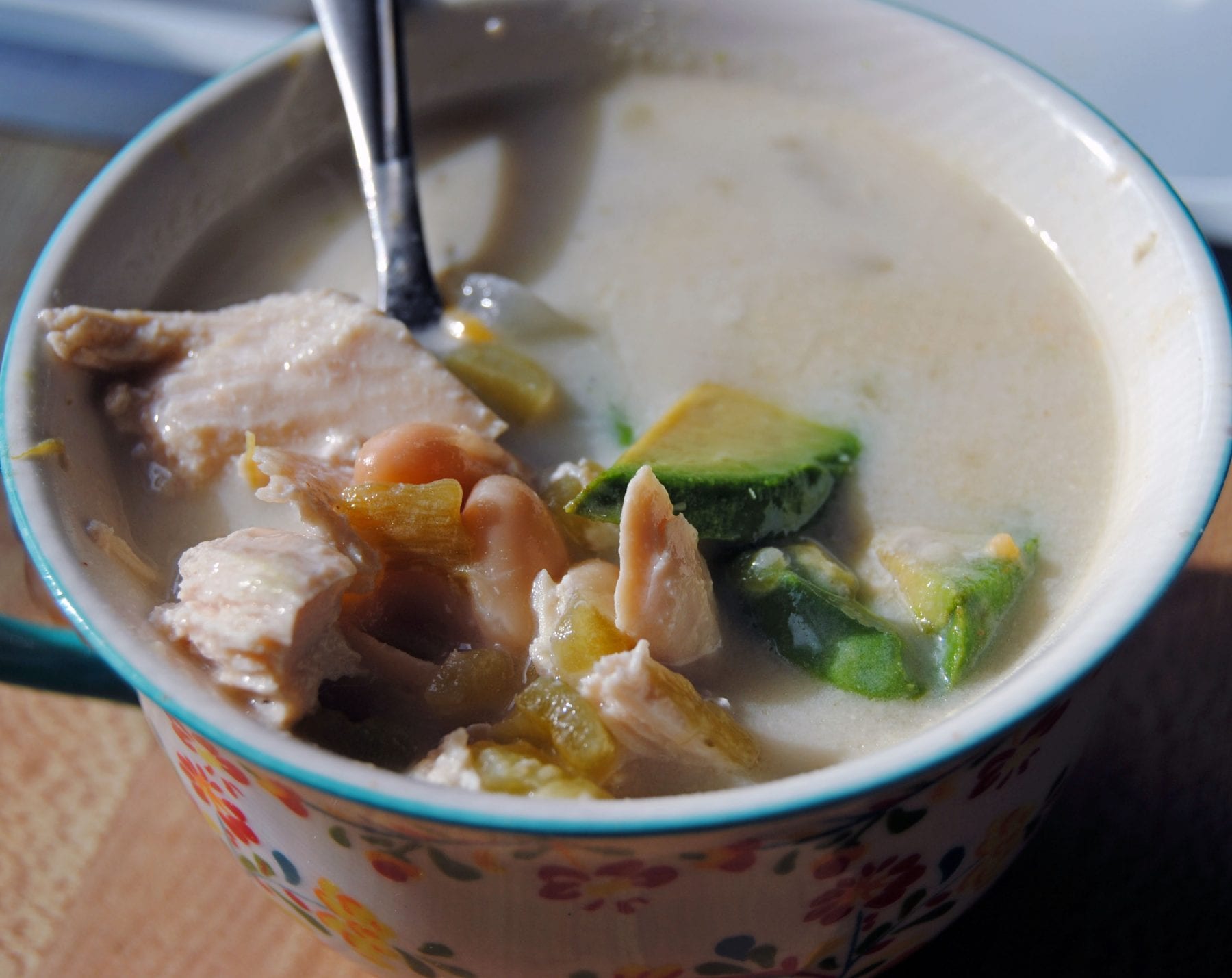 A rich, easy-to-make soup with shredded chicken, white beans and green chiles — topped with a savory combo of sliced avocado and shredded cheese.
By Lauren Hardy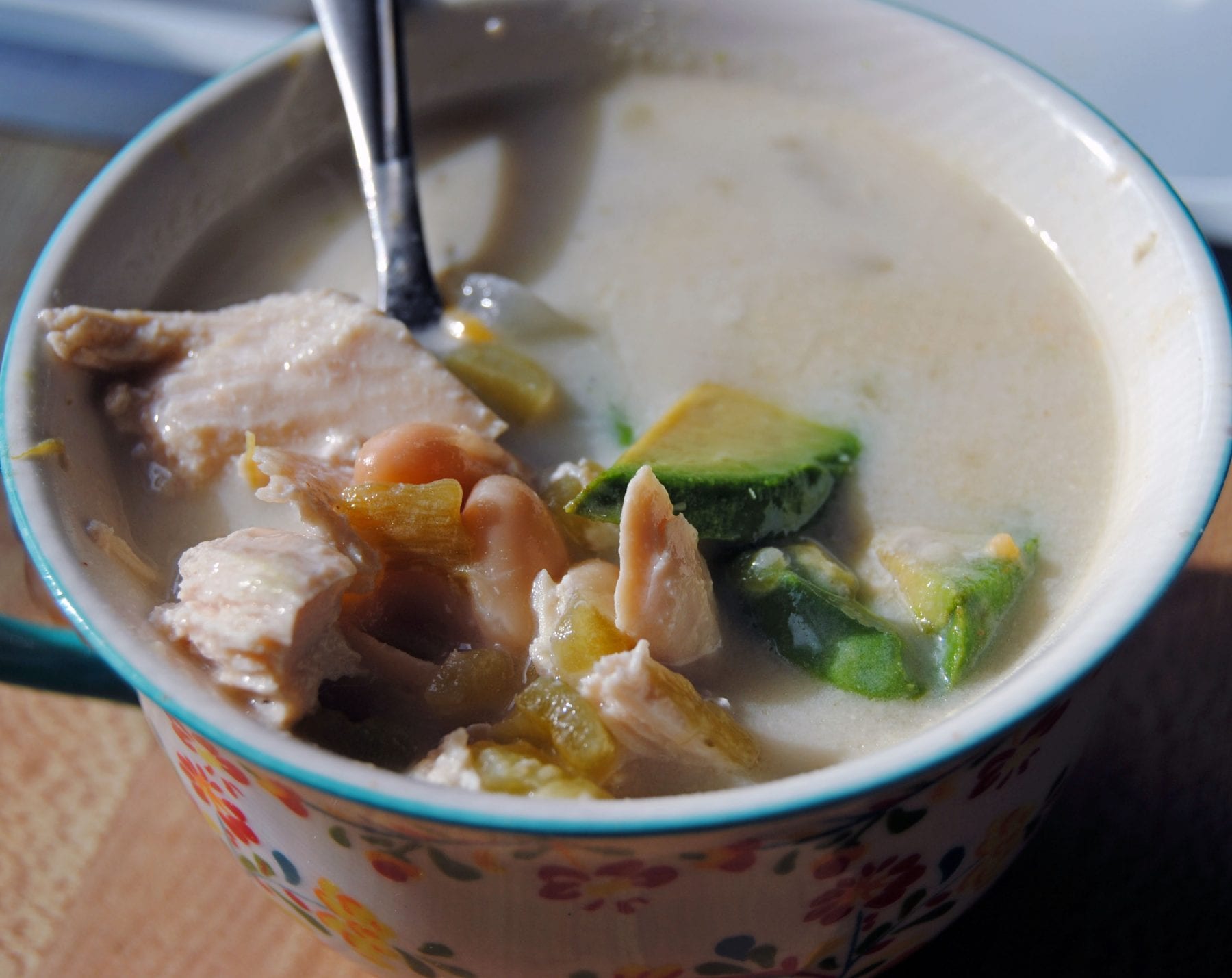 Sub-zero temperatures rocked the Midwest region of the United States yesterday.
As I walked to class, I heard nothing but shivering lips and the quick shuffle of frozen feet.
These are the days when hot liquids are a necessity. A hot cup of coffee or tea, a warm shower, a steaming cup of soup — these are the things that make bone-chilling weather somewhat bearable. Soup won't make cold weather go away, but it can certainly warm the body and soothe the mind. This White Chicken Chili is no exception.
I made a big batch of this chili last weekend and have been enjoying it every day since. The texture of the shredded chicken is arguably one of the softest and juiciest I've ever cooked. Paired with the savory chicken broth, creamy half and half and wholesome avocados, this soup is a rich delight.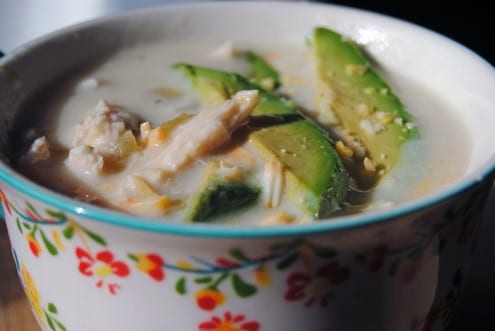 Crock-Pot White Chicken Chili
A rich, easy-to-make soup with shredded chicken, white beans and green chiles — topped with a savory combo of sliced avocado and shredded cheese.
Ingredients
2 boneless skinless chicken breasts
1 medium onion, chopped
1 garlic clove, minced
1 can great northern (or any kind of white) beans, rinsed and drained
2 (4 ounce) cans diced green chilies
3 cups lower-sodium chicken broth
1 tablespoon lime juice
¼ teaspoon salt
1 teaspoon oregano
½ teaspoon pepper
¼ teaspoon cayenne pepper or chili powder
1 teaspoon Tabasco sauce (optional)
1 cup sour cream
½ cup half and half
Shredded cheese (Monterey Jack or Cheddar) for topping
1 avocado, sliced
Instructions
Place the chicken breasts in the bottom of a Crock-Pot. Add the following 10 ingredients — not the last four items — and pour on top of the chicken. Turn the Crock-Pot on high and cook for 3 hours (or on low for 6).
Remove the chicken breasts from the Crock-Pot and shred. Add the shredded chicken, sour cream and half and half to the Crock-Pot and stir until combined. Top with shredded cheese and avocado slices. Serve warm with tortilla chips.
Lauren Hardy
Lauren Hardy is a writer, editor and self-taught, experimental foodie. By the time she was 6 years old, she had the Toll House Inn chocolate chip cookie recipe memorized and baked a variety of batches for her family each week. Her passion for cooking flourished during her college years.In addition to her writing aspirations, she hopes to own a bakery someday. You can follow her latest musings on her blog, "Making Life Sweet," at laurenhardy.com, where she blogs weekly about inspiration, food and faith.