The Holiday Season is the perfect time to serve this delicious Croatian meatloaf.
By Tamara Novacoviç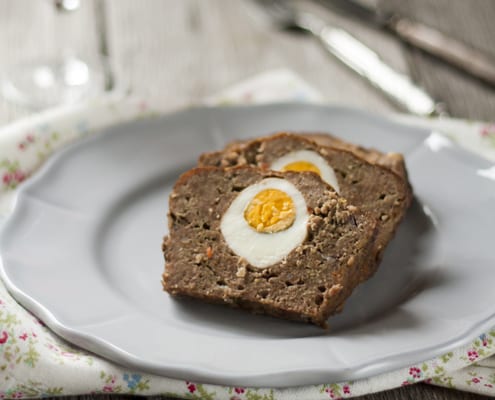 This form of meatloaf is rather traditional in Croatian cuisine. It's most often made during the days families and friends gather around table. It's festive purpose makes it that more delicious, since we usually don't enjoy this treat very often throughout the year. Christmas holidays ahead are the perfect time to serve meatloaf.
Sometimes, you can wrap bread dough around the meatloaf and bake it together. However, I kept it simple here. The addition of hard boiled eggs is quite traditional for our cuisine and it makes it decorative. The simplest way to bake this meatloaf is in a bread pan, but you can also simply roll it into a log, place on parchment paper and bake. This, however, will help it keep its shape.
I recommend serving it with a gravy and baked potatoes.
Meatloaf with eggs
Prepared for special occasions, this traditional meatloaf is the perfect holiday dish.
Ingredients
24.6 oz (700 g) minced meat (beef and pork combined)
salt
pepper
smoked paprika
½ onion
parsley
3 cloves garlic
2 pieces of stale bread
7 oz (200 g) bacon
1 egg
0.4 cups (100 ml) sparkling water
4 hard boiled eggs
milk
Instructions
Preheat oven to 356 F (180 C).
Cook eggs, break bread into pieces and soak in milk.
Heat some oil in skillet and add finely chopped onion, garlic and bacon, cook for minutes on low heat.
Combine minced meat with prepared onion, garlic and bacon. Add spices, sparkling water and bread that has soaked up the milk. Combine the mixture with hands (don't over mix it, though) and separate into two equal parts.
Lightly grease baking pan and press in the first part of the meat mixture. Assemble hard boiled eggs down the middle of the loaf (press them in gently) and cover with the second part of the meat mixture.
Place the loaf together with baking pan into a larger baking pan filled with water and bake for hour. Check with skewer to test if it's done.
You need to let it cool before cutting into slices. Let it rest for 15 minutes, then cut and serve.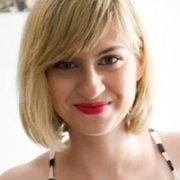 Tamara Novakoviç
Tamara Novakovic is a passionate self-taught cook, food blogger, freelance food writer and photographer behind bite-my-cake.blogspot.com. Her life journey has led her through Faculty of Humanities in Zagreb, Croatia to discovering passion for making cakes. She is currently a weekly food columnist for Croatian newspaper V magazine and food magazine Repete.