This pie is a beloved Croatian version of cheesecake-like desserts with two layers of pastry surrounding the creamy filling.
By Tamara Novakoviç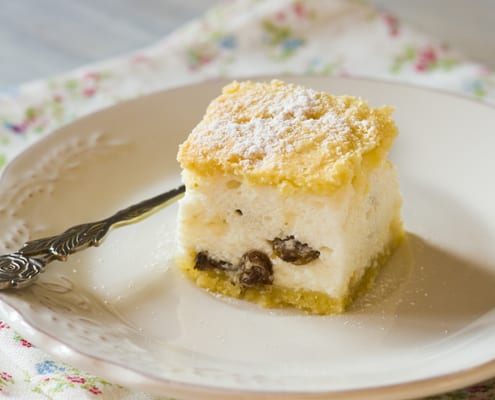 Croatian Cheese Pie
This pie is a beloved Croatian version of cheesecake-like desserts with two layers of pastry surrounding the creamy filling.
Ingredients
For the dough
10.5 oz (300 g) flour
1 tsp baking powder
7 oz (200 g) butter
3.5 oz (100 g) sugar
zest of 1 lemon
2 egg yolks
1 tbsp sour cream
pinch of salt
For the filling
4 egg whites
17.6 oz (500 g) cottage cheese (or cream cheese)
6.3 oz (180 g) sugar
1 tsp vanilla extract
1 tbsp semolina
zest of ½ lemon
3.5 oz (100 g) raisins
Instructions
Make the dough: combine flour with salt, lemon zest and baking powder. Add butter cubes to it: combine with fingers until the mixture resembles coarsely ground meal. Add other ingredients and knead until the dough forms. Cover with plastic wrap and store in fridge until you prepare the filling.
For the filling, mix egg whites until stiff peaks form (you can add a pinch of salt). In the end, gradually mix in sugar. Mix cottage cheese with vanilla and combine with egg whites using a wooden spoon or spatula. Add finely grated lemon zest, semolina and raisins.
Preheat oven to 392 F (200 C). Line rectangle baking pan (dimensions 35 x 25 cm) with parchment paper.
Cut the dough in half. Roll the first half onto floured surface. Transfer it to the pan, using your rolling pin. Spread the filling evenly on top of it. Roll out the second half of the dough and again using your rolling pin transfer it on top of the filling. Tuck the edges in. Make tiny holes using a fork or toothpick. Bake for 40 minutes. Let cool completely and cut into squares. Serve.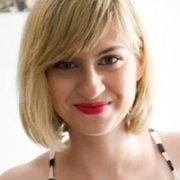 Tamara Novakoviç
Tamara Novakovic is a passionate self-taught cook, food blogger, freelance food writer and photographer behind bite-my-cake.blogspot.com. Her life journey has led her through Faculty of Humanities in Zagreb, Croatia to discovering passion for making cakes. She is currently a weekly food columnist for Croatian newspaper V magazine and food magazine Repete.