Crispy Tofu and Broccoli Bowls with Spicy Hoisin Sauce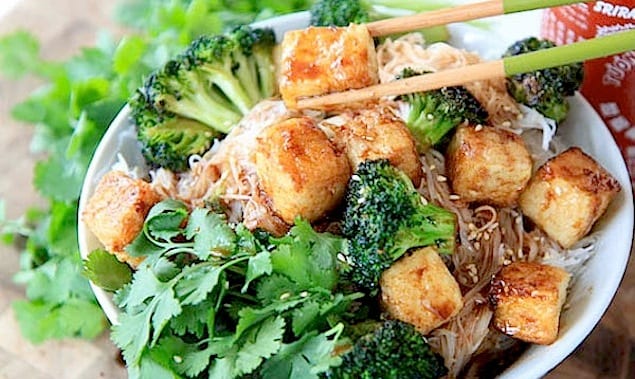 Crispy tofu sits atop thin rice noodles that are perfect for soaking up the flavorful sauce. That flavorful sauce, spicy hoisin, is brightened with cilantro and broccoli and brings the dish together.
By Taylor Kadlec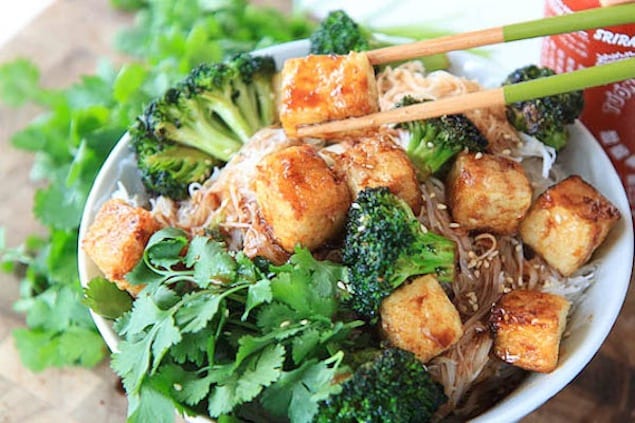 It contains three new obsessions of mine that make up one big obsession, which is this dish. First: crispy tofu. Second: rice noodles. Extra thin, preferably. They cook super fast and I love how they just soak up every bit of flavor you throw at them. I also love their texture and being a big texture person, this is huge for me. Third: spicy Hoisin sauce. Super flavorful and super yum, which is super important when those said noodles are soaking it all up.
So there ya have it. Those three awesome things, combined with a few other pretty great things, make one really yummy noodle dish. I almost didn't add the cilantro because I wasn't sure how it would go with the broccoli but I am really glad I did. Since the sauce has a ton of flavor and salt from the soy sauce, Hoisin, and Sriracha, the cilantro brightens things up and adds a bit of freshness to each bite, which I loved. You could also use other veggies that you like, if you're not a fan of broccoli. I think cauliflower, brussels sprouts, red pepper, or snow peas would all be good.
Crispy Tofu and Broccoli Bowls with Spicy Hoisin Sauce
Crispy tofu sits atop thin rice noodles that are perfect for soaking up the flavorful sauce. That flavorful sauce, spicy hoisin, is brightened with cilantro and broccoli and brings the dish together.
Ingredients
1 block firm tofu
½ cup cornstarch
½ tsp salt
1 head broccoli, cut into small florets
2-4 tbsp oil (I used canola)
8 oz rice noodles
chopped cilantro, for topping
sesame seeds, for topping
for the sauce:
2 tbsp Hoisin
1 tbsp honey
1-2 tsp Sriracha (depending on how spicy you want it)
2 tbsp rice vinegar
1 tbsp sesame oil
1 clove garlic, minced
⅓ cup soy sauce
2 tbsp water
Instructions
Start by making the sauce.
Combine all ingredients for the sauce in medium bowl and whisk well to combine. Set aside.
Next, the tofu and broccoli.
Drain tofu and dry with paper towel to remove excess liquid.
Cut tofu into slabs, length wise, then cut each slab in half and then cut into cubes.
Add cornstarch and salt to large bowl.
Toss the tofu cubes in cornstarch and salt, working in batches.
Add 2 tbsp of the oil to large saucepan over medium-high heat.
Add about half of the tofu, cooking until golden brown, about 10 minutes. You will have to keep flipping the cubes around once the sides get golden.
Repeat with remaining tofu. Add additional oil, if needed.
Once tofu is done, set aside on a plate.
Add another 1 tbsp of oil to same pan and add broccoli.
Cook 5-7 minutes, until bright green and tender. I like to add 1-2 tbsp of water and cover the broccoli, to get it to steam and cook through, without having to add more oil.
While broccoli is cooking, you can bring large pot of water to boil.
Add rice noodles and cook according to the package, typical just a few minutes, until they are soft.
Drain.
Combine noodles, tofu, broccoli, and sauce in the same large saucepan over medium heat, tossing to combine and heat the sauce, just for a minute or two.
Serve into individual bowls.
Top with cilantro and sesame seeds.
Taylor Kadlec
Taylor Kadlec is a lover of all things food including baking, cooking, and of course, eating. She is a self-taught baker and cook, and she shares her kitchen adventures on her blog Greens & Chocolate, where healthy cooking meets sinful indulgence.