This appetizer is quick and healthy, but without compromising on taste.
By Prathima Rao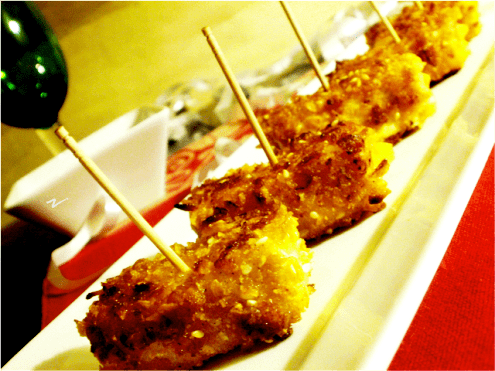 For an instant gratification, a quick bite at a fast food place may satisfy your hunger for a while. But does it guarantee a healthy meal? While pondering on this thought last week I remembered this simple, quick recipe I had come across and had bookmarked to try. What made me delay in trying this out was the fact that it hardly had many ingredients – flavorful, fiery ones that is. We are so used to eating spiced-up dishes or foods loaded with herbs or sauces. In this only sesame is used to lend flavor!
Curiosity and the interesting way to cook tofu made me eager to try it out. And off I went to get a packet of tofu and try this delicious Japanese appetizer. And we were NOT disappointed with the results. In fact it tasted great and falls in cannot-have just-one category! This fried tofu can be served as an appetizer with a hot, sweet & sour flavored sauce or with an array of different sauces. Goes well when served along side with soups too.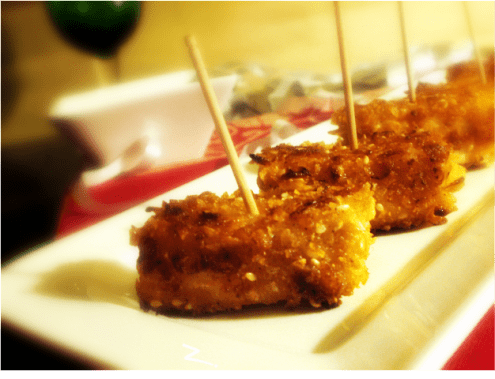 The nuttiness from the sesame comes through well against the crunchiness of the cornflakes. The sesame is the one ingredient whose flavor is dominant in this dish. I added lesser of the plain flour than required in the recipe. Next I would probably try with just the cornflour to see how well the batter coats the tofu. If it works out fine then I can do away with the flour all together.
Crispy Sesame Fried Tofu
This appetizer is quick and healthy, but without compromising on taste.
Ingredients
Tofu (drained well) - 12 pieces of 2"x 1"
Oil to shallow fry
For the batter :
Plain Flour/ Maida - ½ cup
Cornflour - 2 tbsp
Baking Powder - ¼ tsp
Black Pepper powder - to taste
Salt - to taste
For crispy coating :
Crushed cornflakes (crush till almost fine) - ½ cup or as needed to coat
Black sesame seeds - 1 to 2 tbsp (or a mixture of black and white sesame seeds)
For garnish (optional) :
Spring onion greens
To serve :
Sweet Chilli Sauce or
Sweet, Sour and Hot Sauce or
Chilli jam
Instructions
Take tofu block and put it in a bowl of hot water for 3 to 4 mins (not more). Drain well. You can keep this tofu in a muslin cloth and put it between two wooden blocks for few minutes to drain well as tofu contains large quantities of water. Cut into cubes.
In a bowl combine all the ingredients for the batter. Add enough water to make a thick batter.
In another shallow bowl/plate combine the crushed cornflakes (crush with hands) and the sesame seeds. Mix lightly.
Dip the tofu cubes in the batter, roll in the cornflakes mixture and shallow fry in hot oil. Fry on all sides till they turn golden brown.
Garnish and serve hot.
Notes
You may use only white sesame seeds instead of black.But if you do get hold of the black ones, do add it for an authentic Japanese flavor. Soaking tofu in hot water will help to remove impurities if any and soften them enough to absorb the flavors of the other ingredients well.