Crispy Salmon with Ginger Soy Sauce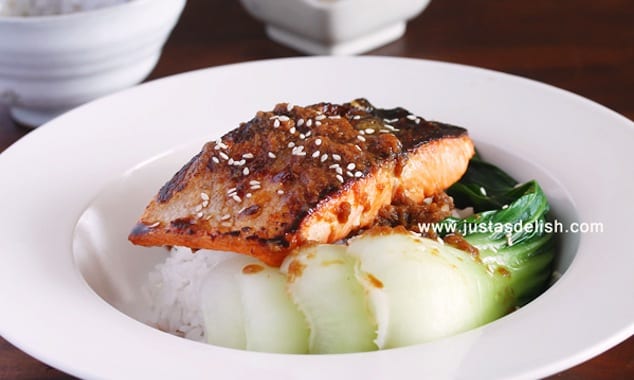 Asian inspired Crispy Salmon with Ginger Soy Sauce. The crunch of the salmon skin is the perfect contrast to a piece of tender, juicy salmon.
By Shannon Lim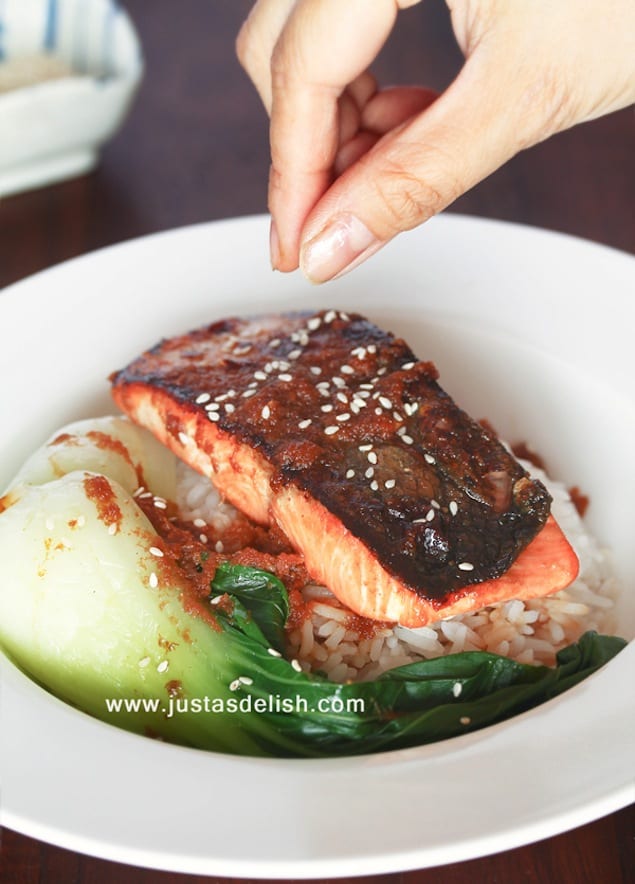 The crunchy crispy skin on the salmon is the best part of the fillet. The crunch of the skin (crispier than a potato chip) is the perfect contrast to a piece of tender, juicy salmon. But if you are not careful, placing the fillet on a pan that's not hot enough will get the skin gets solidly fused to the pan and you end up completely separating the meat from the skin as it cooks. That's what happened to me this time. Oh well, it's not the end of the world – the skin is crispy and meat perfectly cooked, but it's not going to impress the guest.

Crispy Salmon with Ginger Soy Sauce
Asian inspired Crispy Salmon with Ginger Soy Sauce. The crunch of the salmon skin is the perfect contrast to a piece of tender, juicy salmon.
Ingredients
2 (about 125g each) skin-on Salmon Fillets – clean & scales removed
2 tablespoon Soy Sauce or Tamari
1 tablespoon Honey
2 teaspoon grated Ginger
1 tablespoon Sesame Oil
2 bunch Bok Choy (or Chinese Kai Lan)
Steamed Rice, to serve
1 tablespoon Sesame Seeds – toasted, for garnish
Instructions
Heat a large non-stick frying pan over high heat to almost smoking hot. Pat dry salmon with paper towel and place to the pan, skin-side down, and cook for 4-5 minutes or until crisp. Turn for a quick 15-20 secs sear.
Meanwhile, combine soy sauce, honey, ginger and half the sesame oil in a small bowl.
Put a medium pot with 2 inches of water to boil. Place bok choy for 30 seconds and drain.
Plate salmon and boy choy over rice. Drizzle over ginger and soy sauce and sprinkle with toasted sesame seeds.
Notes:
Clean the salmon skin by running your chef's knife along the skin with a bit of pressure, scraping the scales off
If you are using an uncoated pan, heat it with high smoke point oil like safflower or grapeseed oil (not olive oil). Use a sturdy, metal turner/spatula that can really get under the fish, not one of those flimsy plastic ones.
Shannon Lim-de Rooy
Shannon's kitchen is her playground and creative outlet, where she loves to experiment with recipes. As a Malaysian, her food influences are mainly Malay, Chinese and Indian cuisine but her curiousity in other culture lead to cross cultural cooking. On her blog JustAsDelish.com, she pursue her mission in creating healthy and delish food.