Crispy Potato Stacks with Sour Cream and Chives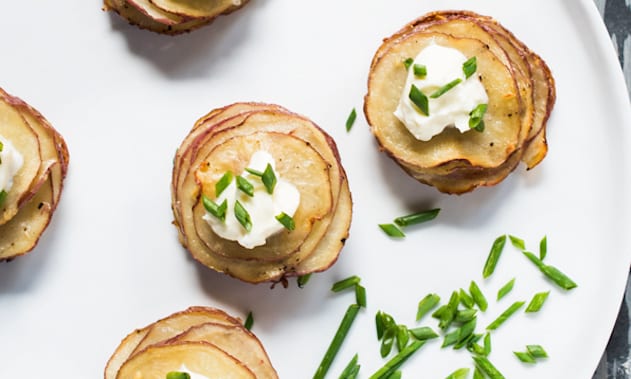 This crispy tower of potatoes is a beautiful, but simple to create, appetizer that all of your guests will enjoy. Top with your favorite herbs or aioli.
By Kathleen Kiebler
I've got a great side dish that will help you through the week ahead. These Crispy Potato Stacks with Sour Cream and Chives make an elegant presentation, but they're so easy to prepare. Simply toss the sliced potatoes in the garlic and olive oil mixture, stack individually in a muffin tin, bake, top with sour cream and chives, and serve. Wham, bam… done.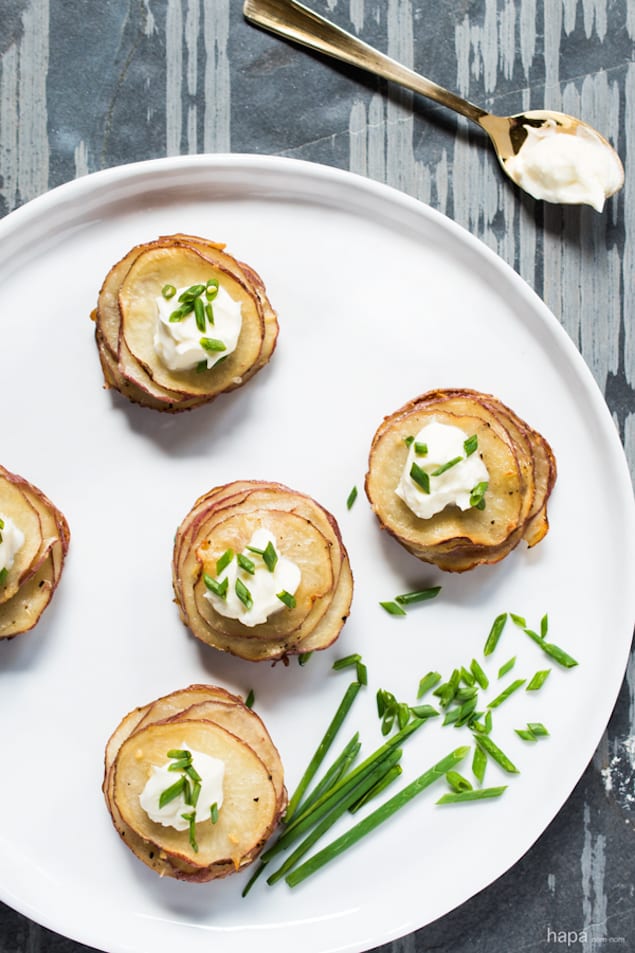 A few tips to keep this dish as easy as it is delicious:
Buy potatoes of equal size and dimension. This will ensure that your slices are relatively uniform and therefore easier to stack.
I highly recommend using a mandoline. It will give you nice, even slices in no time flat. It doesn't have to be an expensive model – I have one that I purchased for $15 and it works just fine. Just be sure you always use the hand-guard.
Slice the potatoes just before you're about to bake them – this will help prevent oxidation (when sliced potatoes turn brown).
Now the only other bit of deliciousness you must make to get you through the week is this homemade mozzarella. Don't worry, it's so easy!

Crispy Potato Stacks with Sour Cream and Chives
This crispy tower of potatoes is a beautiful, but simple to create, appetizer that all of your guests will enjoy. Top with your favorite herbs or aioli.
Ingredients
2 tablespoons extra virgin olive oil, plus more for brushing
3 cloves garlic, minced
¼ teaspoon black pepper
1½ pounds red potatoes
sea salt, to sprinkle on top
sour cream, to top
fresh chives, sliced - for garnish
Instructions
Preheat the oven to 375 degrees F.
In a large bowl, whisk together the 2 tablespoons of extra virgin olive oil, garlic, and black pepper. Thinly slice the potatoes and add to the bowl. Toss to coat evenly.
Brush the inside of a muffin tin with olive oil. Layer the potato slices into stacks in the prepared muffin cups, filling each one a ⅓ of the way. Sprinkle the top of each stack with sea salt. Bake until the edges and tops are golden brown and the centers are tender, 45 to 55 minutes. Allow to cool for a few minutes and then lift out with a small spatula or fork. Plate and top with a dollop of sour cream and chives.
Kathleen Kiebler
Hi there, I'm Kathleen. I am a Hapa (a person of mixed ethnic heritage) who grew up in a family that loves to cook and loves to eat! My food is a reflection of me and I am a reflection of my food. My mixed background has given me multiple perspectives throughout my life. Those perspectives have left me open to not just exploring the beauty of my own cultural backgrounds, but others as well – and at the heart and soul of them, is food. Hapa Nom Nom creates a culinary environment where foods from multiple cultures are integrated into recipes that can be shared and enjoyed by everyone.