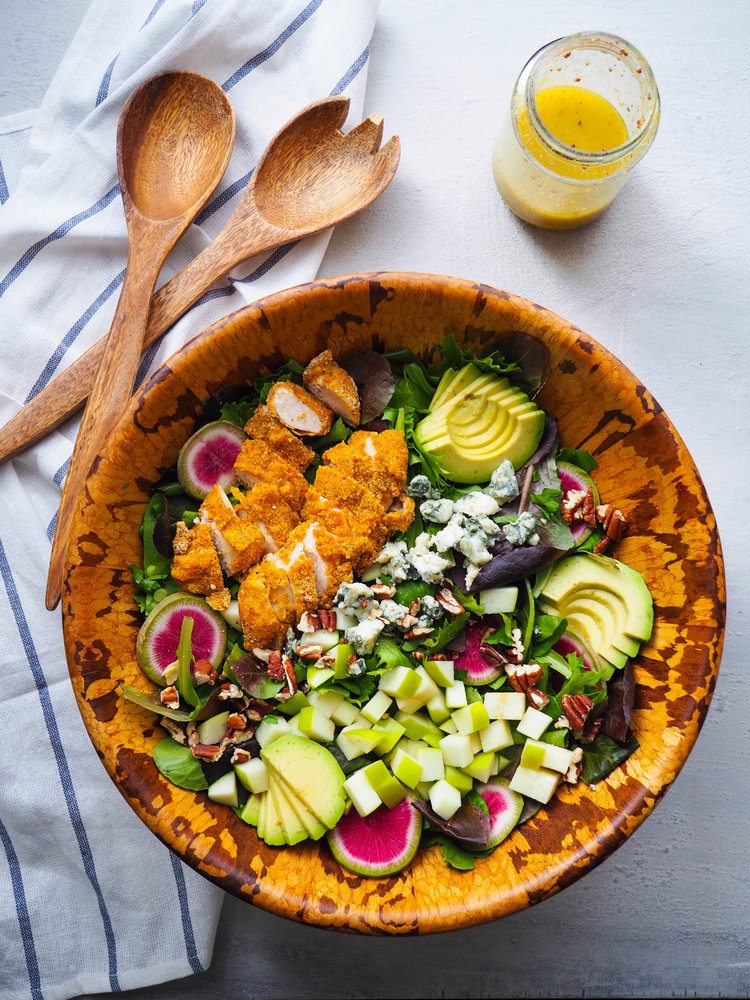 I made this salad over the weekend and it was such perfection that I had to share it with you. Salads get such a bad rep, at least from a yumminess perspective. Because salads are for being "good," not tasting good, right??
Now, this is one salad you're gonna actually be excited to eat. There's crispy cornmeal crusted chicken. Tart and juicy Granny Smith apples. Creamy sliced avocado. Toasted pecans. Peppery watermelon radish. And let's not forget that gorgonzola cheese – my favorite!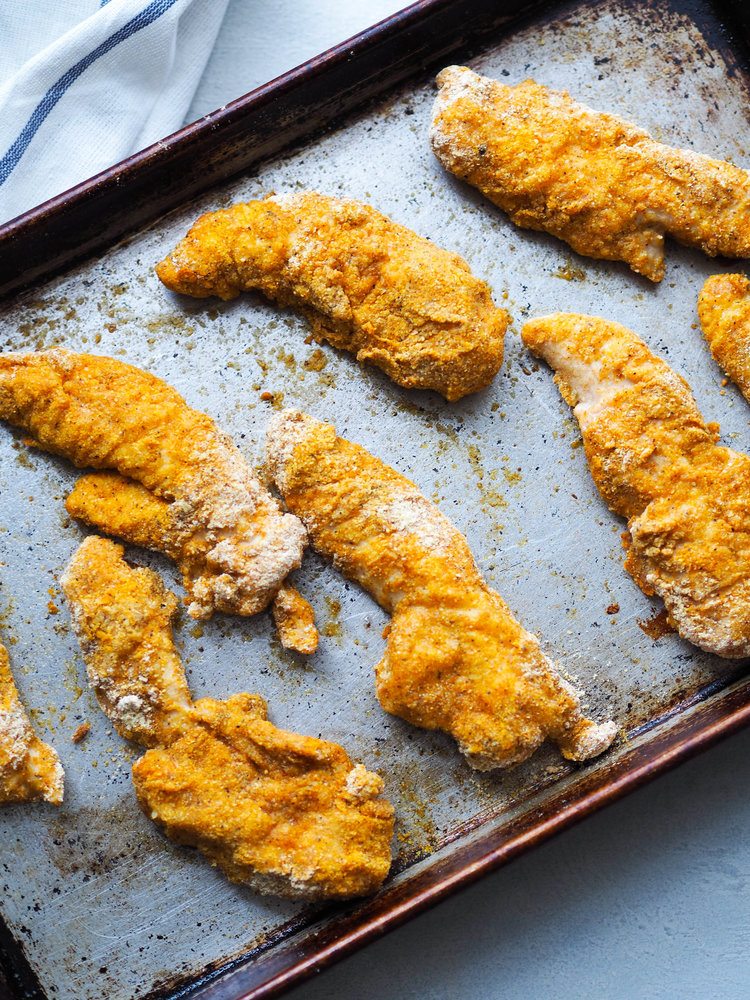 Side bar on gorgonzola cheese: I was teaching a nutrition class last week to a group of teens in an adolescent intensive outpatient program I work with, and I mentioned that cheese was my favorite food. One kid asked what my favorite kind was, so I just started naming all the kinds of cheese I like. One of the kids chimed in "so, everything except moldy cheese?" And I was like, "nope, I like that too!" Because blue cheese is moldy cheese (in case ya didn't know). I thought his eyes were going to pop out of his head. The look of disgust I got was priceless!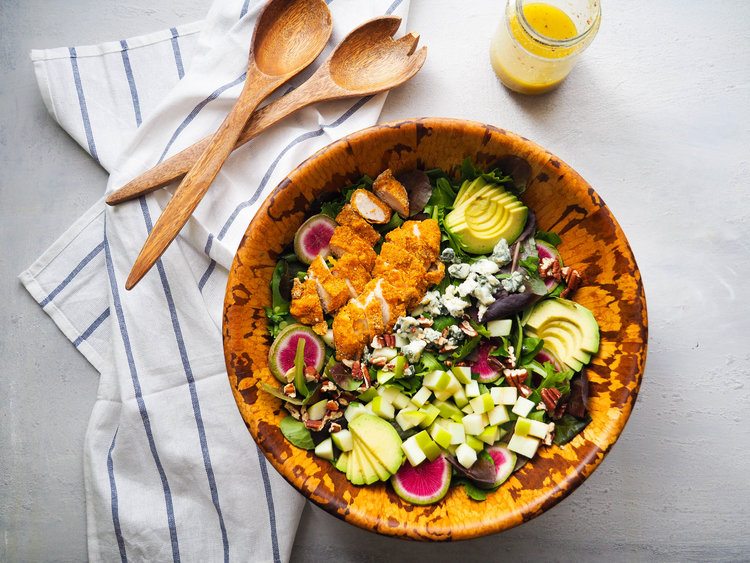 To make a salad that actually satisfies and tastes good, here's the components I'm always sure to include:
Greens – duh, it is a salad after all. I'm kinda picky about my greens. For lettuce, I love to get local lettuce from City Roots because it honestly tastes SO much better. I also love romaine, arugula and butter lettuce.
Protein – chicken, fresh fish, canned fish (love when it's canned in olive oil because all you have to do is add a squeeze of lemon juice to make dressing), baked tofu, beans, cheese and nuts, etc
Carb – roasted potatoes or sweet potatoes, brown rice, quinoa, fruit, crushed up tortilla chips, etc
Fat – the dressing works, but I personally find salads are more satisfying when I have a few different kinds of fat, like nuts, olives, cheese, avocado and/or seeds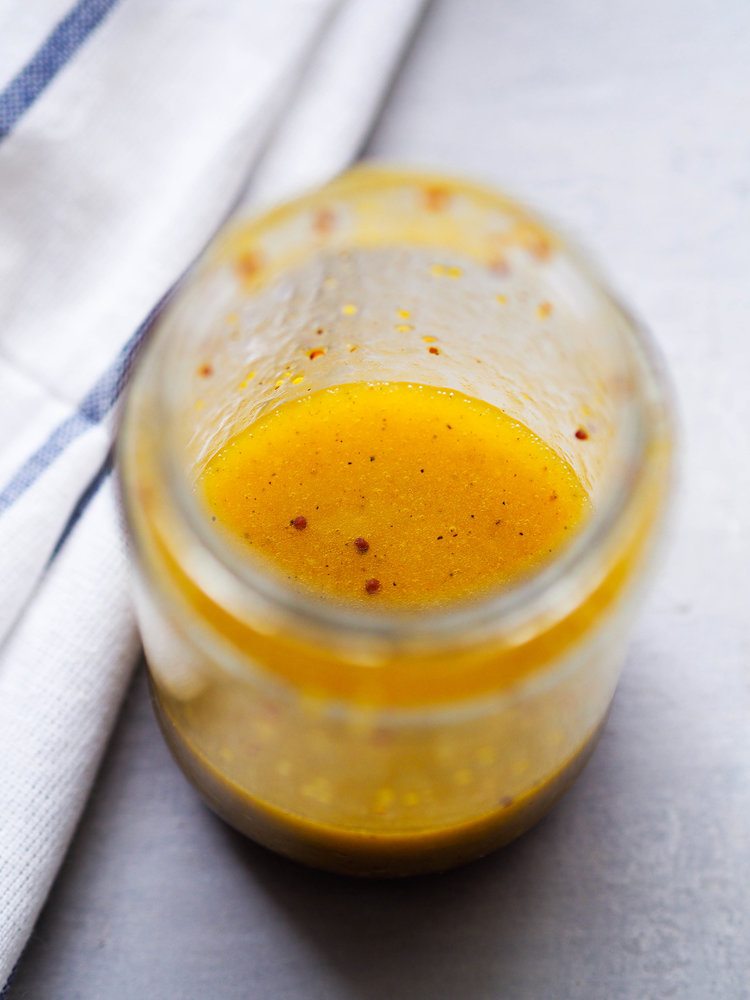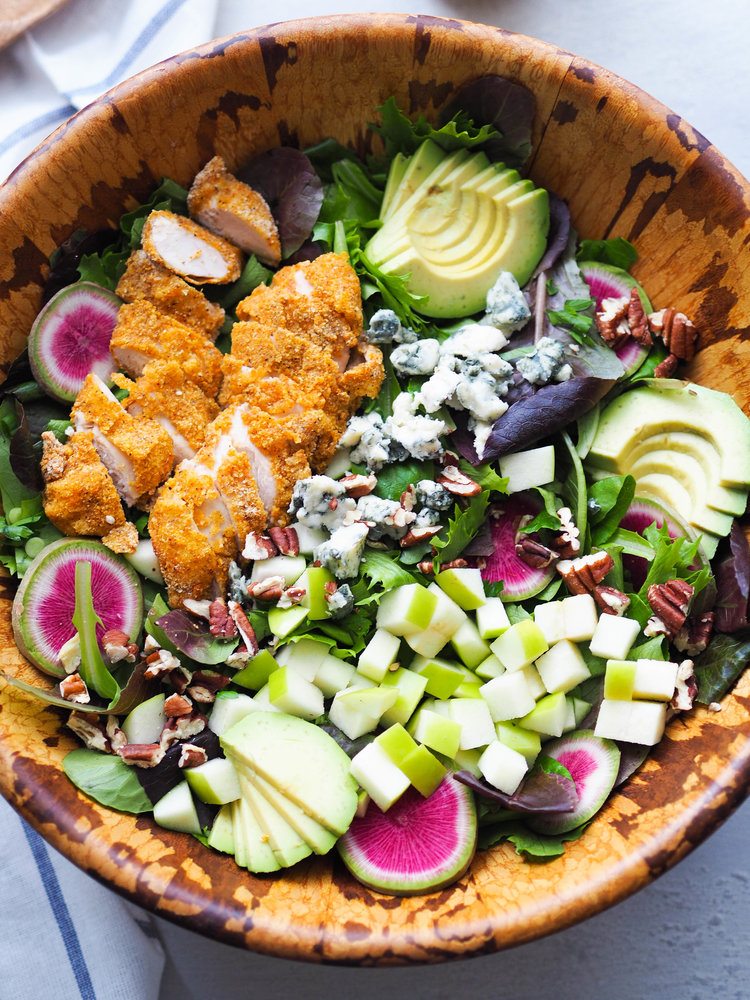 Flavor boosters – because a salad needs to taste good. Really good crumbled cheese, olives, sun-dried tomatoes, toasted nuts, dried fruit, etc. Basically anything that adds a lot of flavor.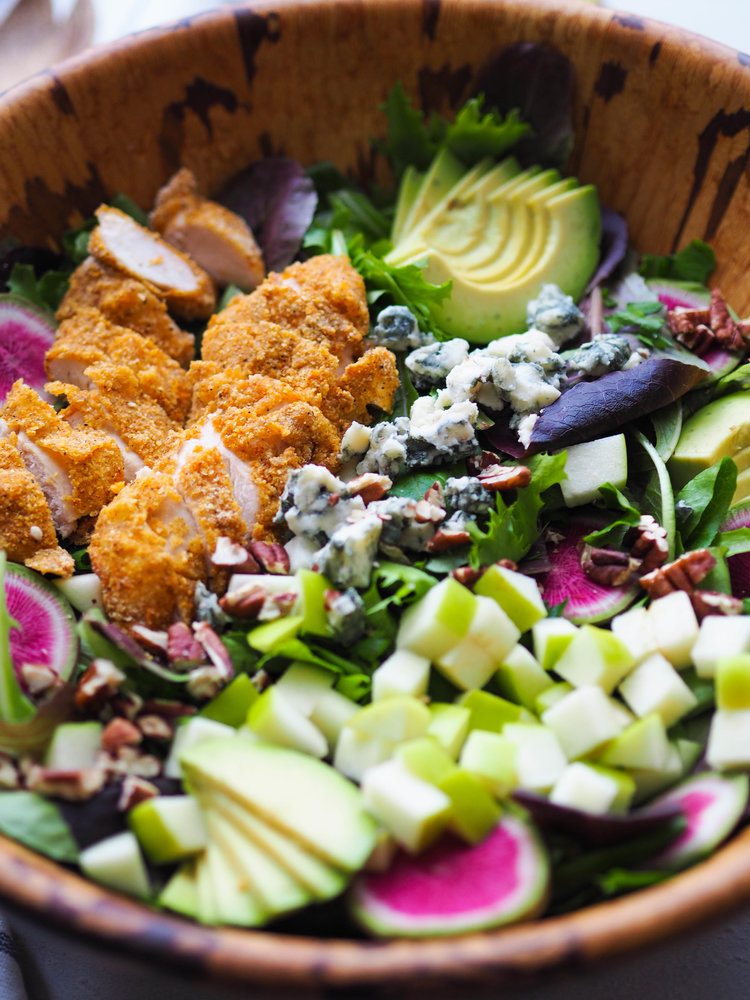 The chicken recipe for this salad is below, click here for the salad recipe.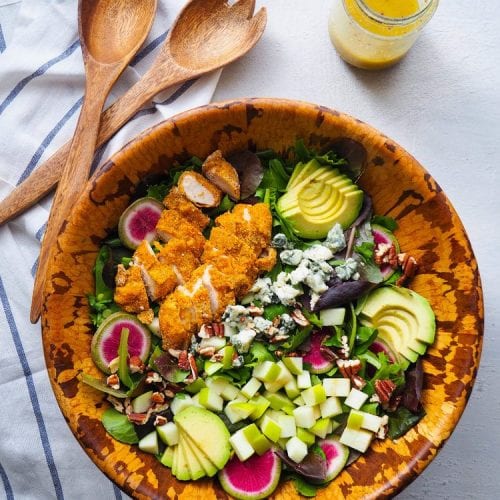 Crispy Cornmeal Chicken Salad
Rachael Hartley
Ingredients
Chicken
1/4

cup

flour

1

egg

1/3

cup

cornmeal

1

teaspoon

paprika

1/2

teaspoon

onion powder

1/2

teaspoon

garlic powder

1 /4

teaspoon

salt

1/4

teaspoon

black pepper

1

lb

chicken tenders
Dressing
Juice of 1 lemon

1/4

cup

extra-virgin olive oil

1 1/2

teaspoon

grainy mustard

1

teaspoon

honey
Instructions
Preheat the oven to 425 degrees. Spray a baking sheet with oil.

Prepare three shallow bowls for breading the chicken. Place the flour in the first. Scrambled the egg with 2 tablespoons water in the second. Mix the cornmeal with paprika, onion powder, garlic powder, salt and pepper in the third.

Dip each piece of chicken into the flour, then the egg, and then the cornmeal mixture. Place on the baking sheet. Spray the chicken with oil then bake for 15-17 minutes until the chicken is cooked through and crispy.

Meanwhile, make the dressing. Whisk all dressing ingredients together and season with salt and black pepper to taste.

In a large bowl, mix together remaining salad ingredients. Drizzle with dressing. Divide between four plates, top with sliced chicken and serve.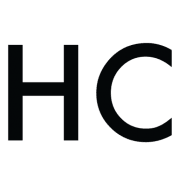 Rachael Hartley
Hi there! I'm Rachael Hartley, a dietitian, food blogger, whole food lover and avocado enthusiast. My mission is to help you rediscover the joy of eating. I believe living a healthy, fulfilled life should be fun, simple and most of all, delicious!