Crispy Coconut Chicken Tenders with Peach Honey Mustard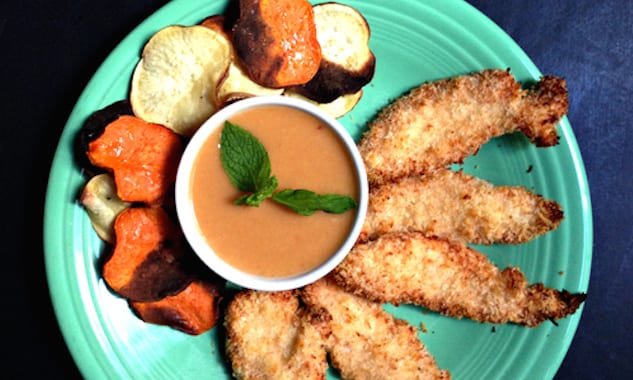 Cook moist chicken every time by first soaking the tenders in coconut milk. Crusted in coconut and dipped in a sweet peach sauce, the meal becomes delightfully tropical tasting.
By Tian Lee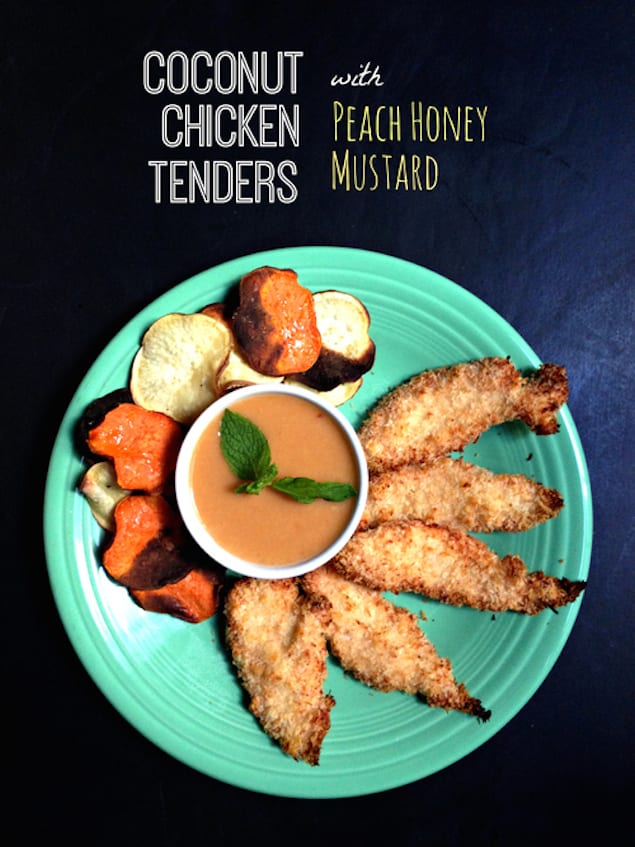 So I discovered a little secret about chicken breast. If you want it to be moist and juicy, soak it in coconut milk. Yes! Coconut milk. There's some sort of secret enzyme in there, I think, that makes chicken not dry and yucky to eat. This particular recipe is great for a weeknight dinner if you want something healthy with a slight twist. The coconut makes it taste a bit more tropical, and the peach honey mustard (especially if it's peach season, like now), is a great way to get your serving of fruit, and mix up a normal honey mustard recipe.

Crispy Coconut Chicken Tenders with Peach Honey Mustard
Cook moist chicken every time by first soaking the tenders in coconut milk. Crusted in coconut and dipped in a sweet peach sauce, the meal becomes delightfully tropical tasting.
Ingredients
1 lb chicken tenders
1 cup panko bread crumbs
1 cup shredded unsweetened coconut
1 can coconut milk (full fat)
1 yellow peach
1 tablespoon dijon mustard
1 tablespoon honey
Instructions
Marinade chicken in half a can of coconut milk for 1+ hours (place the chicken in the refrigerator while it's marinading).
While chicken is soaking; prepare peach honey mustard
Use vegetable peeler to remove skin from peach. Cut in half and remove pit inside. Cut peach into small chunks.
Place peaches into a blender. Add dijon mustard (1 tbsp). Add honey (1 tbsp). Adjust to your taste. If it's too thick, blend in 1 tsp of water at a time.
Take soaked chicken and remove excess coconut milk if it's dripping. You don't want to make the panko and coconut mixture soggy. Roll it into panko (1 cup) and shredded coconut mixture (1 cup).
Place onto a baking sheet with wire rack. If you don't have a wire rack, just make sure the baking sheet is well oiled. If you do have a rack, make sure the rack is well oiled so the chicken doesn't stick (Sidenote: I've found that these racks are great for baking chicken and making sure that the heat in the oven evenly circulates around the food item. Definitely worth the investment. I bought mine on Amazon! if you bake often and like making/baking crunch things that are crunchy all around vs. just one side and soggy on the other.)
Spray chicken tenders with cooking spray making sure it's evenly coated.
Place baking sheet into oven at 450 F for 20-30 min. Make sure to check on it every few minutes or so. It should look brown, and crispy around the edges when it's done.
Tian Lee
I'm author of The Juicy Peach Diaries. I believe that being healthy can taste delicious and be awesome. I am not strictly gluten-free, diary-free, or meat-free. I believe we can get all of the nutrients we need from a variety of foods, and that life is all about joy & balance. When I'm not blogging, you'll likely find me on a kayak, in new countries & tasting foods I've never had, or hand-picking fruit on a farm.