Crispy Chocolate Chip and Almond Butter Cookies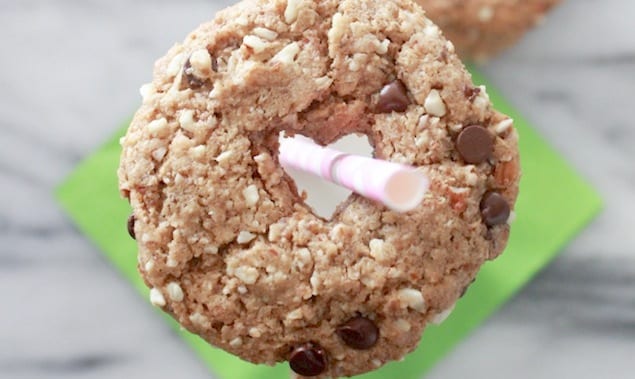 They are super crunchy yet chewy. Packed with flaxseed, oats, almonds… great vitamins, minerals and protein and they're gluten-free, too.
By Robin Runner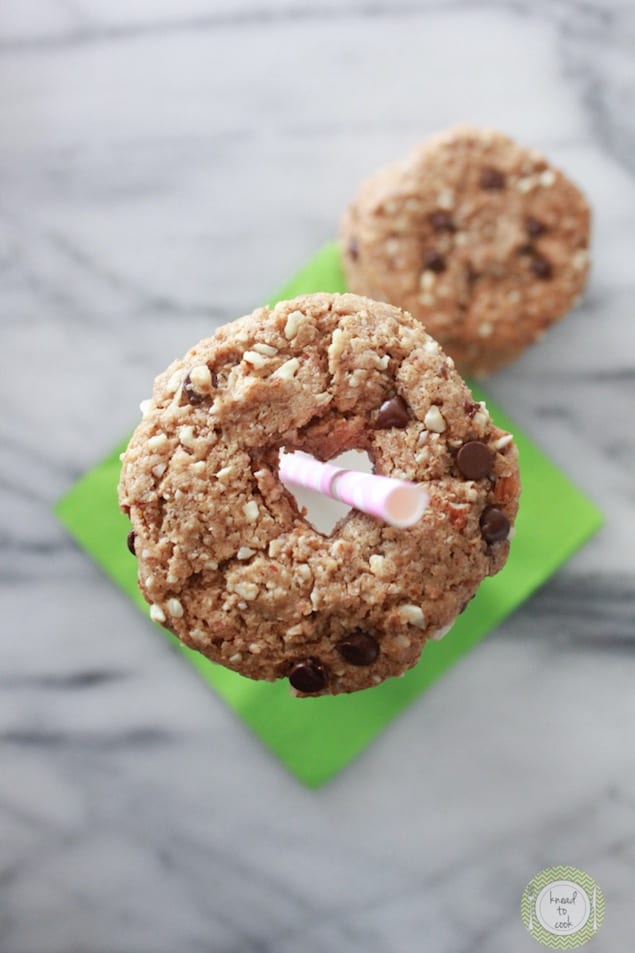 They are super crunchy yet chewy. Packed with flaxseed, oats, almonds… great vitamins, minerals and protein. Gluten-free too! Great snack for school lunches or for after-school.
Face it, who doesn't want to have a cookie once in a while (or more often)? So why not make it healthy without losing the flavor, texture or yumminess. These fit the bill… hook, line and sinker!

Crispy Chocolate Chip and Almond Butter Cookies
They are super crunchy yet chewy. Packed with flaxseed, oats, almonds… great vitamins, minerals and protein and they're Gluten-free, too. Adapted from Oh She Glows cookbook.
Ingredients
1 tablespoon of ground flaxseed
¼ cup of melted coconut oil
¼ cup of almond butter (you can use whatever nut butter you prefer) I used Justin's Maple
¼ cup of light brown sugar
¼ cup of coconut sugar (you can use natural cane sugar as well)
1 teaspoon of vanilla extract or paste
½ teaspoon baking soda
½ teaspoon baking powder
½ teaspoon sea salt
1 cup of gluten free rolled oats (blended in food processor down to flour)
1 cup of raw almonds (ground down to meal in food processor)
¼ cup or so of vegan chocolate chips (optional) – I used Enjoy Life chips.
Instructions
Preheat your oven to 350 degrees. Line baking sheet with Silpat liner. Set aside.
In a small bowl blend your flaxseed and 3 tablespoons of water together and set aside. This will thicken up and replace the egg in this recipe. Set aside for about 4-6 minutes.
In your stand mixer, paddle attached, blend coconut oil and nut butter. Then add both sugars and beat for one minute. Then add the flaxseed mixture (should be quite thick) and blend. Add the vanilla and mix again.
Then you will begin to add the dry ingredients, one at a time. Baking soda. Then powder. Then salt. Then the oat flour. Finally the almond meal.
In the original recipe it notes if the mixture is too dry to add a splash of almond milk to help add moisture. My dough was perfectly fine. The dough should be sticky. Then if you are adding the chocolate chips, do so by hand.
Scoop out some mixture into a mini baller scoop and place on your prepared baking sheet. I pressed the dough balls down a bit.
Bake for 12 minutes and removed promptly.
Robin Runner
Robin Runner is the blogger behind www.kneadtocook.com. She grew up around two of her greatest inspirations, her Italian grandmother and her aunt. Both believed in farm to table foods, purity in nature and love as the main ingredient for anything on their menu. Today, Robin is a strong advocate of farming and buying local ingredients, as well as composting to help repurpose food scraps into rich soil for our garden.