This is a bright salad full of texture and flavour contrasts. The addition of barley rusks means that it can stand alone as a perfect hot weather meal.
By Alexia Kannas
Around this time of the year in Melbourne (and elsewhere in the southern hemisphere, I'm sure), if you have any garden space at all (propagated, slighted forgotten, pit of dirt etc), chances are that this is popping up through the soil to say hello: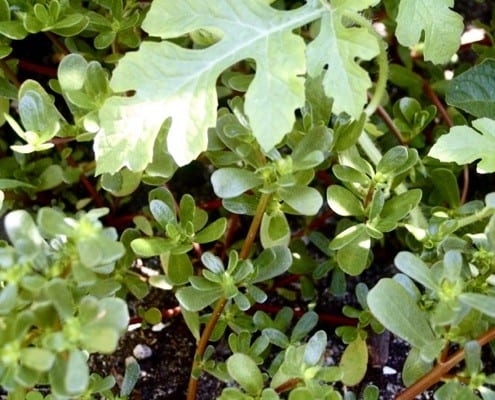 The bigger leaf belongs to one of my watermelon vines, but that other succulent-looking and rather cute little weed is actually purslane – and it is very good to eat. There are a good number of common "weeds" that Greeks collect and cook and eat, but purslane is one of the most commonly found. But did you know that it's one of the most nutritious vegetables you could put on your plate, or into your salad ?
This little plant, that so many people pull out of their gardens and throw into the bin, actually has higher levels of omega-3 fatty acids than any other vegetable plant! And them's those good fatty acids, like in fish – so it's a great source for vegetarians. It also has really high levels of antioxidants and other vitamins and minerals. It's like a wonder food – and it could be growing in your yard right now! Go out and have a look.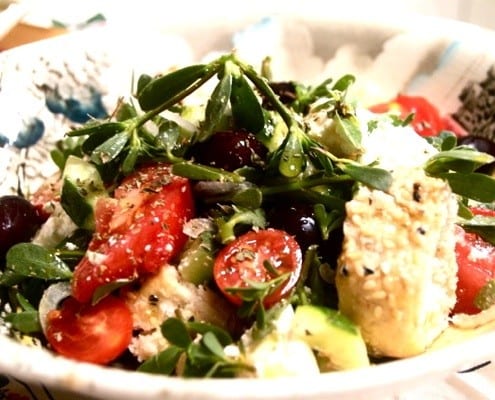 I've got a couple of purslane recipes up my sleeve, but I thought I'd introduce the little wonder herb with a gorgeous Cretan salad, because down here the weather is warm and the tomatoes are becoming ripe. Cretan salad is like a regular Greek salad with a twist or two: in this case I've added fresh sprigs of purslane and cretan dakos, or rusks. These are wonderful little country-style dried bread slices (I've used miniature here, but you could get the larger ones and break them up) that you moisten with a little water and throw into the salad to soak up all the lovely dressing and juices from the tomatoes. They're often made with barley, making them very good for you, but you can get a few different sorts. Rusks are eaten all over Greece, but a good rule of thumb when buying them here is to look for the word 'Cretan'; they're definitely the best ones imported.
I've rarely seen a Greek salad being dressed with pre-mixed dressing. The salt, vinegar and oil are added separately at the end, to suit individual tastes. This might take a bit of practice, but you'll soon be dressing salads perfectly with a few flicks of the wrist. Remember, you can always add more oil, salt etc after a taste! The ideal Greek salad encompasses a range of textures and flavours; it should be sweet and sharp, creamy and crunchy, salty and juicy. And all the deliciousness should concentrate in a pool at the bottom of your bowl, ready to be soaked up with fresh bread, or pieces of rusk. Accompany with an ouzo on ice on a hot day. After eating, recline and think about how healthy your lunch was – and consider pouring another glass.
Cretan salad with purslane
This is a bright summer salad full of texture and flavour contrasts. The addition of barley rusks means that it can stand alone as a perfect hot weather meal. The ingredients and amounts here make a salad that I love, but taste as you go to end up with your own favourite balance.
Ingredients
4 small cretan rusks, or 1 or 2 larger rusks
1 large red ripe tomato, cored and sliced into wedges
½ medium or 1 small lebanese cucumber, peeled in parts, seeded and sliced
½ a small onion, very thinly sliced
1 smallish piece of feta (as much as you like to eat in a salad)
5 or 6 stalks of purslane, rinsed and picked over (you don't want the thickest part of the stem)
a couple of sprigs of Greek basil (or regular basil), leaves picked
a big spoonful (or to taste) of Kalamata olives
a couple of cherry tomatoes, halved
some nice salt (Maldon, sea salt etc)
white wine vinegar (nothing too strong - sherry vinegar is nice!)
good olive oil
rigani, or dried Greek oregano
Instructions
Run your cold tap and pass the rusks under until wet all over. Leave for a few minutes to drain and moisten through.
Combine tomato, cucumber, onion, feta, purslane, greek or regular basil leaves and the moistened rusks and toss to combine.
Add your olives and halved cherry tomatoes to make it look a little more pretty. Sprinkle with a good pinch of salt, or to taste. Add a few drops of vinegar (holding your thumb over the end of the bottle if it doesn't have a pouring thingy) over the salad. Top this with a few glugs of olive oil. The salt should have travelled through the salad on the little streams of oil and vinegar and the dressing. Genius, huh? Sprinkle with dried oregano and tuck in.
Notes
If you cannot find Greek rusks, substitute roughly torn and toasted peasant-style bread and skip the initial moistening process.
Alexia Kannas
Alexia Kannas is a writer and academic based in Melbourne, Australia, who spends her days thinking and writing about cinema - and food. Fascinated by the relationship between food and memory, she writes about how cooking, meals and taste recall moments from film, literature, history and imagination. Her dream dinner-party guests are Jarvis Cocker and all her non-single friends. The two things she fears most are i) guests leaving hungry and, ii) a world without gin.