Crema di Mascarpone with Rhubarb and Strawberries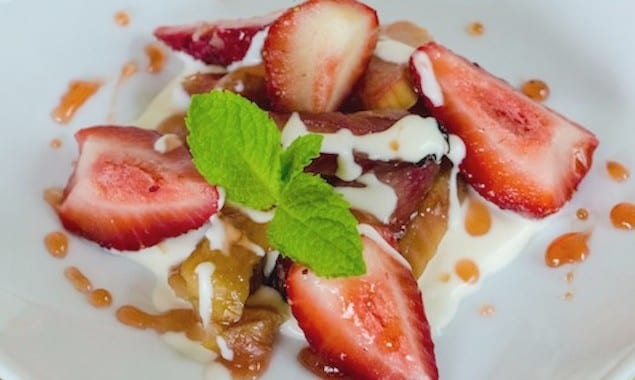 In this simple dessert, mascarpone is flavored with honey and your favorite liquor – we used grappa, but you could also use rum, or limoncello, or whatever you like. It is then served with fresh fruit. The rhubarb is roasted in water and sugar, and then the liquid reduced and drizzled on top. Top with toasted hazelnuts.
By Kathy Bechtel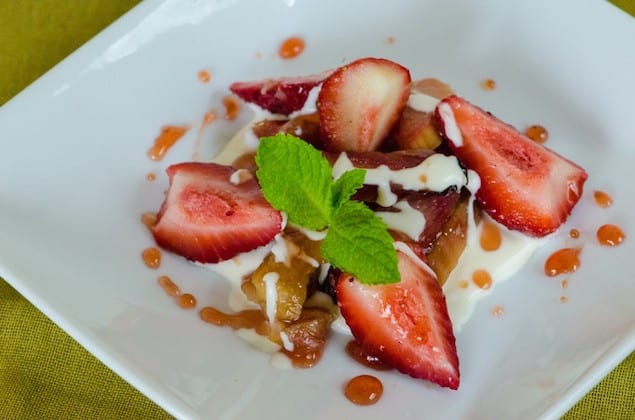 Mascarpone is a fresh Italian cheese made from cream, coagulated by adding some sort of acid, either citric, acetic, or tartaric. It is a soft, creamy, easily spreadable cheese. It originated in the region of Lombardia, in the central north of Italy, in the area between Lodi and Abbiategrasso, just southwest of Milan. There are several theories as to the origin of the name; some claim it comes from the regional dialect name for ricotta, others claim it comes from the Spanish phrase Mas que bueno (more than good), dating from the Spanish occupation.
It appears in both sweet and savory dishes. I use it to enrich my Pea and Radicchio Risotto, or to whip it together with heavy cream and limoncello to make a tasty topping for roasted pears. And, of course, it is a key ingredient in everyone's favorite – Tiramisu.
See Also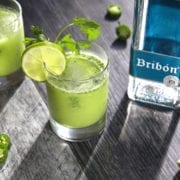 The following recipe is adaptation of a recipe from the region just north of Lombardia, Italy's smallest region, Val d'Aosta. Here, mascarpone is flavored with honey and your favorite liquor – I chose grappa, but you could use rum, or limoncello, or whatever you like. It is then served with fresh fruit. Rhubarb and strawberries are in my farmer's market now. The rhubarb is roasted in water and sugar, and then the liquid reduced and drizzled on top. I also tried it with fresh blueberries and strawberries, topped with chopped toasted hazelnuts.

Crema di Mascarpone with Rhubarb and Strawberries
In this easy Italian dessert, mascarpone is flavored with honey and your favorite liquor, then served with fruit and drizzled with a reduced rhubarb sauce.
Ingredients
Crema di Mascarpone
12 ounces mascarpone
¼ cup honey
3 tablespoons grappa
¼ or more heavy cream
Stewed Rhubarb
3 stalks rhubarb, trimmed and cut on diagonal into ¼ inch slices
½ cup sugar
Instructions
Preheat oven to 325°. Place the rhubarb into a medium baking dish, and sprinkle the sugar over rhubarb. Add enough water to baking dish to just cover rhubarb (about 2 cups). Place in oven and cook, uncovered, until rhubarb is very soft, about 1 hour.
Using a slotted spoon, transfer the rhubarb to a bowl and pour sweet rhubarb juices into a medium saucepan. Boil rhubarb juices over medium-high heat until thick and syrupy, 15–20 minutes. Drizzle reduced juice over crema, rhubarb and strawberries.
Serve rhubarb warm or at room temperature, with a spoonful of ricotta and a bit of sugar sprinkled on top.
Combine mascarpone, honey, grappa and ¼ cup heavy cream in a small bowl. Add additional cream to reach the consistency you prefer. Serve with stewed rhubarb and fresh strawberries.
Kathy Bechtel
Kathy Bechtel's obsession with food and cooking began as a teenager. After years following a traditional career path as a telecommunications engineer, she left to attend culinary school and wine training, and is now combining her passions for food and wine, the outdoors, and travel as owner and Culinary Tour Director of Italiaoutdoors. In this role, Kathy leads small bicycle, skiing and walking tours that explore the authentic regional cuisines, local products and undiscovered wines of Northeastern Italy.