This summery steel-cut oatmeal recipe with blueberry-basil compote will be your new go-to weekday breakfast.
By Alexandra Shytsman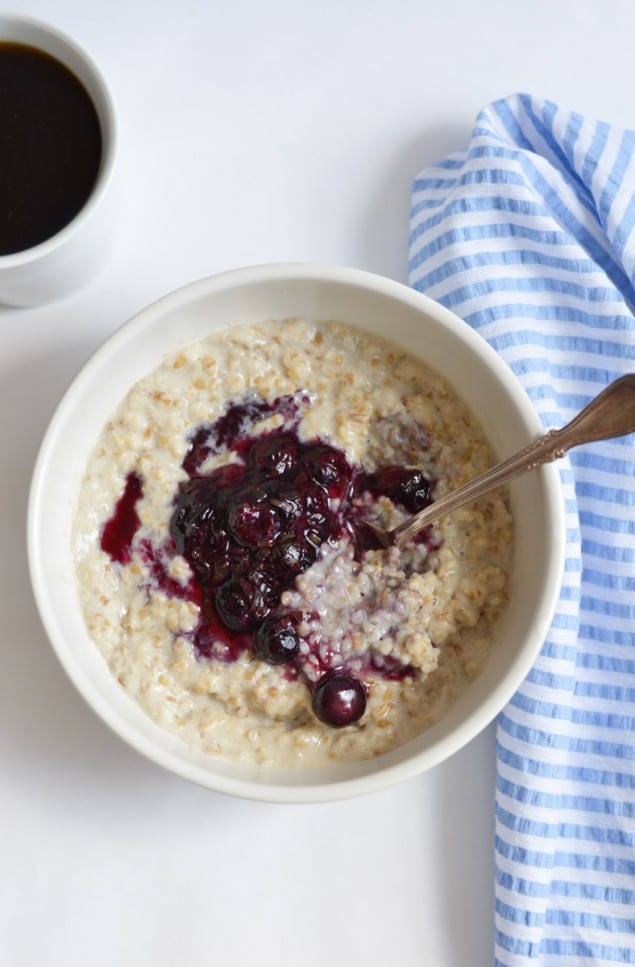 Prior to discovering steel-cut oats, I was a rolled oats purist, mostly using them to bulk up morning smoothies. Then one fine day, I picked up the wrong carton at the supermarket and ended up with steel-cut oats. The grains are too coarse for smoothies so I was left with no choice but to cook them. Turns out, steel-cut oatmeal is creamier and way more texturally appealing than the traditional kind. Yes, steel-cut oats do take longer to cook, but they just quietly simmer away on the stove, leaving you free to take a shower, check your emails, freak out about being an adult with responsibilities, etc.
I realize oatmeal is like the grandma-iest food of all time but I am determined to make it sexy, and that's where this gorgeous blueberry-basil compote comes in. Sweet-tart blueberries and floral basil are a killer combo, and farmers markets are overflowing with both ingredients this time of year. If I could declare this compote the official sauce of summer, I'd do it in heartbeat.
Find more great breakfast recipes to start your day here.

Creamy steel-cut oatmeal with blueberry-basil compote
This recipe makes one breakfast but several servings of compote, so you can refrigerate it and enjoy it throughout the week. Not a fan of oatmeal? Try the compote atop thick country toast with cream cheese. In times less bountiful (a.k.a. winter), you may use frozen organic blueberries instead.
Author:
Alexandra Shytsman
Recipe Type:
Breakfast, Vegan
Ingredients
1 cup unsweetened almond milk
Pinch of sea salt
¼ cup steel-cut oats
3 teaspoons honey, divided
3 cups organic blueberries
8 large basil leaves, cut into thin ribbons
3 tablespoons water
Instructions
In a small saucepan, bring almond milk to a boil. Turn heat down to low and add salt. Stir in oats and cook uncovered, stirring occasionally, until thick and creamy, 12-14 minutes. Stir in 1 teaspoon honey.
Meanwhile, in a separate saucepan, combine blueberries, basil, water and remaining 2 teaspoons honey. Cover and cook over medium-low heat until blueberries begin to burst and soften, stirring occasionally, about 5 minutes. Uncover and cook until liquid thickens and becomes syrupy, about 3 minutes.
Serve oatmeal with ½ cup compote.
Do ahead: Compote can be made up to 3 days ahead and refrigerated in an airtight container.
Alexandra Shytsman
Alexandra Shytsman is a New York-based recipe developer, food writer, and photographer, and author of The New Baguette, a blog about plant-based cooking for beginners.