Creamy Seafood Stew With Coconut Milk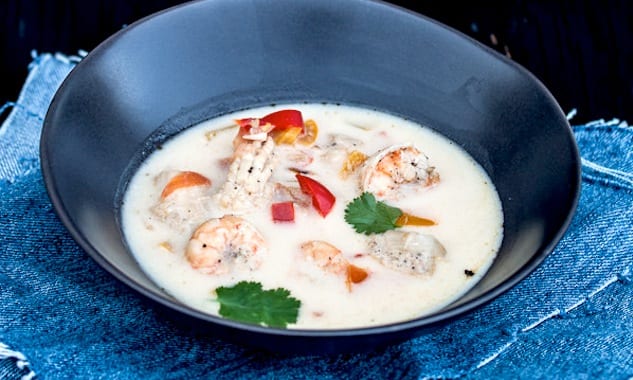 Serve the stew alongside rice or crusty bread and for a quick and easy meal on the table. Enjoy the fruits of the sea in this luscious, tang, and warming stew.
By Lail Hossain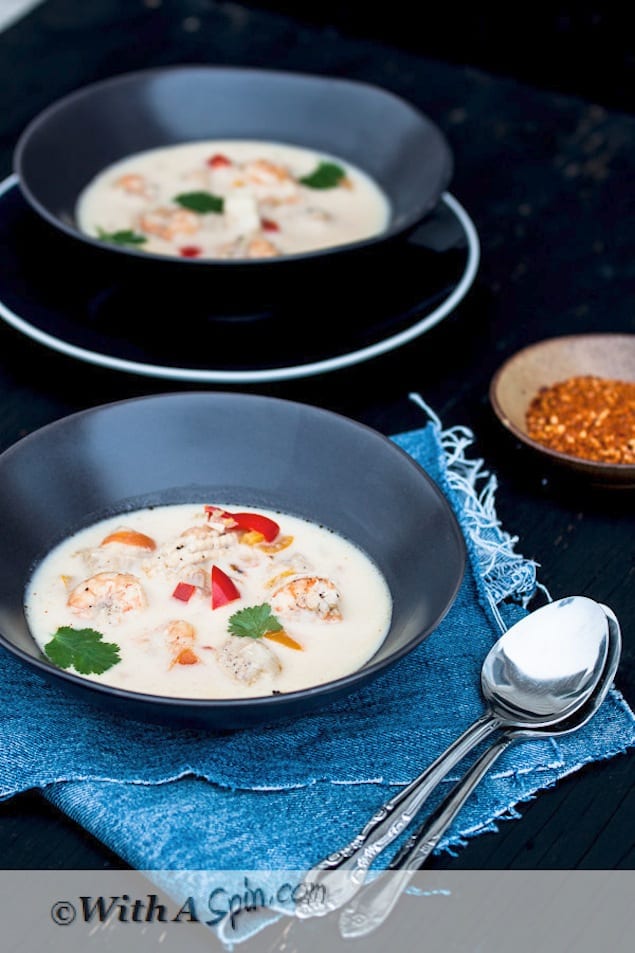 Tangy. Vibrant. mouth-watering. Quick and easy to prepare. Absolutely delicious. Yes, all these apply to the flavorful seafood stew with coconut milk. Our taste buds go on a rollercoaster ride as we enjoy the stew as a family and chitchat about our day over dinner. I prepare the seafood stew very often throughout the year as weeknight dinner. The stew is very similar to Brazilian Moqueca but healthier without the high saturated fat from palm oil.
The fish stew calls for fish stock. If you are pinched for time or if you do not want to stink up your house by simmering fish bones/shrimp shells, you can substitute with chicken stock or just water. You can also look for fish stock/clam juice in the freezer section of seafood counters. If you do decide to stink up your kitchen, boil few cloves and cinnamon and let it simmer a while to fill your house with a warm and inviting aroma instead of fishy odor.
Serve the stew alongside rice or crusty bread and you've got a very quick and easy meal on the table. Often, we relish the stew without rice or bread and it is still filling. Enjoy the fruits of the sea in this luscious and heart warming stew.

Creamy Seafood Stew With Coconut Milk
Serve the stew alongside rice or crusty bread and for a quick and easy meal on the table. Enjoy the fruits of the sea in this luscious, tang, and warming stew.
Ingredients
1.5 lb Cod, cut into 2 inch cubes (Other white fish such as Sea Bass, Halibut, Snapper, Tilapia are good substitutes)
1 lb shrimp, shelled and deveined
2 table spoons lime juice, plus more for seasoning
5-6 garlic cloves, minced
3 tablespoons ginger, finely minced
½ teaspoon black pepper, freshly ground
2 tablespoons oil
1 large onion, sliced
1 medium red bell pepper, chopped (or sliced)
1 medium yellow bell pepper, chopped (or sliced)
1 medium orange bell pepper, chopped (or sliced)
2 large tomatoes, seeded and chopped
Salt, according to taste
1 can coconut milk (13.5 oz/450ml)
1.5 cup fish stock
1 teaspoon red chili flakes (optional)
⅓ cup cilantro, chopped
Instructions
In a large bowl season the seafood with salt, black pepper, lime juice, ginger and half the garlic. Let marinade in the refrigerator for about 30 minutes while you gather and chop the other ingredients.
In a large pan, heat oil over medium heat.
Add the onions, remaining garlic and bell pepper. Stir frequently until softened about 3-4 minutes.
Add half the tomatoes and the seafood and cook about one minute.
Pour coconut milk, stock, chili flakes and simmer over low-medium heat, covered until seafood is cooked. About 8-10 minutes. Season with salt.
Add remaining tomatoes. Cook for a minute.
Garnish with lemon juice and cilantro.
Lail Hossain
Lail Hossain finds cooking to be an explosion of creativity. She is enthusiastic about modifying a laborious step of an old recipe, and experimenting with different ethnic recipes by adding her own spin to it yet keeping the recipes simple, healthy, and delicious. Originally from Bangladesh, Lail shares her journey of food, creativity and family in her blog "With A Spin". She is also very passionate about highlighting Bangladeshi cooking to the international culinary space.