Scottish scones are light, flaky and simple round cakes, goes well with afternoon tea or can be served on the breakfast table.
By Sukanya Ghosh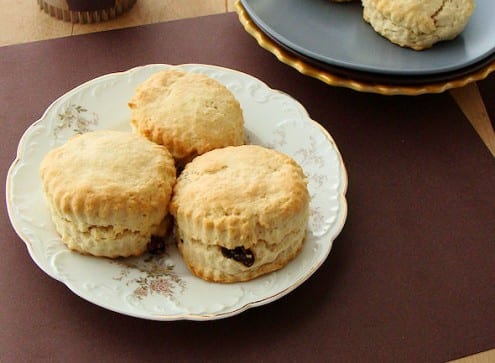 Scottish scones are essentially minimalist, barely sweet and without the gaiety of currants, raisins, dates or dried berries. From the Scottish highlands, scones migrated during industrial revolution time to Britain where it caught the fancies of Duchess of Bedford. She initiated the fashionable ritual of "Afternoon tea time" with scones or Scottish quick breads which were usually served with jams and clotted creams.
The Victorian etiquette highlighted the scones so much that it became almost synonymous with afternoon tea rituals – "Tea with scones", complementing each other so perfectly that a new food ritual has evolved – "Devonshire Tea". In pre-baking powder days, scones in Scotland were usually made with oatmeal and baked on griddle, cut into triangle like quadrants. They can be savouries too, flavoured with herbs, bacon, hams and cheese. With baking powder scones became well-leavened, flours substituted the oatmeal and modern scones arrived as we know it today and are widely available in British and Irish bakeries.
When scones crossed the Atlantic in early 18th century, brought to this new world by early British and Scottish immigrants, it absorbed lots of sugar, and was dressed up with loads of  raisins, dried berries, dates, fruits and other ingredients. New world follows new rules, and scones found their new soul mate in coffee.
Creamy scones with specks of currants
Scottish scones are light, flaky and simple round cakes, goes well with afternoon tea or can be served on the breakfast table.
Ingredients
All purpose flour : 2 cups
Baking powder : 1 tsp
Unsalted butter (chilled and cubed) : 30g
Currants / raisins : ½ cup
Cream (pouring / half n half) : ¾ cup + extra to glaze
Instructions
Preheat the oven to 425 F / 220 C.
Lightly grease a baking tray or line it with baking paper.
Sift the flour, baking powder and pinch of salt in a bowl.
Using your fingertips, rub the cold butter until it resembles fine breadcrumbs.
Stir in the currants or raisins.
Make a well in the center and add almost all the cream and mix with a flat bladed knife using a cutting action until the dough comes together in clumps.
Use the remaining cream if necessary.
With floured hands gently gather the dough together, lift out onto a lightly floured surface and pat into a smooth ball.
Do not knead or the scones will become tough.
Pat the dough out to 2cm thick. Using a floured 5cm biscuit or cookie cutter, cut into shapes.
Gather the trimmings and without over-handling, press out as many shapes as possible.
Place close together on the tray and brush with the extra cream.
Bake for 12 -15 minutes or until risen and golden brown.
Serve warm or at room temperature with jams or cream.
Sukanya Ghosh
Sukanya writes the blog Saffronstreaks, a food and travel blog where she experiments in the kitchen spiced up with interesting food stories and gourmet travelogues. She loves to cook with fresh produce, enjoy both spicy and sweet and her many dining out experiences become cherished memories. Sukanya is from India but now lives in North Carolina, USA.