This vegan cauliflower soup is ultra creamy and smooth. Amp up its delicate flavor with a tangy drizzle of sumac oil.
By Vicky Cohen & Ruth Fox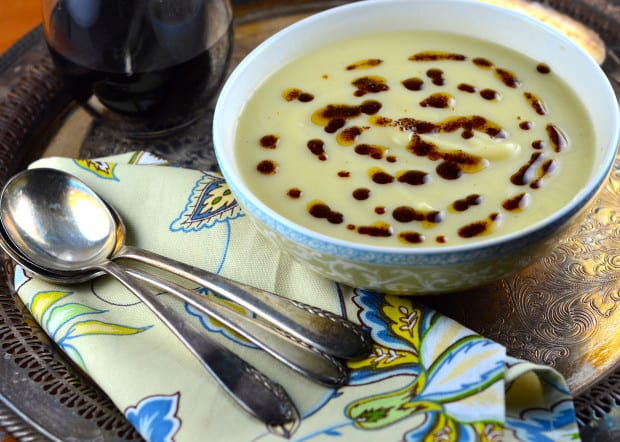 Creamy Saffron Cauliflower Soup with Sumac Oil
Author:
Vicky Cohen & Ruth Fox
Ingredients
2 tbsp extra virgin olive oil
1 medium onion, chopped (about 1 cup)
2 large garlic cloves, chopped
2 lbs frozen or fresh cauliflower florets
½ tsp salt
¼ tsp ground black pepper
5 cups of water or vegetable broth
20 saffron threads
Sumac Oil
2 tbsp plus 2 tsp sumac
4 tbsp extra virgin olive oil
1 tbsp fresh squeezed lemon juice
¼ tsp salt
Instructions
Sautée onion and garlic in olive oil in large soup pot, over medium heat, until onion is translucent, about 10 minutes.
Add cauliflower florets, salt and pepper and continue cooking for 10-12 minutes
Add 5 cups of water, bring to a boil and simmer until cauliflower is tender, 20-25 minutes.
Turn off heat. Add saffron, stir and cover. Let the saffron steep for about 20 minutes.
Blend soup in a blender until creamy.
Serve hot or warm with a drizzle of sumac oil.
Sumac Oil
Whisk all the ingredients together until well combined