Simple, fast and delicious, you and your entire family will enjoy this recipe for Creamy Pasta with Chicken and Sun-dried Tomato Pesto.
By Kimberly Killebrew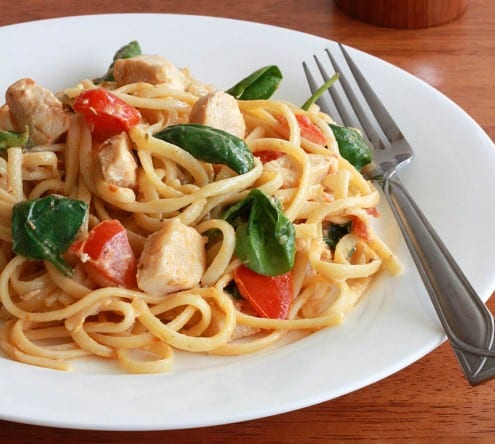 Creamy Pasta with Chicken and Sun-dried Tomato Pesto
Simple, fast and delicious, you and your entire family will enjoy this recipe for Creamy Pasta with Chicken and Sun-dried Tomato Pesto.
Author:
Kimberly Killebrew
Ingredients
2 tablespoons extra virgin olive oil
1 yellow onion, diced
1 clove garlic, minced
1 large boneless/skinless chicken breast, cubed
1 large tomato, diced
1 cup half and half mixed with 1 tablespoon flour
3 tablespoons sun-dried tomato pesto
½ teaspoon salt
Handful of fresh basil leaves
Freshly ground black pepper
Parmesan cheese, grated
10 ounces fettuccine or pasta of choice, cooked al dente according to package directions
Instructions
Prepare the pasta according to package directions.
While the pasta is cooking, heat the oil over medium-high heat in a large skillet and saute the onion until tender and translucent, about 5 minutes. Add the garlic and cook for another minute.
Add the chicken and cook until no longer pink.
Add the diced tomato and cook for another minute.
Add the half-and-half/flour mixture, pesto and salt and stir to combine. Bring to a boil, reduce the heat to low, cover, and simmer for 5 minutes, stirring occasionally.
Drain the pasta and add it to the skillet. Toss in the sauce to coat. Add the fresh basil leaves and toss to combine. (You can also toss in some fresh baby spinach leaves for extra veggies).
Serve immediately with some freshly ground black pepper and grated Parmesan cheese.
Kimberly Killebrew
Raised in Western Europe, widely traveled, and currently residing near Seattle with her husband and children, Kimberly loves preparing and experimenting with a large range of flavors and cuisines. This is reflected in her food blog, The Daring Gourmet, where she invites all to "tour the world through your taste buds." Passionate cook, recipe developer and photo enthusiast, her culinary repertoire includes everything from gourmet to simple comfort food, and, as she puts it, "simply downright good eats."