A deliciously sweet and tangy, creamy lemon curd. Perfect as a spread or used in baking.
By Kimberly Killebrew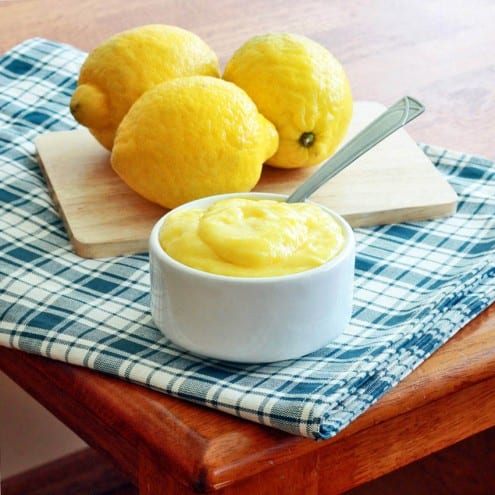 Creamy Homemade Lemon Curd
A deliciously sweet and tangy, creamy lemon curd. Perfect as a spread or used in baking.
Author:
Kimberly Killebrew
Ingredients
3 lemons
1½ cups sugar
1 stick (1/2 cup) unsalted butter, room temperature
5 large egg yolks
½ cup lemon juice
pinch of salt
Instructions
Zest the lemons. Be careful to avoid the white pith as it is very bitter.
Add the sugar and lemon zest to a food processor fitted with the steel blade and pulse until the zest is finely ground up with the sugar.
In a medium glass mixing bowl, cream the butter and lemon sugar until fluffy. Add the eggs, one at a time, and beat until combined. Add the lemon juice and salt and beat until combined.
Pour the mixture into a medium stainless steel saucepan and cook over low heat until thickened and the temperature has reached 170 F, about 20 minutes. Check the temperature using a candy thermometer.
Remove from the heat, cool, and refrigerate. It will keep in the fridge for a week and can then be frozen for up to 2 months.
Makes about 2 cups.
Kimberly Killebrew
Raised in Western Europe, widely traveled, and currently residing near Seattle with her husband and children, Kimberly loves preparing and experimenting with a large range of flavors and cuisines. This is reflected in her food blog, The Daring Gourmet, where she invites all to "tour the world through your taste buds." Passionate cook, recipe developer and photo enthusiast, her culinary repertoire includes everything from gourmet to simple comfort food, and, as she puts it, "simply downright good eats."