Let Jill Mant sort out this weekend's deliciously decadent breakfast for you.
By Jill Mant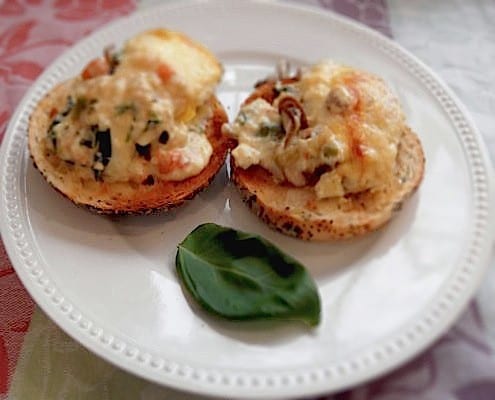 The worst thing about food writing is the obsession that seems to come with the turf. I suppose this is normal; when I was in advertising I noticed and dissected every marketing message that I saw or heard. Now as I visit other food blogs, peruse cookbooks and food magazines, dine at various restaurants, or other peoples' homes,  I find myself thinking and dreaming up recipes. Last night I even dreamed that I found a gorgeous mandoline in one of my kitchen cabinets that I had forgotten about. In case you're wondering, I do not own a mandoline and witnessing Margo almost lose a finger twice, I am not rushing out to get one.
Last week while visiting the virtual home of one of my favorite food bloggers, the lovely and talented Grace of Graceful Cuisine, I saw her posting for "Cream Eggs and Ham". I pondered and dreamt about this recipe for a couple of days, anxiously waiting for the weekend to come so I could prepare some version of this for my valentine.
I am not a ham fan. I don't care for it at Thanksgiving or Easter time. I would never consider entering a Honey baked Ham store and even though the Brit does love ham, I knew that my baked eggs in cream would not include ham. Prosciutto maybe (and yes, I realize this is a form of ham) but for some reason it wasn't resonating with me.
I considered bacon. Everything's better with bacon, right? But bacon seemed too pedestrian for a "special occasion" dish. It was then that I realized that my recipe was calling for Pancetta.
If you are not familiar with it, Pancetta is Italian bacon. Made from pork belly meat it is salt cured and seasoned with spices such as fennel, hot peppers, garlic and nutmeg and then dried for a minimum of three months. It comes in round slices and like American bacon it is ribboned with fat. I picked mine up at the deli counter at Whole Foods, or should I call it their Charcuterie? Anyhoo, you can just ask the nice man behind the counter for the three slices you will need if you are preparing this for you and your loved one for Valentines Day or just a special Sunday brunch. Although my recipe is for two, you could easily multiply it by the number of couples you are entertaining and prepare a large baking dish for brunch for a crowd.
As you read through the ingredients list you may begin to wonder "Will this breakfast cause an immediate heart attack and should I have paddles ready?" Please take this as a disclaimer: this is a special occasion breakfast and should not be eaten on a regular basis! That said all of the ingredients with the exception of the heavy cream (which was organic) and the pancetta are healthful. I am actually tempted to try this again substituting a mixture of white wine and nonfat milk for the cream to see what it would be like. I'll get back to you on that!
The Brit lived through the breakfast and is not clutching his heart. He actually loved it and cleaned his plate. The dog also loved it (he licked the baking dish). As I type this up the sun is shining brightly and I am thinking we could all use a nice long walk.

Recipe for Eggs Baked in Cream w Pancetta & Veggies
Poaching the eggs in heavy cream on a bed of garden vegetables layered with crispy pancetta and topped with parmesan cheese creates an extraordinary special occasion brunch dish.
Author:
Jill Mant~a SaucyCook
Ingredients
3 13 mm. slices Pancetta, diced
1 clove Garlic, finely chopped
2 Green Onions, mostly white parts, sliced thin
2 Baby Bella Mushrooms, thinly sliced
1 Plum Tomato, diced
170 grams Organic Baby Spinach
14.3 grams Fresh Basil, slivered or chopped
4 Eggs
113.4 grams Organic Heavy Cream
56.7 grams Shredded Parmesan
EVO spray for baking dish
Instructions
Preheat oven to 190c
Heat a small skillet over medium heat and add pancetta. Stir often to insure that the pieces do not stick to the pan or each other. Cook until crispy, about 4 minutes.
Remove pancetta with a slotted spoon onto paper towel to adsorb excess fat.
Pour half of the fat out of the pan.
Add garlic, green onions and mushrooms to the pan and stir for about 2 minutes.
Add tomato, basil and spinach to the pan and cook, stirring, until the spinach is wilted. This will take about a minute.
Spray a small ceramic Gratin Dish lightly with EVO.
Place the vegetable mixture in an even layer over the bottom of the baking dish.
Sprinkle it evenly with the pancetta.
Carefully break the eggs into the baking dish in a line across the dish.
Pour the heavy cream over the eggs.
Sprinkle with a good sea salt and freshly ground pepper.
Sprinkle the parmesan cheese evenly over the top of the cream and eggs.
Bake for 25 minutes on a rack in the center of the oven.
Serve over English muffins, toast, biscuits or even bagels!
Jill Mant
To Jill Mant, cooking is a meditative experience, an incantation, a love song to those she is cooking for and an expression of her creativity. She is one of the two cooks behind the blog SaucyCooks, where they discover cooking as multi-sensory experience. Jill loves the aroma that emanates from stove and oven, the sounds of food sizzling in pans and the soft, melodic drum of a knife or mallet hitting the cutting board.