This is a lovely, creamy Thanksgiving side dish that is sure to be a smash hit on the dinner table.
By Sherron Watson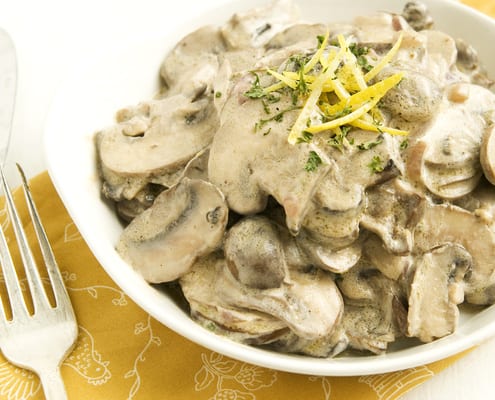 When my grandmother passed a few years ago I was handed a large box of recipes.  I go through these recipes about twice a year and I am always amazed that I seem to find a recipe that sneaks to the top of the pile.
How could I have missed this recipe for creamed mushrooms?
The mushrooms were simply delicious and yet had this gourmet flair that could not be denied.
I hope you enjoy this recipe find from my grandmothers box of treasure.
Mushrooms sauteed in butter and served with a sour cream, paprika and lemon zest sauce.
Ingredients
4 cups of sliced baby Portabella mushrooms
⅓ (50g) cup diced red onion
1 (1/2 cup, 120g) stick of butter
½-1 (2.5-5 ml)teaspoon of paprika
½ (2.5 ml) teaspoon of dried parsley
1 (5 ml)teaspoon lemon zest
1 cup (240g) of sour cream
pinch of salt
Instructions
In a large saute pan, melt butter. Saute onions and garlic until soft. Add mushrooms and stir.
Cook mushrooms for 3-5 minutes until they reduce in size and start to wilt. Add lemon zest, paprika, dried parsley, salt and sour cream. Stir until well combined. Do not boil.
Remove from heat and serve immediately.
Sherron Watson
Sherron Watson is a writer and photographer. Her passion for food started at a young age while working with her family in their restaurant business. A career in photography gave her the experience she needed to start capturing images of her favorite dishes. This led to the creation of her blog: simply-gourmet.com. She is currently a food writer for Capital Style Magazine in Annapolis, MD.