Cream chowders are delicious, but sometimes summer calls for a lighter, more refreshing option. Use cauliflower to thicken this cream-less soup and still get great flavor.
By Taylor Kadlec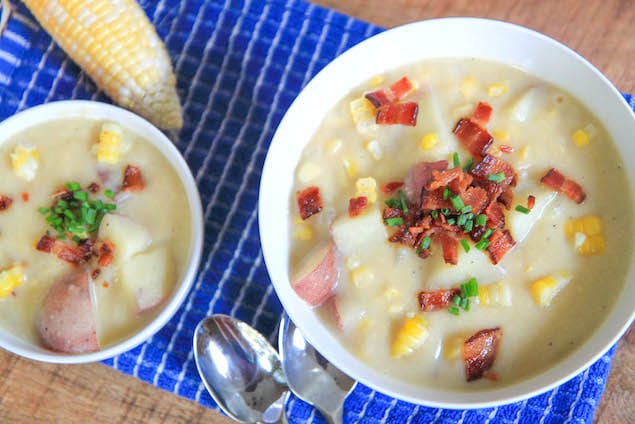 If there's one thing I absolutely, positively, no doubt about it, MUST have every summer, it is corn on the cob. There's typically a good few weeks where I make sure corn on the cob is part of the menu at LEAST 3 nights a week.
Not wanting to waste one precious kernel, I spent an entire afternoon cooking, blanching, cutting kernels off the cobs, and freezing the corn…minus the four cobs we ate right away…three for me, one for him. While I had dreams of pulling out bags of frozen sweet corn from our freezer in the middle of winter and biting into kernels bursting with flavor, I've eaten half of it already. I might need an extra freezer for next year at this rate.
Corn chowder is what I was most excited to make with my frozen sweet corn…corn fritters were a close second. I seriously love a creamy chowder with chunks of new potatoes, corn kernels, and always topped with bacon and chives. Side note: I realized AFTER I photographed this corn chowder (but thankfully before I ate it) that I love a heaping handful of cheese on top too. So just imagine a lot of cheese on top of the bacon mmk?
The one thing I don't like about corn chowder is the amount of heavy cream a lot of recipes call for. Especially in the summertime, when I'm trying to keep things light, I don't like to feel weighed down by a really rich soup. So I pulled the good 'ol cauliflower trick and used pureed cauliflower to make the soup creamy. Sneaky, eh? And ya wouldn't even know the difference if you didn't know what was in it. Marc had no idea.
See Also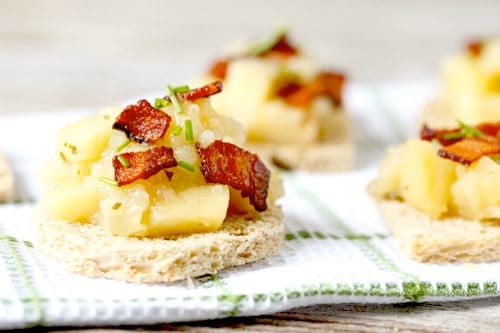 This chowder was just as creamy and just as flavorful as any other corn chowder I've had. As the days start to turn a bit cooler and we transition to fall, what better way than this hearty, comforting, veggie-packed chowder?

Cream-less Corn Chowder with Bacon
Cream chowders are delicious, but sometimes summer calls for a more refreshing option. Use cauliflower to thicken a cream-less soup and get great flavor.
Ingredients
1 head of cauliflower, cut into small florets
5 cups vegetable broth, divided
½ cup milk (I used skim)
2 tbsp olive oil
1 large onion, diced
2 carrots, diced
2 cloves garlic, minced
½ tsp salt
3 cups diced red potatoes
2 cups corn (frozen or fresh cut off the cob)
bacon, chopped, for topping
chives, for topping
cheese, for topping
Instructions
Bring 4 cups of vegetable broth to a boil.
Add cauliflower, reduce to simmer, and let cook for 10-15 minutes, until cauliflower is fork tender.
Once cauliflower is cooked, remove from heat.
Add to blender along with milk, and blend until pureed. Depending on the size of your blender, you may have to do this in batches.
Set cauliflower cream aside.
In large soup pot or dutch oven, heat olive oil over medium heat.
Add onion and carrots and cook until starting to soften, about 5 minutes.
Add garlic and cook another minute.
Next add the potatoes, then remaining 1 cup of vegetable broth and cauliflower cream.
Bring to a boil, then simmer for 15-20 minutes, until potatoes are tender.
During last 5 minutes, add the corn.
Ladle into bowls and top with bacon, chives, and cheese.
Taylor Kadlec
Taylor Kadlec is a lover of all things food including baking, cooking, and of course, eating. She is a self-taught baker and cook, and she shares her kitchen adventures on her blog Greens & Chocolate, where healthy cooking meets sinful indulgence.