These fun puff pastry appetizers turn the cracker spread into a hand-held appetizer.
By Taylor Kadlec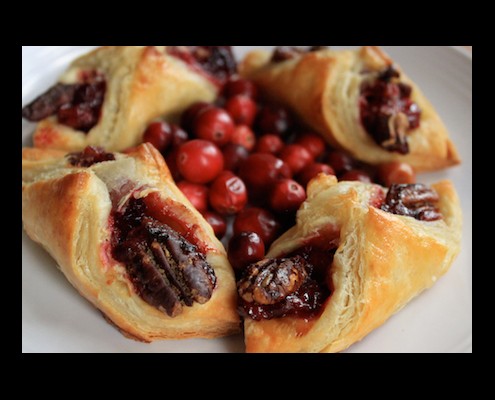 This recipe was inspired by a cranberry appetizer that makes an appearance every. single. year at my family's Christmas.  I honestly can't remember a Christmas without it and usually more than one person shows up with a plate of it.  The appetizer is called Cream Cheese Extravaganza (what a name!) and  involves (you guessed it) a cream cheese mixture topped with a cranberry chutney.  It is eaten devoured on top of Ritz crackers, and is one of those food combinations that is almost impossible to stop eating once you have started.  It's dangerous stuff.
These puff pastry appetizers turn the cracker spread into a hand-held appetizer. They have such a wonderful combination of flavors and textures with the creamy, tangy goat cheese, the sweet chutney, the crunchy pecans, and the flaky puff pastry.
See Also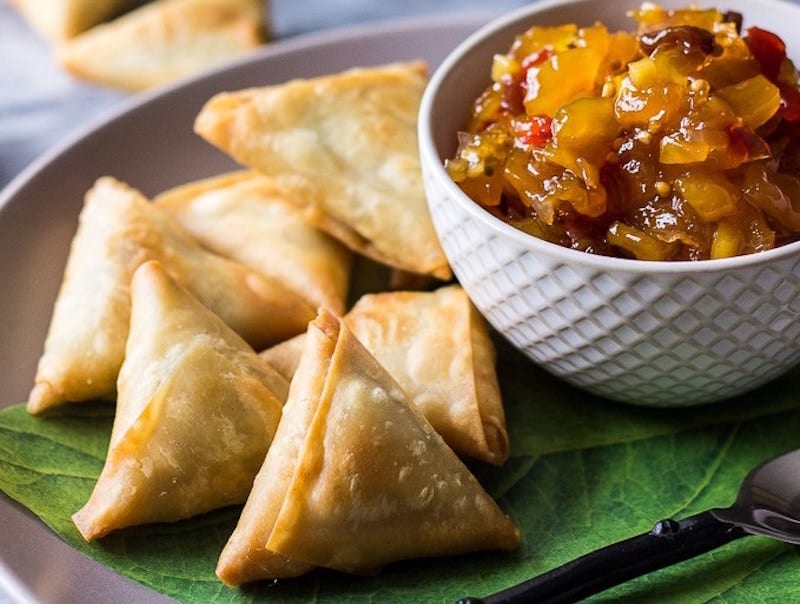 They would be a great addition to any holiday spread.
Cranberry Chutney, Goat Cheese, and Pecan Puff Pastry Appetizers
A sophisticated version of a family favorite holiday appetizer!
Ingredients
12 oz package fresh cranberries
½ cup sugar
1 teaspoon ground cinnamon
1 cup orange marmalade or apricot preserves
2 tablespoons lemon juice
1 package (2 sheets) frozen puff pastry, thawed
1 egg
1 tablespoon water
1 cup crumbled goat cheese
¼ cup finely chopped toasted pecans
Instructions
To make cranberry chutney place cranberries, sugar, cinnamon, orange marmalade/apricot preserves, and lemon juice in a saucepan and bring to a boil.
Lower heat to medium low and let simmer for 15 minutes. Remove from heat and cool.
Preheat oven to 400 degrees F.
Beat the egg and water in a small bowl with a fork.
Unfold the pastry sheet on a lightly floured surface. Cut pastry sheet into 16 squares.
Spoon about 2 teaspoons of goat cheese in the center of each pastry square.
Top the goat cheese with about 1 teaspoon of cranberry chutney and ½ teaspoon of chopped pecans.
Brush two opposite corners of each square with the egg mixture, and fold those corners up over the filling. Press firmly to seal.
Brush the filled pastries with the egg mixture.
Place the pastries onto a baking sheet, lined with aluminum foil and greased with cooking spray.
Bake for 15-20 minutes, or until the pastries are golden brown.
Serve warm and enjoy!
Taylor Kadlec
Taylor Kadlec is a lover of all things food including baking, cooking, and of course, eating. She is a self-taught baker and cook, and she shares her kitchen adventures on her blog Greens & Chocolate, where healthy cooking meets sinful indulgence.