Couscous with Veal and Deglazed Mushrooms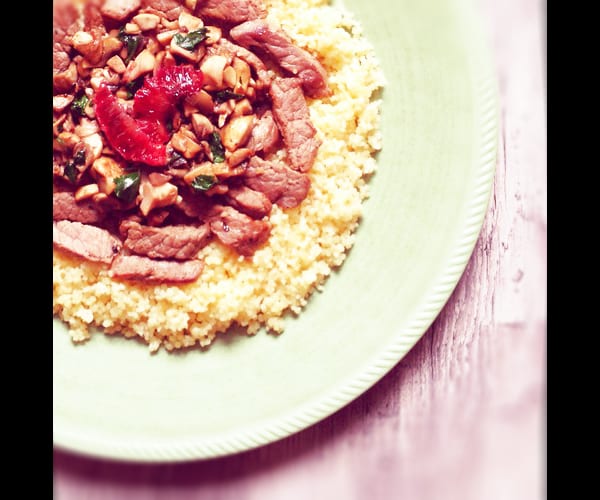 It sounds fancy but all you're doing when deglazing is adding liquid to bring out the flavors from the glaze left behind from sautéing something in oil or butter.
By Jessica Dang
I thought veal would go well with the mushrooms and then I wondered what sort of carb I should choose, and buttery couscous came to mind. When I finished making the dish I noticed that it resembled my Moroccan beef stew which tastes just as amazing as this hearty yet healthy dish, but I'll save that recipe for another day.
Couscous with Veal and Deglazed Mushrooms
It sounds fancy but all you're doing when deglazing is adding liquid to bring out the flavors from the glaze left behind from sautéing something in oil or butter.
Ingredients
Mushrooms
Finely chopped cilantro
Blood orange juice
Butter
Veal
Salt
Long pepper
Couscous
Chopped garlic
Chicken Broth
Instructions
Deglazed Mushrooms
Chop mushrooms and sauté in butter until there is a nice brown glaze.
Deglaze the mushrooms by adding freshly squeezed blood orange juice to the pan.
Veal
Season veal strips with salt and long pepper then lightly pan fry in extra virgin olive oil.
Couscous
Sweat chopped garlic in butter for 30 secs. before adding in the couscous.
Continuously stir the couscous in the garlic butter for a minute before adding in the chicken broth.
Cook for 15 mins.
Jessica Dang
Jessica Dang is a freelance writer, blogger, and social media consultant based in New York City. She is currently developing Single Girl Dinner, an online community and resource of dinner ideas for young independent women living in the city. She enjoys reading menus, dining at the bar, and experimenting in the kitchen when no one's looking. When it comes to food, she can't resist uni, foie gras, caviar, or Popeyes' fried chicken.