Crispy cornmeal waffles are only improved by a swipe of butter with a kick and a drizzle of sweet citrus syrup to tie all three flavors together. Perfect for brunch.
By Patricia Conte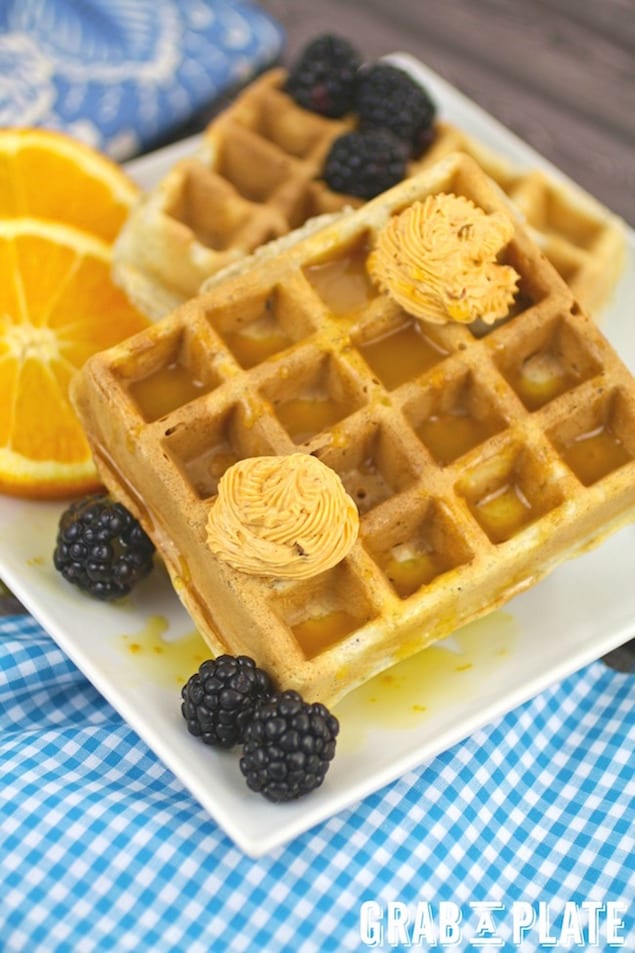 Breakfast will never be boring when you serve Blue Cornmeal Waffles with Chipotle Butter and Orange Syrup.
I love everything about this dish, from the crispy and thick waffles (anyone else hate soggy, wimpy waffles as much as I do?) to the butter with a bit of a kick to the citrus syrup for added sweetness.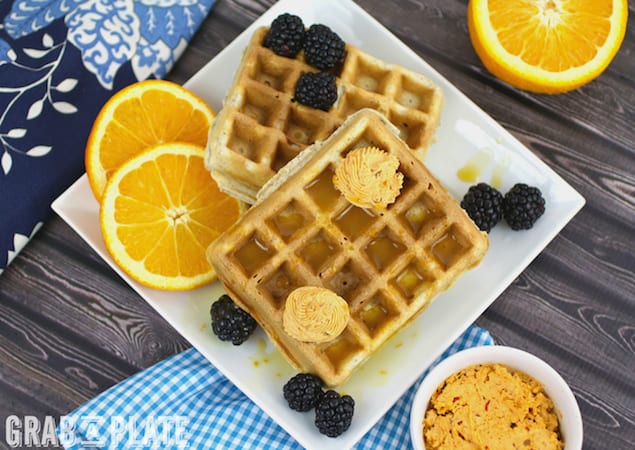 See Also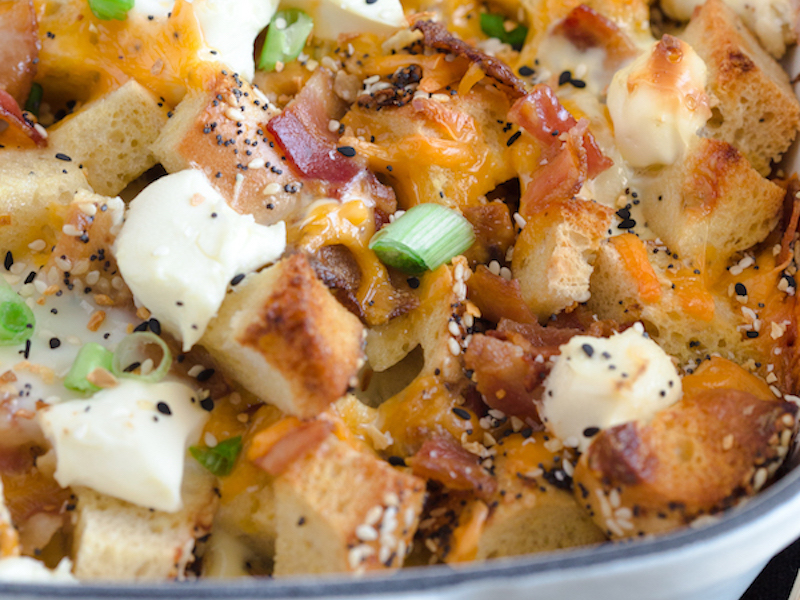 These waffles surprised me for a few reasons. First, they're crispy and textured, not to mention hearty. Second, I thought they would have a bit more color to them. I made blue cornmeal muffins once, and they turned out a lovely shade of blue. I might have to experiment with the recipe and the proportions of flour-to-cornmeal to see if I can get some added color next time.
The chipotle butter is so simple to make, and it really adds a burst of flavor to the waffles: just mix softened butter with the few other ingredients, and voilà! The butter has a slight kick to it, and it makes the perfect partner to the orange syrup. You could save yourself a step and use regular maple syrup for this recipe, but why, when it's so simple to get such great flavor?

Cornmeal Waffles with Orange Syrup and Spiced Chipotle Butter
Crispy waffles are only improved by a swipe of butter with a kick and a drizzle of sweet citrus syrup to tie all three flavors together. Perfect for brunch.
Ingredients
For the butter
½ cup unsalted butter, softened
1 chipotle in adobo sauce
1 teaspoon of the adobo sauce
1 teaspoon lime juice
¼ teaspoon of lime zest
Pinch of salt
For the waffles
1-1/2 cups flour
½ cup blue cornmeal
2 tablespoons sugar
1 tablespoon baking powder
½ teaspoon salt
1 cup milk
3 eggs, beaten
6 tablespoons plain Greek yogurt
2 tablespoons orange juice
½ tablespoon orange zest
Orange rounds for garnish
Nonstick cooking spray
For the orange syrup
2 cups orange juice
⅓ cup sugar
1 tablespoon orange zest
Instructions
For the butter
Add all the ingredients to a food processor and blend until smooth.
Transfer to a ramekin or small bowl, and refrigerate until ready to use.
For the waffles
Preheat a waffle iron. Lightly spray the sections with the nonstick cooking spray.
Add the flour, cornmeal, sugar, baking powder, and salt to a large bowl and whisk to combine.
In a separate bowl, add the milk, eggs, yogurt, orange juice, and zest. Whisk until well combined.
Make a well in the center of the dry ingredients and add the wet ingredients. Stir until combined, but don't over mix.
When the waffle iron is hot, add the batter to the waffle sections. Bake until lightly crisp and golden. Remove from the waffle iron and serve warm with the butter and syrup.
For the syrup
Add all the ingredients to a saucepan over medium-high heat. Stir until the sugar has dissolved.
Bring the mixture to a boil for about 30 seconds, then reduce the heat to a simmer.
Simmer until the mixture reduces by about half and thickens a bit.
Patricia Conte
Patricia Conte is the writer, recipe developer, and photographer behind Grab a Plate. She credits her love of cooking, baking, and entertaining to her Italian immigrant family who is also passionate about all things food! Visit her at Grab a Plate where she shares her love of food, recipes, and bites in between. Follow Patricia on Twitter, Facebook, and Instagram.