Cornmeal Crusted Fried Pickles with Spicy Dipping Sauce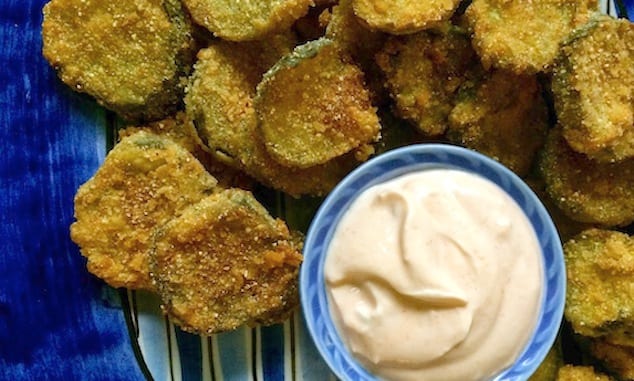 For a party-friendly appetizer, try lightly battered pickle chips dipped in a smooth, zesty sauce. The pop-able snacks are addictive and will rival any onion ring.
By Kara and Marni Powers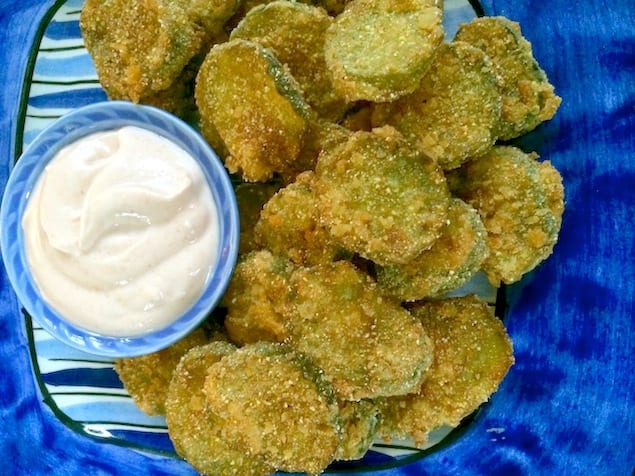 The pickle is a summer staple. It's the sidekick to any pressed panini while dining al fresco, any lobster roll while picnicking in a park, and of course in relish form at any barbecue. My friends have often poked fun at my enthusiasm if not obsession with relish but no need to embarrass myself with that explanation. Anyways, while there is nothing better than taking a bite of a cool and crisp dill pickle on a hot day, there are so many other ways to enjoy the tangy All-American veggie.
For a party-friendly appetizer, I decided to attempt frying my own tart slices in a cornmeal crust alongside a tangy dip. The resultant lightly battered chips dipped in the smooth, zesty sauce were highly addicting. The pop-able snacks are perfect appetizers for any summer gathering and will rival any onion ring.

Cornmeal Crusted Fried Pickles with Spicy Dipping Sauce
For a party-friendly appetizer, try lightly battered pickle chips dipped in a smooth, zesty sauce. The pop-able snacks are addictive and will rival any onion ring.
Author:
Kara and Marni Powers
Ingredients
Spicy Dipping Sauce
½ c sour cream
1 T Sriracha sauce
1 t ketchup
Salt and pepper throughout
Fried Pickles
Vegetable oil
½ c all-purpose flour
2 large eggs, beaten
1 T milk
½ c cornmeal
¼ c Panko breadcrumbs, slightly ground
½ t chili powder
Salt and pepper throughout
1 (16-oz) jar dill pickle chips (Mt. Olive)
Instructions
In a medium saucepan, heat 2-inches of vegetable oil on medium-high to 350 degrees Fahrenheit.
Meanwhile, prepare the Spicy Dipping Sauce. In a bowl, stir together the sour cream, Sriracha sauce, ketchup, salt and pepper. Refrigerate until ready to use.
Arrange the pickles on paper towels to dry out a bit. In one shallow bowl, pour the flour and a pinch of salt and pepper. In a second shallow bowl, beat the eggs, milk, salt and pepper. In a third shallow bowl, pour the cornmeal, Panko breadcrumbs, chile pepper and a dash of salt and pepper and stir to combine. Dredge the pickles in the flour, then the beaten egg, and then the cornmeal and Panko coating, making sure the coins are fully covered. In batches, carefully place the coated pickles into the hot oil and fry for 3-4 minutes until golden brown. With a slotted spoon, remove the fried chips from the oil to paper towels. Serve warm with Spicy Dipping Sauce. Makes 24-26 fried pickle chips.
Kara and Marni Powers
Kara and Marni Powers are twin sister cooks, dining and blogging their way through Boston's North End and beyond. They see the act of cooking and entertaining as a form of creative expression, an art that encourages the mixing of flavors, spices, techniques and stories. Their interest in cooking dates back to their Greek grandmother's open-arms approach, letting them taste her savory creations like her famous spanakopita. Kara and Marni's fascination with food and culture continued during their travels abroad in Europe where they saw firsthand the limitlessness of cooking.