Kalle Bergman thinks Alex Sushi is a welcome addition to the premium sushi segment in Copenhagen, Denmark.
By Kalle Bergman
During the last ten years, the Danish capital Copenhagen has been gradually taken over by sushi restaurants. Today you see them everywhere, almost as ubiquitous as shawarma or pizza take away joints. Now, unfortunately, the bulk of these sushi restaurants range from appalling at worst to acceptable at best. Salmon, "white fish" (whatever that is) and shrimp dominate take away menus at the many hole in the wall establishments across the city, and the quality of the fish only rarely reach even half-decent standards.
But there is a small (very small) premium segment, consisting of 2-3 places with high culinary ambitions that can match other high end restaurants in the city – and with Alex Sushi, the segment has received a welcome addition in 2011.
Head Chef Ernesto (previously Zuma and Armani Hotel) has been flown in from Dubai to head up the kitchen at Alex Sushi – and his dedication to clean flavors and high quality products can be seen particularly in the small details – from the secret house-soya to the freshly grated wasabi. We visited Alex Sushi on a cold December evening.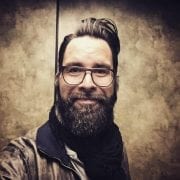 Kalle Bergman
Kalle Bergman is a food writer and media entrepreneur who is the founder of Honest Cooking. As a food writer, his writing has been regularly featured in publications like Gourmet, Los Angeles Times, Huffington Post and Serious Eats. He is obsessed with simple food, more often than not from his native Scandinavia.