In the sticky heat of summer, nothing beats a crisp, chilled white wine paired with a cool seafood dish.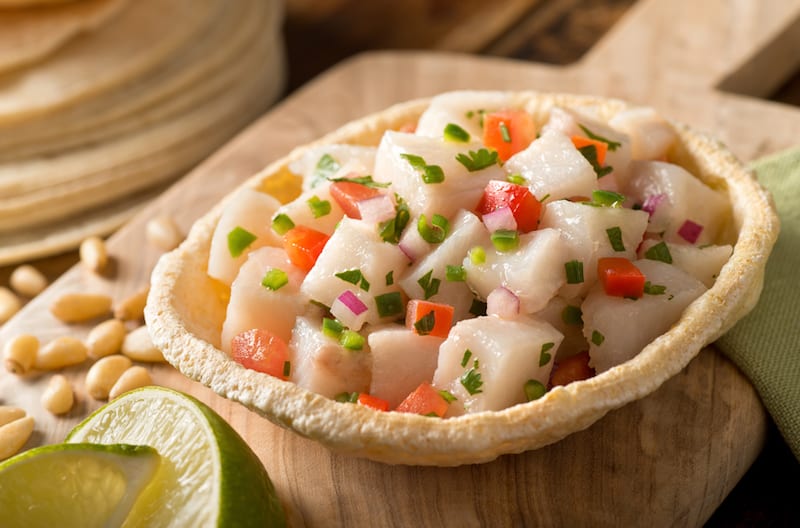 Currently, we are excited about the newest vintage of Ruffino Lumina Pinot Grigio that has arrived in the US in time for hot summer season. The best part? You'll find it reasonably priced at around $10.
This dry white Italian wine is loaded with bright acidity and fresh fruit flavors of pear, apple and a touch of floral notes. Let the minerality of the wine pair perfectly with seafood and be brightened with tastes of lemon.

Check out these seafood pairings for inspiration:
Shrimp Cocktail – This light white won't overwhelm the delicate flavors of big, juicy in-season shrimp.
Lobster Roll – The bright acidity in Lumina is a nice balance to the rich mayo or butter in the lobster roll.
Fluke Ceviche – Citrus juice in ceviche complements the fruit flavors of Pinot Grigio. Check out the recipe below!

Cool Fluke Ceviche
Author:
Courtesy of The Lobster Place/Cull & Pistol's Test Kitchen
Ingredients
2 lbs fluke, filleted and completely boneless, cut into 1 inch pieces
8 limes, juiced
8 lemons, juiced
2 oranges, juiced
1 red pepper, cut into ½-inch dice
1 red onion, cut into ½-inch dice
1 bunch cilantro, stemmed and roughly chopped
1 serrano chile, roughly chopped
2 avocados, peeled, seeded, and cut into ½-inch dice
1 cucumber, peeled and cut into ½-inch dice
Instructions
Transfer the fluke to a bowl. Season lightly with salt. Add the lime, lemon, and orange juice, stir to combine, and refrigerate for at least 4 hours.
Stir the red pepper, onion, cilantro, and chile into the fluke mixture.