Creamy and tart with buttermilk and lemon, this ice cream is a sure summertime pleaser.
By Becky Winkler
This blueberry buttermilk ice cream is super refreshing and tastes lighter than most ice creams because the buttermilk is relatively low in fat. The sour edge from the buttermilk is just noticeable enough, and accented by a bit of lemon extract or lemon liqueur. The ice cream is naturally sweetened with raw honey and of course, the sweetness of the blueberries themselves. I used gelatin here to help add a little creaminess back to the ice cream, but you can leave it out if you like–the ice cream will likely just be a bit icier. This one is halfway to being a sherbet anyway, so I'm sure it would still be delicious. This is just the kind of ice cream you want to curl up with on the couch at the end of a hot summer's day!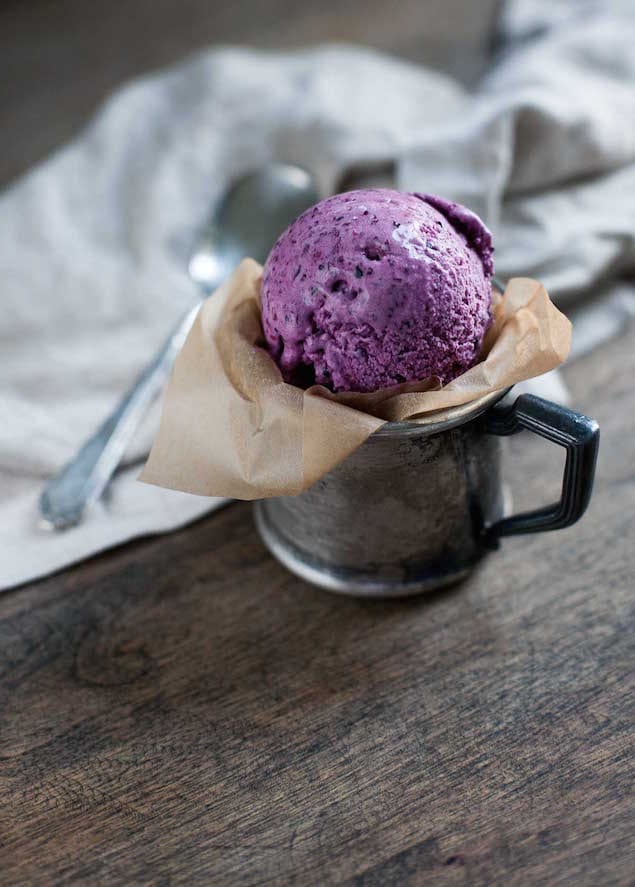 Plus, this recipe is a great way to use up leftover buttermilk.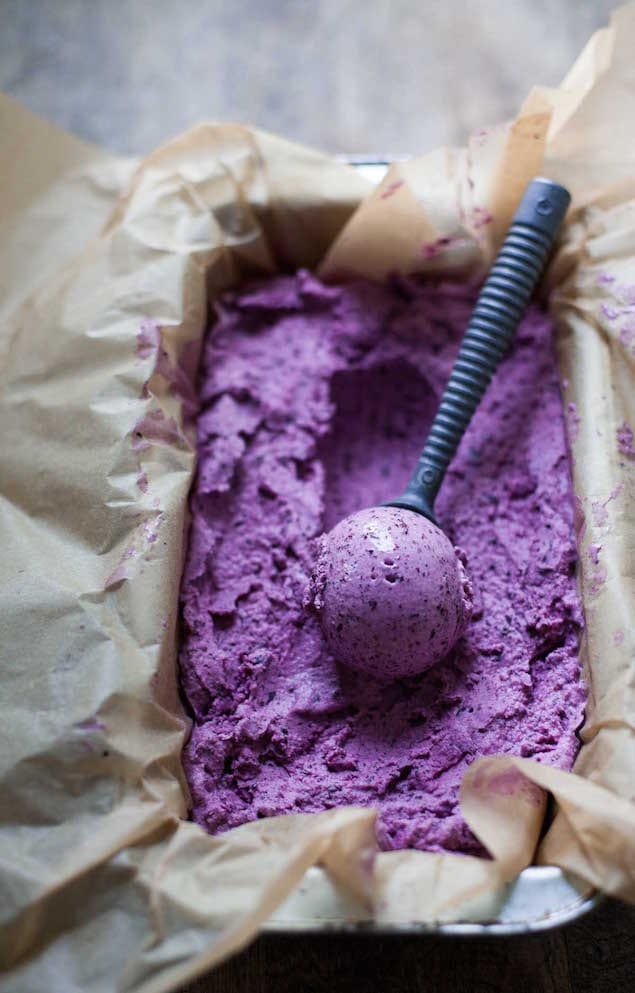 Cool Blueberry and Buttermilk Ice Cream
Creamy and tart with lemon, this blueberry and buttermilk ice cream is a sure summertime pleaser.
Ingredients
1½ cups lowfat buttermilk, divided
2 teaspoons gelatin
¼ cup raw honey
2 cups frozen blueberries (do not defrost)
⅔ cup heavy cream
1 teaspoon vanilla extract
1 teaspoon lemon extract (or lemon liqueur, such as limoncello)
Pinch of sea salt
Instructions
Place ½ cup of the buttermilk in a small saucepan and sprinkle the gelatin on top. Let the gelatin bloom for 5 minutes, until the surface of the milk appears wrinkled. Set the heat to low and warm the buttermilk, stirring frequently, just until the gelatin dissolves (do not allow the mixture to come to a simmer). Turn off the heat and whisk in the honey until smooth.
Pour the buttermilk and honey mixture into the bowl of a food processor or blender. Add the rest of the buttermilk and all the remaining ingredients and process until smooth.
Transfer the ice cream base to a bowl and freeze for 30 minutes or refrigerate for 2 hours to make sure it's nice and cold. Process in an ice cream maker, transfer to a chilled freezer-safe container, and freeze for 2 hours before scooping and serving. If the ice cream has been frozen much longer than that, let it thaw for about 10 minutes before digging in.
Note: I took these photos after the ice cream had been frozen for only 2 hours, and as you can see it was easy to scoop. After being frozen for a longer time, the ice cream remained delicious but was a little crumblier and more unruly, resisting forming a perfect scoop. Just a heads up for those interested in scoop aesthetics :)