Natalie McLaury considers herself a bit of a hoarder when it comes to magazines. Never one to pass up a good deal on a subscription, it's to the point where she now finds herself receiving a magazine in the mail several times a week. Most of the time, she rips out pages of recipes but fails to actually create the recipe in her kitchen. Not anymore! Join Natalie as she cooks the magazines.
By Natalie McLaury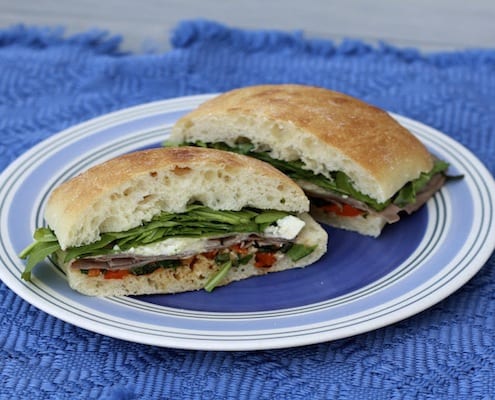 I'm not by any means a sandwich snob. I still eat peanut butter and jelly several times a week for lunch and I'm pretty sure will be perfectly content doing so forever. Similarly, Subway is my road trip staple (extra banana peppers please!). That being said, it's fun to get a little fancier with sandwiches from time to time. The best thing about these is that they're made ahead of time—making them a great grab 'n go option or a perfect picnic food.
Roast Beef, Red Pepper, Arugula, and Feta Sandwiches with Tahini Dressing
Make-ahead picnic sandwiches with roast beef, a red pepper tapenade, arugula, and feta.
Recipe Type:
sandwiches, entree, main
Ingredients
2 jarred roasted red peppers, drained & finely chopped
¼ cup chopped green onion
¼ cup minced fresh basil
1 tbsp extra-virgin olive oil
1 tsp ground cumin
1 tsp hot sauce
2 garlic clove, pressed (divided)
⅛ cup tahini
¼ cup water
juice from 1 lemon
salt, to taste
4 large ciabatta rolls, cut in half
4 oz feta cheese
1 pound thinly sliced roast beef
2 cups arugula
Instructions
In a small bowl, combine the red peppers, green onion, basil, olive oil, cumin, hot sauce and 1 garlic clove, stirring to combine. Set aside.
In a separate small bowl, combine the other garlic clove with the tahini, water, and lemon. Whisk until smooth and season to taste with salt.
Evenly divide the red pepper mixture between each of the rolls, spreading on the bottom of each cut roll. Top with roast beef and feta. Drizzle with tahini dressing and cover with arugula. Place top bun on sandwich and tightly wrap in plastic wrap. Refrigerate for at least 2 hours or overnight.
Unwrap sandwiches, cut in half, and serve.
Notes
from Bon Appetit August 2003
By letting them sit, the flavors have a chance to really soak into the bread and meld with one another. I wasn't sure how the combo would fare—I'm used to cheddar and roast beef, not feta and roast beef—but I should've known better than to doubt the experts at Bon Appetit! I made a few swaps to the original recipe (arugula for spinach, basil for cilantro) and found I wouldn't change a thing about this version! Of course, I think they'd be just as good with the original ingredients and you could easily nix the tahini dressing if you don't normally have it on hand and don't want to shell out $7 for a jar.