Cooking the Magazines: Pasta with Bacon and Cauliflower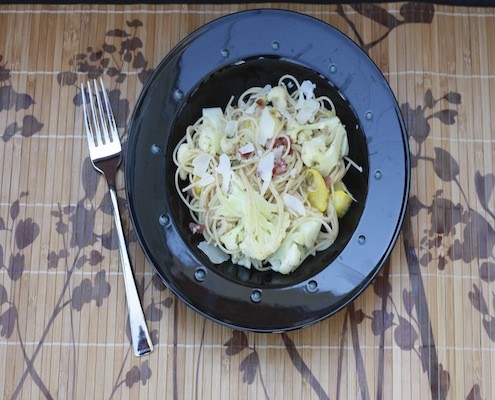 Natalie McLaury considers herself a bit of a hoarder when it comes to magazines. Never one to pass up a good deal on a subscription, it's to the point where she now finds herself receiving a magazine in the mail several times a week. Most of the time, she rips out pages of recipes but fails to actually create the recipe in her kitchen. Not anymore! Join Natalie as she cooks the magazines.
By Natalie McLaury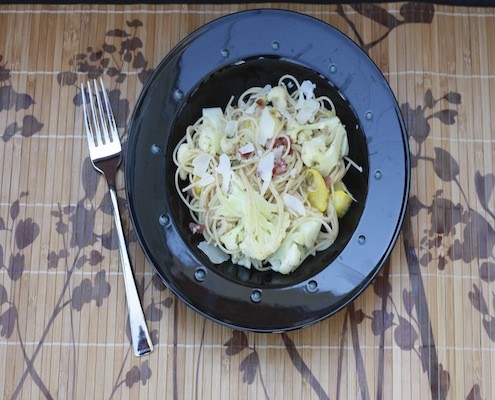 I didn't actually expect anything to come up when I googled "Cauliflower Pasta". I've never had cauliflower in pasta before nor have I ever even seen cauliflower pasta, but I was grasping for straws trying to come up with something to eat based on the ingredients we had on hand. Real Simple magazine came to the rescue with this pasta recipe that came together in a flash. With only a handful of ingredients, I managed to have them all in my rather empty refrigerator and pantry. I was a little concerned it would be too boring of a dish, but Ryan and I both liked it. The best part was definitely the cheese, and I'm pretty sure I added more than the 3/4 cup it called for…I recommend you don't skimp either! (Note–I also added some yellow squash I had on hand, which you might see in the picture. I just sauteed it before adding the cauliflower)
Pasta with Bacon and Cauliflower
A simple pasta dish featuring bacon, cauliflower, and parmesan cheese
Ingredients
12 oz. spaghetti (I used whole wheat)
6 slices bacon
⅓ cup fresh sage leaves
1 small head cauliflower (1½ lbs), cut into small florets
kosher salt and black pepper
¾ cup grated parmesan
Instructions
Cook the pasta according to package directions. Reserve ¾ cup cooking water and drain. Return pasta to the pot.
Meanwhile, cook the bacon in a large skillet over medium-high heat until crisp, 6-8 minutes. Move bacon to a plate lined with a paper towel and crumble.
Add the sage to the bacon skillet and cook over medium heat, stirring once, until crisp (1-2 minutes). Remove from skillet and place with the bacon.
Add the cauliflower to the skillet with ¼ cup water and ¼ tsp each of salt and pepper. Cook, covered, for 5 minutes.
Uncover and cook, tossing frequently, until golden and tender (5 more minutes).
Add the reserved pasta water and ½ cup parmesan to the pasta, tossing until creamy. Add the cauliflower, sage, and bacon, tossing to combine. Sprinkle with remaining cheese.
Notes
From Real Simple Magazine March 2010
Natalie McLaury
Natalie McLaury is a St Louis based food writer with a passion for real food and experimenting in the kitchen. Her cooking ranges from healthy three course meals to decadent desserts, and she shares many of her food tips and recipes on her successful The Sweets Life blog . As an avid runner and fitness expert, she also gives the occasional tips on how to combine a serious interest in health with a sweet tooth.