Cooking the Magazines: Lentil Burgers with Tzatziki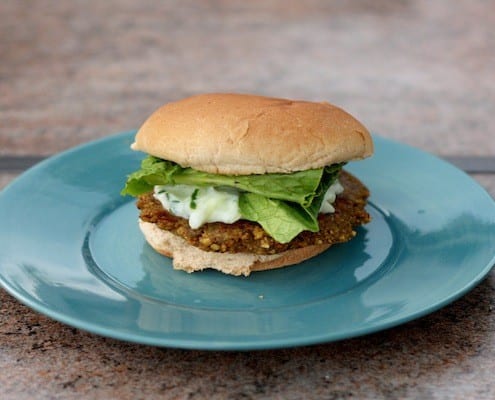 Natalie McLaury considers herself a bit of a hoarder when it comes to magazines. Never one to pass up a good deal on a subscription, it's to the point where she now finds herself receiving a magazine in the mail several times a week. Most of the time, she rips out pages of recipes but fails to actually create the recipe in her kitchen. Not anymore! Join Natalie as she cooks the magazines.
By Natalie McLaury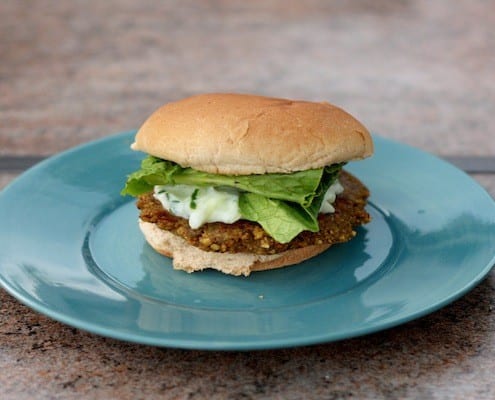 We eat our fair share of turkey and beef burgers, but sometimes I like to switch it up and try something new. I've had this Lentil Burger recipe bookmarked for ages and when a free sample of lentils I'd signed up for arrived in the mail, it was finally time to see how this meatless burger recipe stood up against some of our favorites.
Though not meat, the patties are surprisingly "meaty" in texture and the flavor is distinct enough that you almost forget your sandwich is completely vegetarian. Despite missing a few ingredients from the recipe, as you'll see in the version below, we found these anything but boring. I'd like to try again with the feta cheese, which I imagine is a tasty addition.
Because you have to first cook the lentils, this is a bit of a time-consuming recipe, especially if you don't have a lot of time to get dinner on the table. I split it up, making the lentil mixture the first night and then my husband picked up where I left off the next night, pureeing the mixture, forming patties, and cooking them on the stovetop. These probably wouldn't stand up well on a grill; I recommend using a grill pan or skillet on the stove.
Lentil Burgers with Tzatziki
A meatless burger featuring lentils and topped with tzatziki
Ingredients
1 tsp olive oil
1 cup chopped white onion
¾ tsp dried oregano
⅛ tsp red pepper flakes
2 cloves garlic, minced
1½ cups low sodium chicken broth
⅔ cup dried lentils
⅔ cup crumbled feta cheese (I omitted)
⅓ cup bread crumbs
1 tsp Italian seasoning (I omitted)
½ cup grated carrot (also added a bit of grated zucchini)
⅓ cup wheat germ (I omitted)
¼ cup flat leaf parsley, chopped (I subbed cilantro)
salt & pepper, to taste
cooking spray
4 buns or pitas
spinach or romaine
tomato slices
for the tzatziki
1 cup grated cucumber, peeled before grated
1½ cups plain yogurt (if you prefer a thicker sauce, use Greek yogurt)
½ tsp salt
2 cloves garlic, crushed
1 tsp olive oil
2 tsp chives
Instructions
In a large skillet over medium heat, add olive oil. Add onions, sauteing until soft (~5 min). Add oregano, red pepper flakes, and garlic, cooking for an additional minute.
Stir in chicken broth and lentils. Bring mixture to a boil, cover, reduce heat, and allow to simmer for 35 minutes or until lentils are tender. Drain and cool. (This step can be done 1 day ahead of time. Place mixture in an airtight container and refrigerate overnight.)
In the bowl of a food processor, combine feta, breadcrumbs, carrots, wheat germ, parsley, salt, and pepper (salt & pepper to taste). Pulse until coarsely ground. Transfer to a large bowl and set aside.
Add the lentil and onion mixture to the bowl of a food processor and pulse until pureed. Add to the bowl with the breadcrumb mixture and mix well to combine (use your hands).
Form into 4 patties. Heat cooking spray in a large skillet over medium high heat. Cook patties on three minutes each side, until warmed through.
Serve lentil patties on buns or in pitas, topped with tzatziki (combine all tzatziki ingredients, listed above, in a bowl and mix), spinach/romaine, and tomatoes.
Notes
adapted from Cooking Light
Natalie McLaury
Natalie McLaury is a St Louis based food writer with a passion for real food and experimenting in the kitchen. Her cooking ranges from healthy three course meals to decadent desserts, and she shares many of her food tips and recipes on her successful The Sweets Life blog . As an avid runner and fitness expert, she also gives the occasional tips on how to combine a serious interest in health with a sweet tooth.