Natalie McLaury considers herself a bit of a hoarder when it comes to magazines. Never one to pass up a good deal on a subscription, it's to the point where she now finds herself receiving a magazine in the mail several times a week. Most of the time, she rips out pages of recipes but fails to actually create the recipe in her kitchen. Not anymore! Join Natalie as she cooks the magazines.
By Natalie McLaury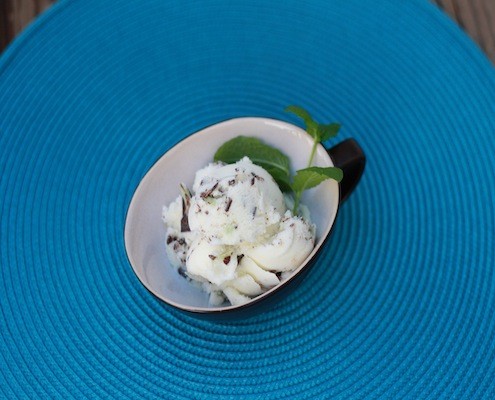 When we moved into our new house, friends Mike and Maggie bought us a variety of potted herbs for our sunroom. It was a fitting gift, seeing how I spent months coveting their successful herb growth in their kitchen. I was slightly concerned that with my lack of a green thumb, they wouldn't survive more than a few days. In fact, as I sit here typing this, I am reminded that I must. water. tonight. So far, all five of my herbs are healthy and prosperous…especially my mint plant!
With an abundance of mint, I needed something that used a whole lot of it at once. I recalled seeing several ice cream recipes in an old issue of Cooking Light and when I flipped through the pages again, I found a recipe for mint ice cream. Perfect!
This ice cream is a little icier than some of my other ice creams (such as the cookies and cream), which I attribute to the use of 2% milk instead of whole milk and half and half instead of heavy cream. We couldn't get enough of the fresh mint flavor–there was nothing artificial tasting about this! I couldn't resist stirring chopped Andes mints into the batch, but it would be fantastic in its pure form as well. Next time I find myself with an overgrown mint plant, I know exactly how to solve the problem!

Creamy Ice Cream made with Fresh Mint Leaves!
Recipe Type:
Dessert, Ice Cream
Ingredients
2 cups (16 oz) 2% reduced-fat milk
1 cup (8 oz) half-and-half
1 package (1 oz) fresh mint (I just used a giant handful)
¾ cup (6 oz) sugar
dash of salt
2 large egg yolks
1 package Andes mints, unwrapped and coarsely chopped (optional)
Instructions
In a medium saucepan, combine milk, half and half, and mint. Cook over medium-high heat until 180F (or until tiny bubbles form around the edges, but the mixture isn't yet boiling). Remove from heat and cover for 10 minutes.
Pour milk mixture though a fine sieve into a bowl, pressing slightly with a wooden spoon. Discard solids and return liquid to the pan.
Place sugar, salt, and egg yolks in a bowl, stirring with a whisk until pale and combined. Gradually add half of hot milk mixture to egg mixture, stirring constantly with a whisk. Pour egg yolk mixture into pan with remaining milk mixture and cook over medium-low until 160F (about 2 minutes).
Pour ice cream into a bowl and cover, refrigerating overnight. Freeze according to ice cream maker's instructions. Stir in chopped Andes mints, if desired. Place in a container and freeze for an additional 3-4 hours, until firm.
Notes
Adapted from Cooking Light May 2010