Cooking the Magazines: Caprese Burgers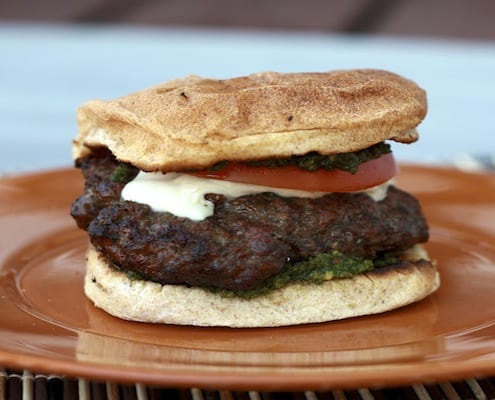 Natalie McLaury considers herself a bit of a hoarder when it comes to magazines. Never one to pass up a good deal on a subscription, it's to the point where she now finds herself receiving a magazine in the mail several times a week. Most of the time, she rips out pages of recipes but fails to actually create the recipe in her kitchen. Not anymore! Join Natalie as she cooks the magazines.
By Natalie McLaury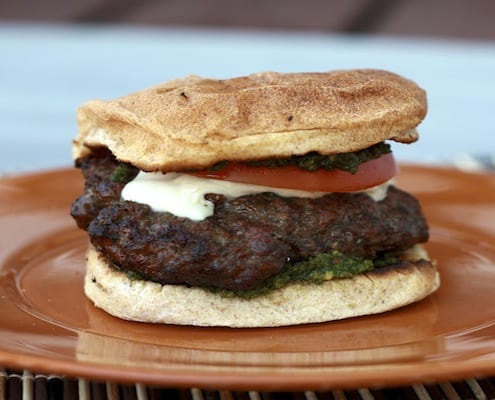 I'm not a fan of waste. I don't like to waste money, which is why I bring a brown bag lunch to work every day ($7 for mediocre cafeteria food? No thanks!). I don't like to waste toilet paper, which is why even though the cleaning lady at work puts a new roll on anytime it's over halfway used, I insist on using the old one (Yes, I'm weird). Most of all, I don't like to waste food, which brings us to these burgers.
I have an abundance of basil and I refuse to let it die or simply pick the leaves and toss them. Instead, I'm taking advantage of every possible recipe that uses basil. Thankfully we like basil on our salads, in our pizza, even in cocktails! These caprese burgers are the newest way we've found to use up basil….and on top of that, they're a new favorite!
Although the recipe calls for making homemade pesto (with almonds!), if you don't have excessive basil, you could just as easily use store-bought pesto. The pesto is mixed in with the beef before shaping the patties and then the burgers are topped with even more pesto along with melty mozzarella and tomato. It was by far one of the best burgers I've had in awhile! We typically stick to turkey burgers, but sometimes you can't beat a good beef hamburger and this was one of those cases. I plan to make these at least once more before the basil runs out.
Mouthwatering beef hamburgers flavored with homemade pesto and topped with mozzarella & tomatoes.
Ingredients
2 cups basil leaves
¼ cup salted roasted almonds
1 garlic clove
½ cup extra-virgin olive oil, plus more for brushing
¼ cup grated Pecorino-Romano cheese
salt & freshly ground pepper
2 lbs ground beef
8 oz fresh mozzarella, cut into 6 slices
6 hamburger buns, split
2 tomatoes, sliced
Instructions
In a food processor, combine the basil, almonds, and garlic, pulsing until the almonds are finely chopped. Add the olive oil and process until a paste. Add the grated cheese and pulse to combine. Season with salt and pepper. Set pesto aside (Can be refrigerated for up to 3 days. Bring to room temperature before using).
Transfer ¼ cup of pesto to the bowl. Add the ground beef and a pinch of salt and gently knead to blend. Form the mixture into 6 patties, about ¾-inches thick. Brush the patties lightly with olive oil.
Preheat the grill and oil the grates. Grill the burgers over moderate high heat for 3 minutes. Flip the burgers and top with mozzarella. Cover and cook until cheese is melted and burgers are cooked as you desire.
Grill the buns until lightly toasted, then spread remaining pesto on the bottoms. Top with burgers, tomatoes, and additional pesto. Serve immediately.
Notes
from Food & Wine August 2012
Natalie McLaury
Natalie McLaury is a St Louis based food writer with a passion for real food and experimenting in the kitchen. Her cooking ranges from healthy three course meals to decadent desserts, and she shares many of her food tips and recipes on her successful The Sweets Life blog . As an avid runner and fitness expert, she also gives the occasional tips on how to combine a serious interest in health with a sweet tooth.