Natalie McLaury considers herself a bit of a hoarder when it comes to magazines. Never one to pass up a good deal on a subscription, it's to the point where she now finds herself receiving a magazine in the mail several times a week. Most of the time, she rips out pages of recipes but fails to actually create the recipe in her kitchen. Not anymore! Join Natalie as she cooks the magazines.
By Natalie McLaury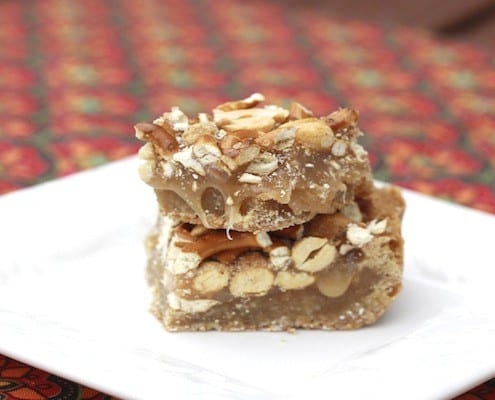 Natalie – 2 Caramel – 1
A few months ago I made salted caramel ice cream and although I had a few scary minutes when my caramel seized up, it was ultimately successful. Then a few weeks ago I attempted homemade salted caramel sauce and it was a huge fail. In the end I'm pretty sure I removed my caramel from the heat too soon, but I was had too much on my to-do list and not enough ingredients to spare, so I decided to tackle that challenge another day. (Note—I also successfully made that salted caramel pie, but I kept that out of the official tally since it didn't require making caramel over the stovetop)
When I stumbled across the butterscotch blondie recipe in Bon Appetit, I immediately wanted to make it. Then I realized it would require me to once again make caramel. Game on.
This time, my caramel turned out perfectly. I turned on the lights over my oven so I could see exactly when the caramel changed to that deep amber color. Rather than mix the peanuts and pretzels into the caramel, I sprinkled them atop the caramel once I spread the caramel over the blondies (I recommend this—prettier and easier to spread!).
I couldn't resist these blondies! Sweet, salty, chewy, these were the best of all worlds! Be sure to chill them before you try to cut into them…and let them come to room temperature a bit before serving so you don't break a tooth!
See Also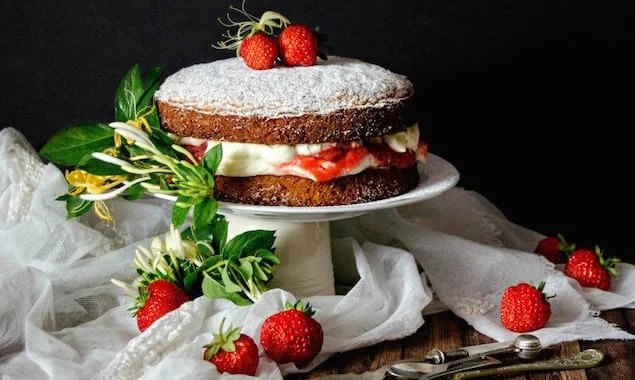 I made a half batch of these and reduced the amount of pretzels and peanuts, based on feedback from the Bon Appetit reviews online. Next time, I'll still stick with less pretzels and peanuts than called for but I will definitely be making a full batch!
Butterscotch Blondie Bars with Peanut Pretzel Caramel
A blondie base made with brown butter is topped with a homemade caramel, roasted peanuts, and crushed pretzels making for a perfectly sweet and salty treat!
Ingredients
for the blondie-
1½ cups all-purpose flour
2 tsp baking powder
1 tsp kosher salt
1½ sticks unsalted butter
2 cups (packed) light brown sugar
2 large eggs
1 tsp vanilla extract
for the topping-
4 cups roasted unsalted peanuts (I recommend using about 2-2½ cups)
2 cups sugar
¼ cup honey
¼ cup (1/2 stick) unsalted butter
½ cup heavy cream
1½ cups twisted pretzels, coarsely crushed (I recommend using about 1 cup)
Instructions
Preheat the oven to 350F. Line a 9 x 13 inch pan with parchment paper, leaving a 1 inch overhang on the long sides of the pan. In a medium bowl, whisk together the flour, baking powder, and salt. Set aside.
Melt butter in a medium skillet over medium heat until browned bits form at the bottom of the pan (7-8 minutes). Transfer to a medium bowl and add brown sugar. Beat with a mixture for 2-3 minutes until the mixture resembles wet sand.
Add eggs and vanilla, beating until fluffy and well-combined. Add dry ingredients, beating until smooth (batter will be thick). Spread batter into prepared pan and spread evenly with a spatula.
Bake for 20-25 minutes, until golden brown and an inserted toothpick comes out with a few moist crumbs attached. Allow blondies to cool completely on a wire rack.
To make the caramel topping, line a rimmed baking sheet with parchment paper and preheat oven to 350F. Spread peanuts over baking sheet and bake, stirring frequently, for 5-7 minutes, until golden brown and fragrant. Set aside.
Stir sugar and ½ cup water in a large saucepan over medium-low heat until sugar dissolves. Increase heat and bring the mixture to a boil without stirring, occasionally swirling the pan, until the caramel is deep amber (12-15 minutes). Add honey and return mixture to a boil, stirring often, for about 1 more minute. Add butter and stir until blended.
Add heavy cream (mixture will bubble). Whisk until smooth before stirring in peanuts and pretzels. Pour caramel mixture over the cooled blondie. (Or spread caramel over blondies before sprinkling peanuts and pretzels on top, pressing down gently so that they stay.) Chill until cool, about 30 minutes.
Using the parchment paper overhang, lift the blondies from the pan and cut into squares.
*Note--can be made up to 1 week ahead of time (keep refrigerated in an airtight container and bring to room temperature to serve).
Notes
from Bon Appetit December 2011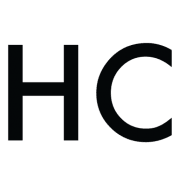 Natalie McLaury
Natalie McLaury is a St Louis based food writer with a passion for real food and experimenting in the kitchen. Her cooking ranges from healthy three course meals to decadent desserts, and she shares many of her food tips and recipes on her successful The Sweets Life blog . As an avid runner and fitness expert, she also gives the occasional tips on how to combine a serious interest in health with a sweet tooth.