Meatballs are a comforting classic in many countries. Including Croatia.
By Tamara Novacoviç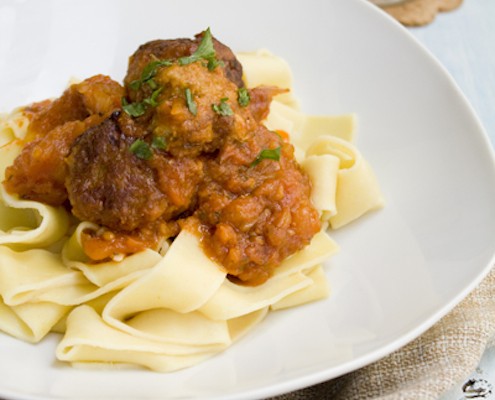 Meatballs and tomato sauce are actually a classic here in Croatia. I remember disliking this food when I was a child, probably because we use to have this in school. It tasted like nothing, had no flavor, no spices at all. Then I grew up and one day tried real meatballs with real tomato sauce and fell in love.
I made my meatballs tiny, they look so cute and appetizing. Serve them on top of pasta with tomato sauce.

Meatballs in tomato sauce
Comforting classic: meatballs in tomato sauce!
Ingredients
14 oz (400 g) pasta
24 oz (700 g) canned tomato
15.8 oz (450 g) ground meat
1 egg
1 tsp powdered red paprika
½ tsp nutmeg
salt
pepper
½ tsp basil
1 tsp oregano
½ tbsp chopped parsley
5 cloves garlic
3.5 oz (100 g) breadcrumbs
olive oil
Instructions
Combine ground meat with spices and two minced garlic cloves. Add egg and breadcrumbs, combine well and form small balls. Fry them in olive oil until they get nicely golden color.
In another pan, heat some olive oil, add canned tomatoes and the rest of finely chopped garlic cloves. Add some salt and pepper, basil and meatballs. Saute for 20 minutes.
Cook pasta in boiling, salted water, al dente. Serve with tomato sauce and meatballs.
Note: if in season, use fresh tomatoes instead of canned ones.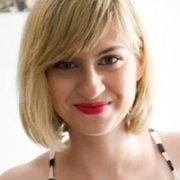 Tamara Novakoviç
Tamara Novakovic is a passionate self-taught cook, food blogger, freelance food writer and photographer behind bite-my-cake.blogspot.com. Her life journey has led her through Faculty of Humanities in Zagreb, Croatia to discovering passion for making cakes. She is currently a weekly food columnist for Croatian newspaper V magazine and food magazine Repete.