Cookies and Cream Macarons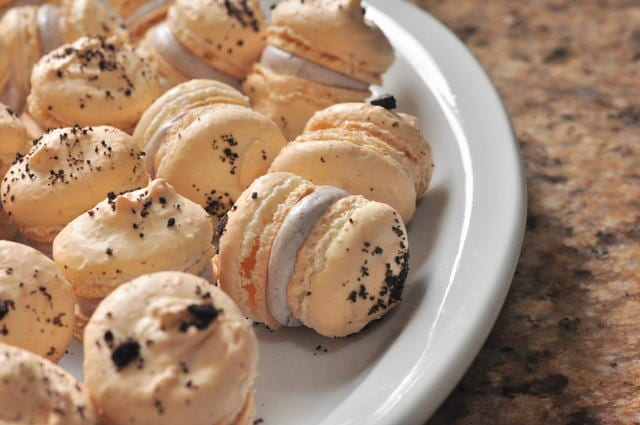 Now, these aren't perfect macarons. They needed to be folded a little bit more, because they are sitting too high, they need smoother tops. But they are still great.
By Michelle Keith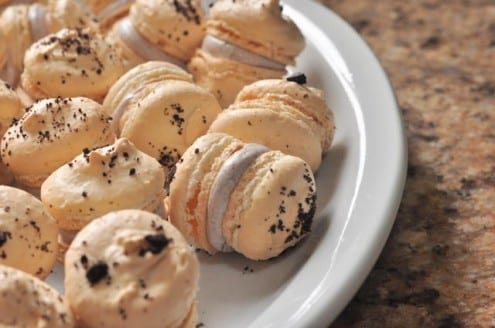 Whenever I tell people I'm going to make macarons, they always say: "Oh you mean Macaroons; right?"
Then I have to explain, "No these are French cookies. Macarons." Then they just nod and say, "Oh, okay." Kind of like when you can't understand a toddler or someone with a really heavy accent, and you don't want to keep asking, "What? Huh?" So, you just let it go.

Cookies and Cream Macarons
Now, these aren't perfect macarons. They needed to be folded a little bit more, because they are sitting too high, they need smoother tops. But they are still great.
Author:
Michelle Keith, adapted from David Lebovitz
Ingredients
2 egg whites from large eggs, at room temperature
½ c almond flour
1 c powdered sugar
5 tbs granulated sugar
2 crushed chocolate sandwich cookies
1 pouch Oreo cookies n cream icing
Instructions
Preheat oven to 350class
In a food processor, combine the almond flour and powdered sugar pulse until fine. Set aside.
In a mixer, place the egg whites and beat until foamy (bubble bath texture) slowly beat in the granulated sugar and class continue to beat until thick and stiff (shaving cream texture)
Gently fold the two mixtures together and mix by hand until smooth
Place mixture in a piping bag
Pipe into 1? circles on a baking sheet lined with parchment.
Bake at 350 for 12-15 minutes. Allow to cool.
Place 1 tsp of filling (icing) on the smooth side of cookie, and sandwich together.
Michelle Keith
Michelle Keith is a South Florida native and the author of "The Village Cook". A self taught chef, her experience cooking and baking spans over 30 years. In addition to her food blog, she has also been featured in numerous websites, and writes recipes for her local community newsletter. She also is the editor of "The Domestic Mama", a blog about motherhood and family life. She currently resides in South Florida.