Without dirtying a slew of bowls, make these rich chocolate brownies topped with a gooey chocolate chip cookie dough layer for a truly heavenly bite.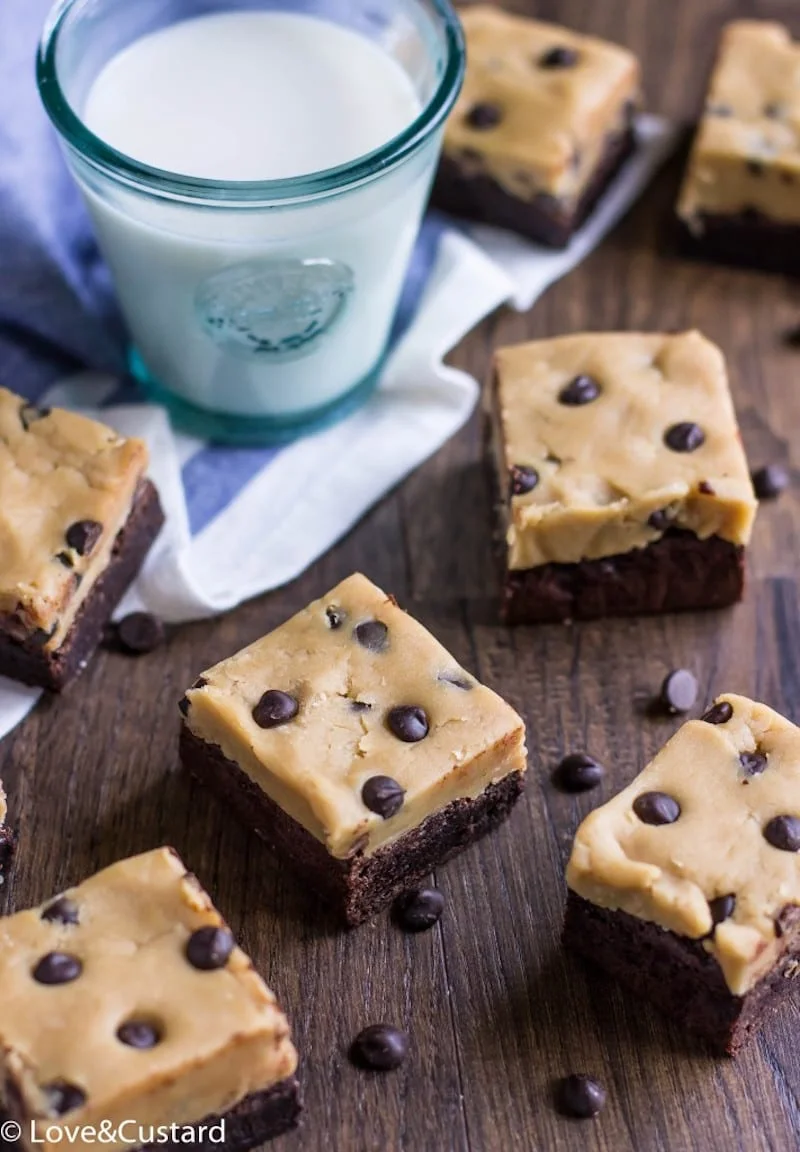 Meet the love child of gooey chocolate fudge brownies and the best chocolate chip cookies you'll ever eat.
I do love and appreciate recipes that don't require 5 million bowls and pots and tins and a mixer. Recipes like these cookie dough brownies that are quick and easy and incredibly delicious, without leaving me a whole heap of washing up to do at the end.
I know cookie dough brownies have been floating around for a while, but this was the first time I'd baked them myself. And I think I'm hooked now. They're insane!! If you've never made them before, please do it soon! I couldn't believe how easy they were. They're dense, fudgy and so chocolatey, just the way a chocolate fudge brownie topped with chocolate chip cookie dough should be.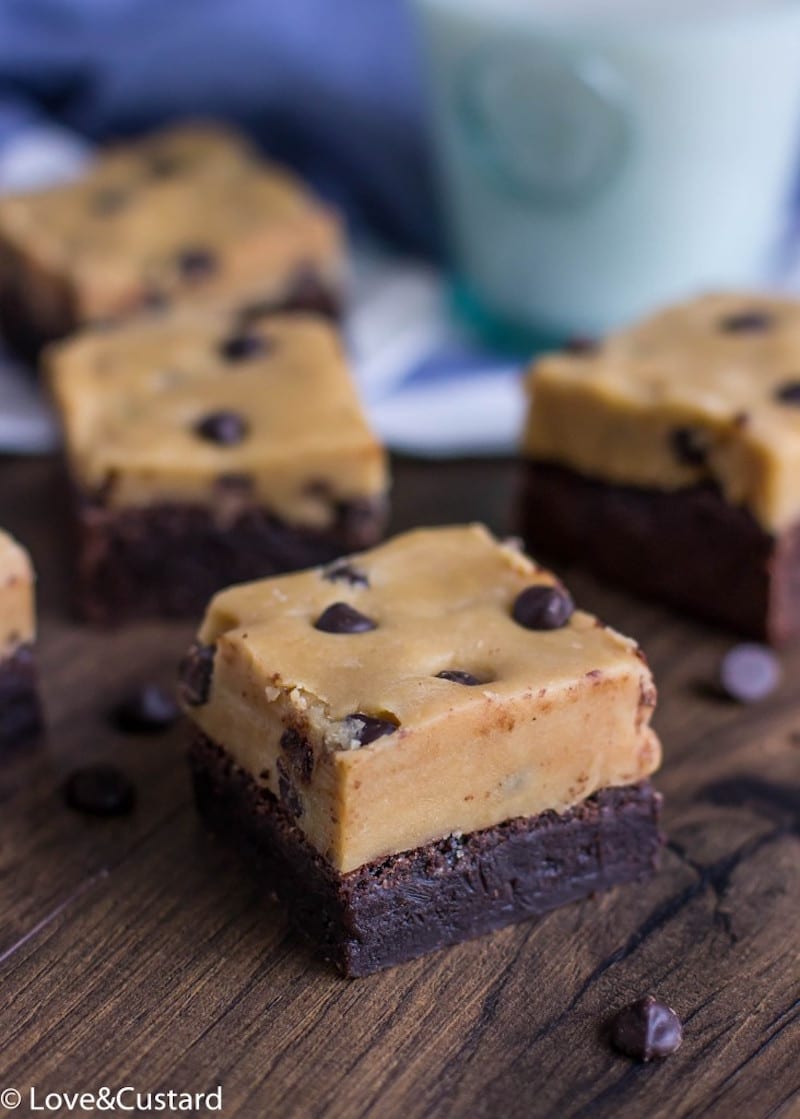 Because this cookie dough, as the name would suggest, isn't baked, I needed to look for an alternative to using eggs in the recipe. Cue some internet research and experimentation.
I found out that apple sauce or puree is a great alternative to eggs in recipes like this. It does everything you'd expect the egg to do, like bind the rest of the ingredients together and provide a good dose of moisture. The really good part? You won't be able to taste it one bit, so no one will even know it's there! In fact, no one will know you've left out the egg. Bonus!
See Also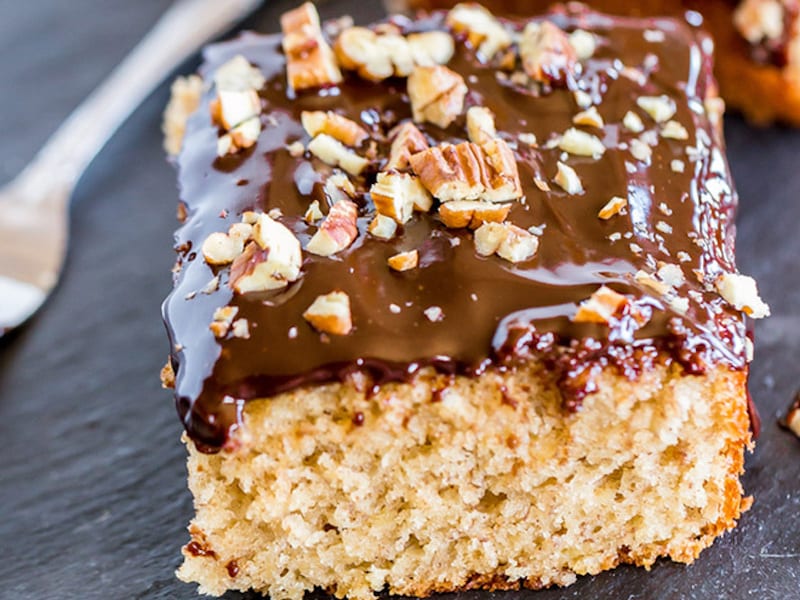 For this recipe, I used my trusty chocolate fudge brownie recipe that really is the mother of all brownies! It's insanely rich, fudgy and gooey, without a hint of caky-ness. The cookie dough is also my go-to for thick, soft and fudgy cookies, but also my favourite cookie dough for eating raw before I put them in the oven.
To make these little squares of heaven, all you do is whip up the brownies in one saucepan, bake them and let them cool. You make the cookie dough in a bowl (no mixer required thanks to the melted butter!) and then just spread onto the cooled brownie layer and chill the lot until ready to serve!
Click here for more mouth-watering dessert recipes.
Print
Author:

Erica Benjamin

Category:

Baking, Chocolate, Dessert
For the brownie layer
175 g

2.5 ounces unsalted butter

65 g

2.3 ounces cocoa powder

340 g

12 ounces caster sugar

2

large eggs at room temperature

1 tsp

vanilla extract

100 g

3.5 ounces plain flour
a pinch of salt
For the cookie dough layer
120 g

4.2 ounces unsalted butter, melted*

100 g

3.5 ounces caster sugar

50 g

1.7 ounces dark brown sugar

60 g

2.1 ounces apple sauce or puree

1 tsp

vanilla extract

250 g

8.8 ounces plain flour

1/2 tsp

bicarbonate of soda

1/2 tsp

salt

100 g

3.5 ounces chocolate chips
Instructions
Start by making the brownie layer. Preheat over to 180C/350F/gas mark 4. Grease and line the base of 20cm square cake tin with baking paper, leaving an overhang at the edges to make it easier to lift the brownies out later.
In a large saucepan, gently melt the butter over a low heat, stirring it occasionally.
Once the butter has melted, transfer the pan to a heatproof surface and sift in the cocoa powder, stirring it into the butter with a wooden spoon until smooth. Stir in the sugar.
In a small jug, beat the eggs with the vanilla until just combined. Gradually stir this into the cocoa mixture.
Stir the flour and a big pinch of salt into the pan, mixing until well combined and there are no streaks of flour.
Pour the mixture evenly into the tin and smooth the top. Bake for 20-25 minutes, or until a toothpick inserted into the centre comes out with only a few crumbs on (you don't want it to dry out). I'd recommend you take them out sooner rather than later if you're in any doubt. Slightly underbaked brownies are much better than overbaked!
Take them out of the oven, place on a wire rack to cool.
As the brownie layer is cooling, make the cookie dough layer. In a large bowl, mix together the melted butter and white and brown sugars using a wooden spoon until well combined. Add the apple sauce and vanilla, beating until just combined.
Add the flour, bicarbonate of soda and salt and mix using a wooden spoon. The mixture should come together easily without being too sticky. If it's very loose and sticky, add more flour, 1 tablespoon at a time until it firms up a little.
Using the wooden spoon, stir in the chocolate chips until evenly distributed.
Once the brownie layer is completely cooled, gently spoon the cookie dough on top and press into an even layer using the back of a spoon or your hands.
Cover with cling film and place in the fridge to firm up for at least 1 hour, or preferably until ready to serve.
These will keep in an air tight container for up to 5 days.
Notes
*When melting your butter, to avoid overheating it, stop heating it as soon as there are just a few small lumps of butter left that haven't quite melted. Stir the butter until these little lumps have melted too. You don't want the butter to be hot, otherwise the egg will curdle. If you've slightly overheated your butter, allow it to cool a little before using.