Sylvie Shirazi takes a look at the new cookbook from Debby Maugan.
By Sylvie Shirazi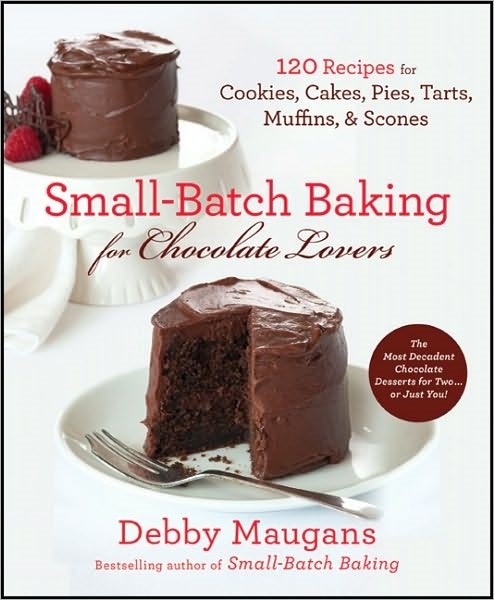 A decadent, frosted two layer milk chocolate cake for two? A batch of rich brownie cookies that only makes seven?  These smaller yields are standard in Debby Maugans's newest cookbook: "Small-Batch Baking for Chocolate Lovers." The extensive 120+recipe collection is the author's follow-up to her earlier and popular "Small-Batch Baking" cookbook. Her newest book expands on "Small Batch Baking's" techniques with an ingredient that is actually the author's first taste of the day everyday: chocolate.  A self-proclaimed chocoholic, she admits to eating a square of fine dark chocolate every morning upon waking.
Realizing that most average dessert recipes produce a larger quantity than a single person or couple may want, or be able to consume, Debby Maugans created this collection of chocolate recipes that are specifically tailored to produce small batches.  The recipes in the book are scaled down to make just a few servings, in manageable portions.  You can indulge once without the worry of leftovers taunting you.  Or, if you like to bake often, you don't have to worry about food going to waste.
Because sometimes a 9-inch layer cake is too much and 2 dozen cookies is just torturous temptation, this cookbook specializes in chocolate versions of favorite baked goods, including layer cakes, cookies, pies and puddings, that are downsized to make just enough for one time.
The benefit to using a small batch recipe is that all the work of scaling down an average yield recipe has been done for you; so there's no need to worry about doing the math, testing the recipe and adjusting the baking time yourself.
The book is divided into the following chapters:
Small-Batch Baking Know-How: explains everything you need to know to start baking in small batches; including ingredients, measuring techniques, ingredient storage, and the equipment needed.
Classic Indulgences: includes Red Velvet Cake, Diva Milk Chocolate Layer Cake and other beautiful, small cakes and cupcakes.
The Uppercrust: is devoted to pies and tarts that start from one of three basic pastry recipes.  Attention grabbers like Salted Chocolate Carmel Tarts and Fudge Ripple Cheesecake are included in this chapter.
Cookie Bliss: is filled with everything from Simply the Best Small-Batch Chocolate Chip Cookies to bar cookies, shortbread, biscotti and cookies filled with oats, nuts and coconut.
Ooey-Gooey Goodness: is where you'll find creamy, rich and velvety desserts like White Chocolate Crème Brulee.
Bodacious Breads: the Oatmeal Chocolate Chip Scones and Chocolate Tea Loaves in this chapter are perfect with a cup of tea or coffee.
Better with Chocolate: desserts that are traditionally chocolate-free have been re-worked, such as Chocolate Baklava and Chocolate Biscuit Rolls.
Holiday Decadence: holiday favorites baked in smaller quantities include Southern Pecan and Chocolate Chip Pies and Chocolate Pumpkin Ginger Cheesecakes.
Liquid Pleasures: includes a recipe for hot chocolate that the author's daughter proclaimed "Just Plain Fabulous Hot Chocolate" as well as super quick and easy shakes and smoothies like the Luscious Chocolate Peanut Butter Shake.
One of the most creative ideas in the book involves baking miniature layer cakes in recycled cans.  Tall two-layer cakes are baked in 14.5 to 15 oz cans and single layer and cheesecakes are baked in 8 oz cans.
The recipes are easy to follow and well-written. You do need to be more diligent measuring when working with a downsized recipe like the ones in the book because there is less room for error in the amount of liquid or dry ingredients that you add to a recipe, so precise measurements are the key to successful small-batch baking.  I haven't tried doubling the recipes for larger yields so I don't know if these would also work as well in larger batches.
A lack of photographs accompanying individual recipes is one of the only drawbacks to the book.  There is a section in the middle that showcases photos for a handful of recipes, but I would have loved to see a photo for each dessert.
Keep in mind a special consideration for small-batch baking is the need for smaller baking dishes such as mini-loaf pans, ramekins, and individual tart pans, although most are fairly common and easy to find.  Additionally, just because you reduce the amount of ingredients doesn't mean you significantly reduce preparation time for a recipe so don't be fooled into thinking small-batch baking is faster than regular baking, it still takes time to prepare, bake and clean up afterwards.
Ideal for singles, couples, or small families, this book features lots of tempting recipes loaded with chocolate of all kinds and all forms; a real chocolate lover's dream.
Sylvie Shirazi
Sylvie Shirazi is a freelance food photographer and food writer, who pursues life with a camera in one hand and a fork in the other. On her food photography blog, Gourmande in the Kitchen, she celebrates the simple joy that food brings to our lives every day by filling our plates with wholesome food to nourish the body, along with some sweet stuff to satisfy the soul.