Cook on Clay is becoming known in foodie circles and is in the kitchens of devotees all over the world.
By Michelle M. Winner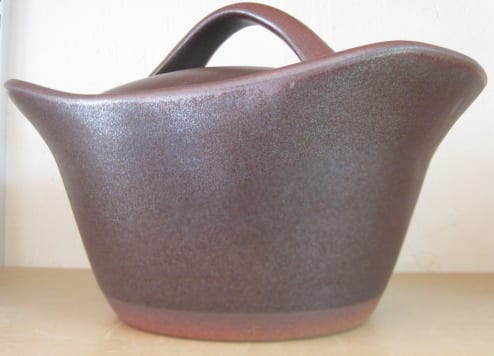 We are seated at a large table in the center of the production studio of Cook on Clay here in Coupeville, Washington listening as  founders Robbie Lobell and Maryon Attwood take turns explaining their connection to food, sustainability and community. We are going to be making a simple dish or bowl but we haven't yet heard about the clay we are staring at. Or the elegantly simple clay pots lining the shelves around the room.
"Our company is built on the idea that there is no better way to prepare and present food than in handmade pottery." Maryon says, to which Robbie adds, " When I am designing pots, I include utility, ruggedness and finally beauty of form. I  think about the cooking methods required for foods both local and international."
Maryon and Robbie also connect their relevant back-to-the-table and slow food message with ecological sense. Their flameware clay pots and platters are handmade here from start to finish using 100% environmentally safe, non-toxic clay; a proprietary recipe that when fired can go from freezer to stove to oven to grill to table. The patented, high fire pottery is made right here in this studio tucked into forested property on Washingon's famed hot-bed of sustainable farming: Whidbey Island. "There is nothing else like it in the marketplace today," they tell us in unison. And as we start to work the little mounds of wet earth before us, we begin to understand how Maryon and Robbie's passion and commitment could have been shaped years ago by something as ancient and human as the need to form earth into a vessel. A simple a lump of clay has become, in Robbie and Maryon's skilled hands, an elegant form that can perform on the cook stove and grace the table.
Because of this versatility, Cook on Clay is becoming known in foodie circles and is in the kitchens of devotees all over the world. Thus the need for a larger kiln is imminent. As an artisan endeavor that wishes to remain so, Robbie and Maryon are funding through Kickstarter and need help right now. If you are interested in helping with their kiln fund or learning more about Cook on Clay, go to their website right away.
Michelle M. Winner
Michelle was born with a fork in her hand. As a culinary travel writer and confirmed foodophile she delights in the world-wide discovery of new flavor profiles, spices, salts and herbs. Based in one of the world's foodie meccas; Portland, Oregon, not far from "Pinot Noir Heaven" Michelle shares culinary travel and chef's recipes. Her photography has appeared in Saveur Magazine and she has contributed culinary travel articles to Forbes online, WSJ online, Business Insider, Condé Nast Digital Media, Islands magazine and many others. A confirmed globetrotter, she still keeps her bags packed and fork in hand (well . . . except through airport security.)