A delicious way to enjoy fish is to steam it.  Recreate the Cantonese Steamed Fish at home now – it's easy, fast, healthy and so tasty.  Be sure to drizzle the leftover sauce onto steamed rice.  It's the best way to end a comforting, homey meal. 
By Josephine Chan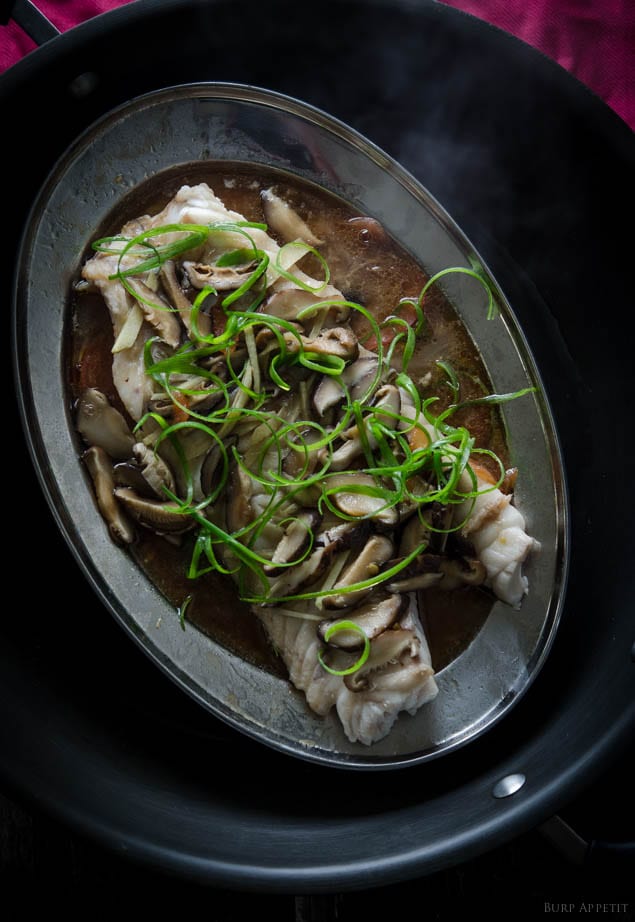 Steamed fish is yum! Home-cooked steamed fish is even more yum!  If you haven't tried to steam fish at home, then I dare you to try it now because steamed fish is easy to prepare, fast, healthy and super simple to cook.
The Chinese loves steamed fish (yu) because yu symbolizes abundance and traditionally, we believe that fish brings an abundance of wealth.  The phrase nin nin yau yu (May you have surplus for many many years) has always been part of our well wishes during Chinese New Year celebration.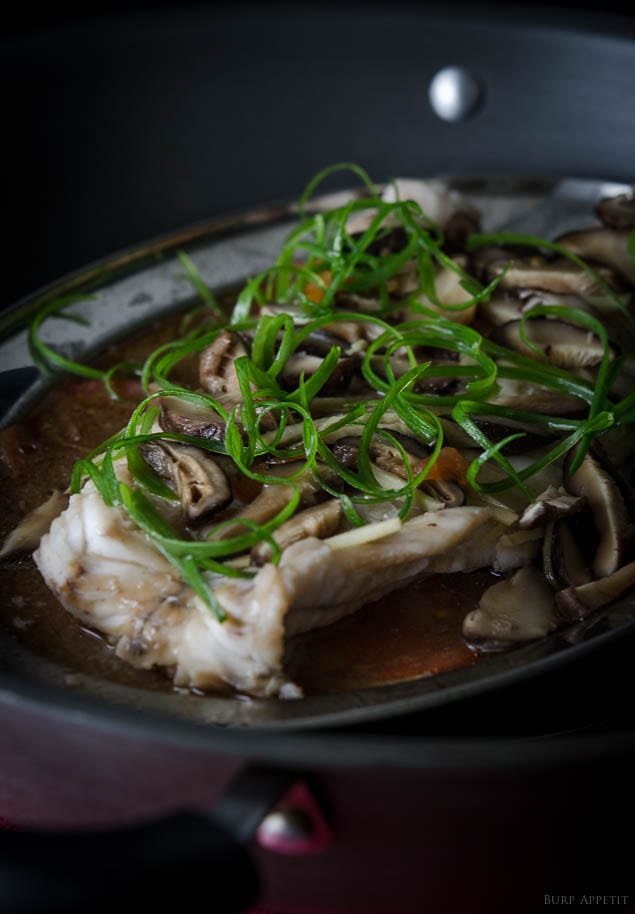 The key to achieve juicy steamed fish is to watch the time because overcooked fish taste like rubber. Steaming fish doesn't take a long time – a whole fish normally takes about 10 to 12 minutes(depending on the size). This recipe is adapted from Leemei Tan's Lemongrass and Ginger which is a great cookbook, by the way.  The recipes are easy to follow, versatile with beautiful photography too.If you're looking for an authentic Asian cookbook, I'd highly recommend this one!


Homely Cantonese Steamed Fish
The best way to cook fish is to steam it - preserving its natural freshness and flavour. It's also important not to over cook the fish, else, you will end up with a rubbery dish.
Recipe Type:
Main Course (as part of shared meal)
Ingredients
1 white fish fillet (rockling, seabass, snapper or any other white fish)
1 small tomato, sliced
1 tbsp oyster sauce
1 tbsp light soy sauce
1 tbsp sesame oil
2 tbsp Shoaxing wine
white pepper, to taste
7 pcs dried shiitake mushrooms (soaked until soft), remove stem and thinly sliced
1 thumb-sized ginger, peeled and cut into thin matchsticks
1 scallion, cut into matchsticks, for garnish
Instructions
Rinse the fish fillet and then pat dry. On a heatproof plate that will fit into the wok, arrange the tomato slices on the base of the plate. Place the fish fillet on top.
To prepare the sauce – mix together oyster sauce, light soy sauce, sesame oil, Shoaxing wine and some white pepper in a clean bowl. Pour the sauce over the fish. Spoon the sauce over the top of the fish until the top part of the fish is "fully sauced". Arrange the sliced mushrooms and ginger on top of the fish. Cover with wrap and marinate in the fridge for 20mins.
When it's time to cook, remove fish from the fridge. Place 2 small baking moulds at the bottom of the wok. Then secure a wire rack on top of the moulds. Make sure it's very secure and will not topple. Pour water into the wok, leaving about ½ inch gap between the water and the wire rack. Bring water to a boil over medium heat.
Once the water is boiling, gently place the heatproof plate with fish on the rack. Cover and steam for about 7mins, or until cooked through. If water level has reduced, then add more water, if necessary. To test if the fish is cooked through, use a skewer and try to poke through the thickest part of the fish. If there is no resistance, that means it's cooked through.
Remove the plate from the wok and garnish with sliced scallions. Serve immediately with warm steamed rice.
Notes
Preparation time is only required to soak the mushrooms till soft and marinade the fish.
#mc_embed_signup{background:#fff; border: 3px double black; clear:left; font:14px Georgia,serif;  width:635px;}
/* Add your own MailChimp form style overrides in your site stylesheet or in this style block.
  We recommend moving this block and the preceding CSS link to the HEAD of your HTML file. */